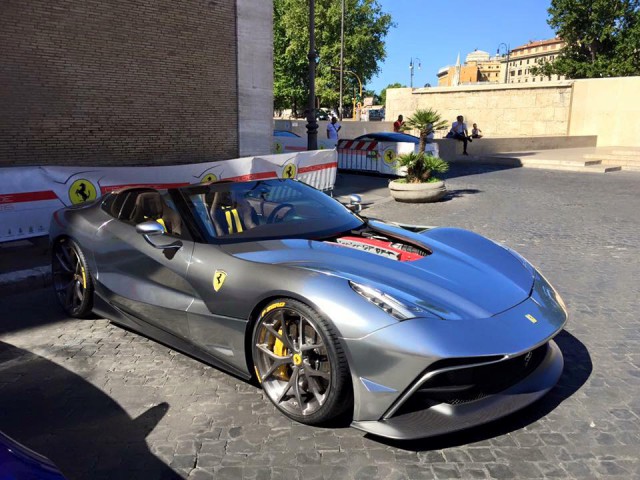 Images have just surfaced of the third Ferrari F12 TRS. This particular example is painted in a bright shade of silver and is currently competing in the Ferrari Cavalcade 2015 tour kicking off in Rome.
Initially created as a one-off finished in Rosso Corsa, a second Ferrari F12 TRS was then produced to identical specification but painted black. This third F12 TRS however, is unique on a number of different levels beyond the paint.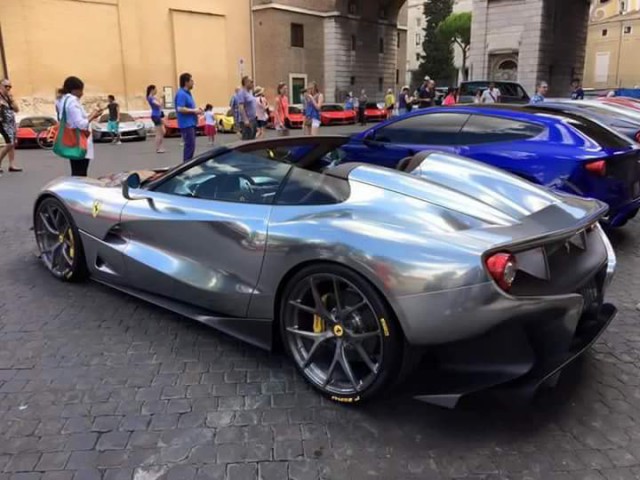 For starters, it features a bespoke front bumper with different canards and an even bolder splitter. Additionally, a custom bonnet has been installed which includes a massive cutout for the V12 engine. The other F12 TRS models have featured glass engine covers but this example's engine is left completely exposed to the elements.
The rear-end has also been changed with it including an even more off-the-chain diffuser.
Based around the Ferrari F12 Berlinetta, the TRS features its 6.3-litre V12. This engine delivers 740 hp and 509 lb-ft of torque helping the car rocket to 100 km/h in a mere 3.1 seconds.
[Via GE Supercars]