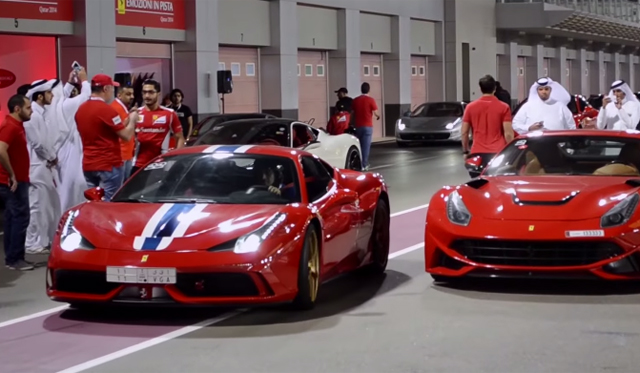 There are few car scenes anywhere in the world as expensive or exclusive as the Middle East. Thanks largely to the oil reserves in the region, there are many, many wealthy automotive enthusiasts across the Middle East particularly in Qatar, Abu Dhabi and Dubai.
[youtube]https://www.youtube.com/watch?v=LttmC5rjt4E[/youtube]
Last month, Ferrari owners from Qatar showed off just how fanatical they are at a track day at the country's Losail International circuit. Literally dozens of Ferrari models participated in the nation's sixth annual Ferrari track day. Making the event all the more special was the fact that Ferrari technicians and drivers were flown straight from Italy to the circuit.
Some of the Ferrari models which participated included a host of 458 Italia and Speciales, Ferrari F12 Berlinettas (including a Novitec Rosso N-Largo), 599 GTB, LaFerrari, California Ts and a whole host of others.