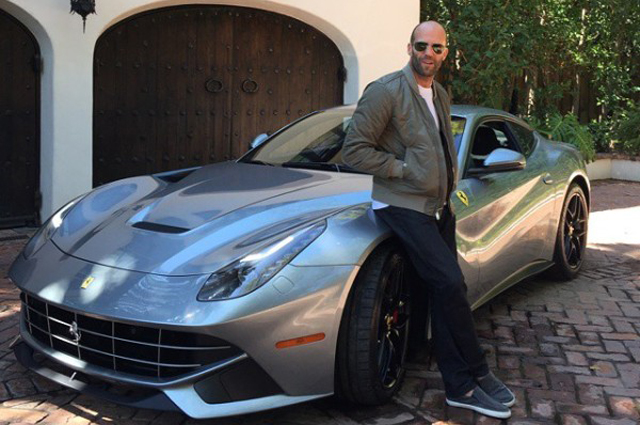 As Furious 7 approaches the first Avengers film as the third highest grossing movie of all time, one of the action flick's biggest stars, Jason Statham, was recently pictured posing in front of his Ferrari F12 Berlinetta.
In Furious 7, Statham drives both a Jaguar F-Type and 2015 Maserati Quattroporte but the F12 Berlinetta is undeniably a step above those two. While it remains to be seen how long the actor has owned his F12, it is certainly one of the cleanest examples we've seen. While silver isn't the most eye-catching colour available, the F12's flowing lines pull it off very well and when combined with the black wheels, red brake calipers and yellow centre caps and Scuderia shields, it certainly looks impressive!
Interestingly, the Ferrari F12 Berlinetta has never proven as popular among the worlds rich and famous like the Lamborghini Aventador. While the Aventador certainly features the most menacing and eye-catching design, the F12 Berlinetta is actually more powerful. As a matter of fact, it's naturally aspirated V12 engine delivers 740 hp compared to the 692 hp offered by the 'standard' Aventador.