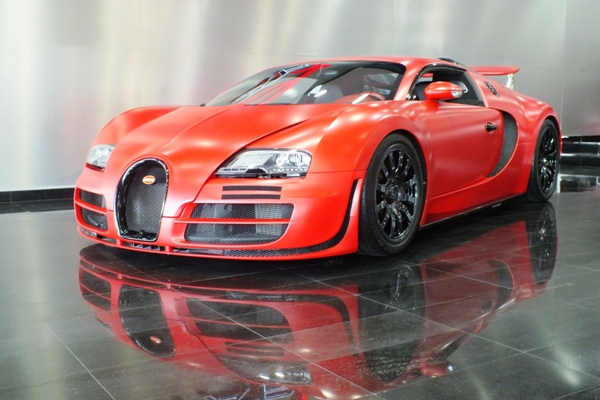 Quite possibly the brightest Bugatti Veyron we've ever come across is up for sale in Dubai.
A 2010 model, this Veyron may initially appear to be the record-breaking Veyron Super Sport. Upon closer inspection however, it appears as though it's simply been installed with the headlights and front bumper package of the Veyron Supersport. This is because the engine cover and air intakes are the same as the standard Veyron and don't feature the NACA design of the Veyron Super Sport.
The bright red paint job has an undeniable hint of orange to it although it isn't clear just how much of that is down toe camera and the lighting. Whatever the case may be, it is certainly bold. Beyond the red exterior finish, it features black wheels and black air intakes and black Bugatti badging.
The interior continues the bright red and black colour scheme with red leather found across the seats, gear lever, steering wheel and dashboard. Black leather is then found on the door panels and handles as well as the transmission tunnel.
Rather surprisingly, this 2010 Bugatti Veyron has covered 10,000 km!