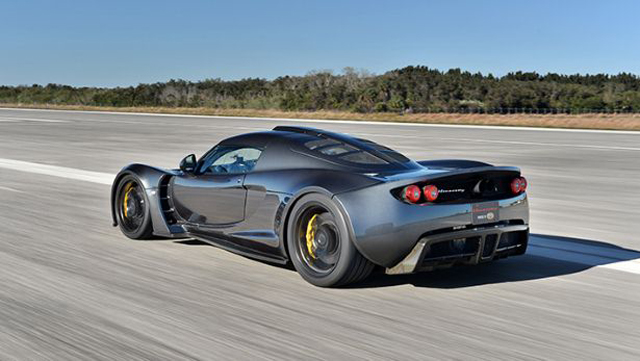 While it remains to be seen just how many examples of the Hennessey Venom GT have been sold, the American tuner has confirmed that pricing for the Bugatti Veyron beating supercar sits at a casual $1.4 million.
As of late July last year, it was reported that 11 examples of the planned 29 unit production run of the Venom GT had been delivered with one going to singer Steven Tyler. On Valentine's Day in 2014, the Venom GT hit the highest top speed ever recorded by a production car after reaching 435 km/h at the Kennedy Space Centre.
This top speed edges just ahead of the 434 km/h clocked by the Bugatti Veyron Super Sport back in 2010. However, while it has proven itself to be faster in a straight line, the Hennessey Venom GT isn't officially the world's fastest production car. At least in the eyes of Guinness it isn't. For Guinness to verify such a record, the car has to make two runs in, one in each direction, before an average top speed is calculated.
As if you needed reminding, the Hennessey Venom GTs twin-turbocharged 7.0-liter V8 engine delivers an insane 1,244 hp at 1,155 lb-ft of torque at the rear wheels. Additionally, it weighs just 1,244 kg making for a perfect 1 horsepower per 1 kilogram power-to-weight ratio!