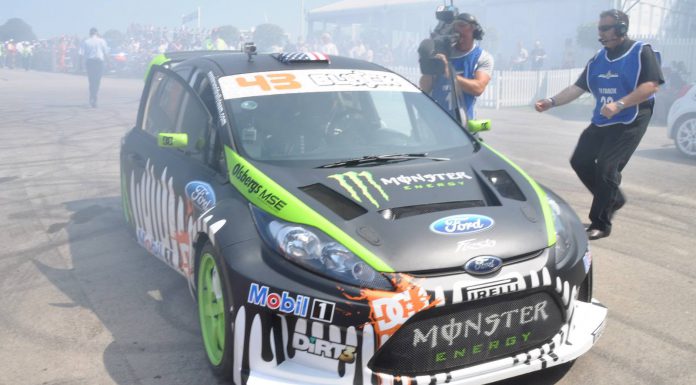 Crowd-thriller and online video hyperstar Ken Block, one of the world's most spectacular drivers, is to give the all-new Ford Focus RS a guaranteed tyre-smoking UK debut at the Goodwood Festival of Speed, just as when he thrilled the crowds there in 2011, as seen above.
The theme for this year's Festival of Speed (June 25-28) is 'Flat-Out and Fearless: Racing on the Edge' and few drivers hold this philosophy as close to their hearts as Block, whose amazing Gymkhana videos have won worldwide acclaim and achieved over 300 million views on YouTube.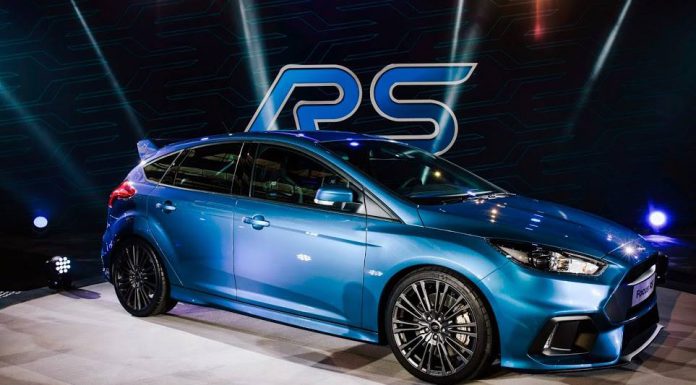 The Monster Energy Athlete's reputation has been forged with these wonderful displays of car control – his Gymkhana videos often being created in city-centre locations with buildings, bridges and other immovable objects often just millimetres from the action.
He will drive the new Focus RS, developed by Ford Performance and the 30th Ford RS, up the iconic 1.16-mile Goodwood Hillclimb throughout the weekend. He is no stranger to the hill, having thrilled the crowds with his Monster Gymkhana Ford rally car antics back in 2011, as well as in one of his monster wagons – later apologising to host Lord March for "rearranging" some of the trees!
And at that event he cheerfully rubbed should with other legends, most of whom would equally fit this year's FOS theme like 2008 and reigning F1 World Champion Lewis Hamilton. with whom he is seen chatting, below.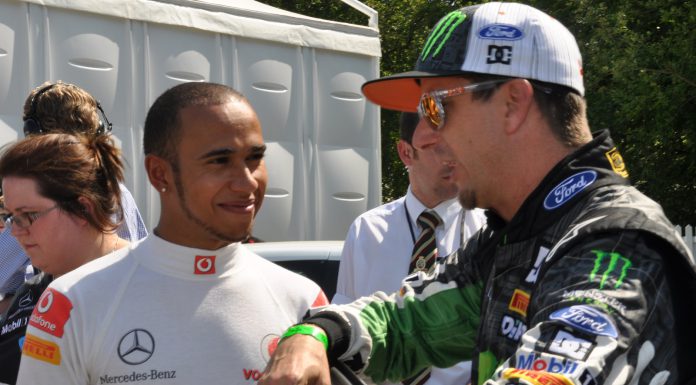 At Goodwood – ticket details from www.goodwood.com – Block will also bring his incredible 'Hoonicorn', a 1965 Ford Mustang 'notchback' that has been customised with four-wheel-drive, an 845bhp Ford V8 engine, bespoke suspension and tyres and bodywork inspired by rally and racing cars plus toys he owned as a child! The Hoonicorn was used in Block's most recent viral video, Gymkhana 7, which has gained more than 24 million views on YouTube since its release in November 2014.
On the eve of the new Focus RS's global launch earlier this year, Block put the 320 hp all-wheel drive hot hatch through its paces at Ford's Cologne plant and the company revealed the following video clip showing that this is no smooth street cruiser but a totally "chuckable" hot hatch.
With the turbocharged new engine of the 2016 Ford Focus RS based on the Mustang's aluminium four-cylinder 2.3-litre EcoBoost unit, this Focus has a kick maximised by the new all-wheel drive system through which up to 70 per cent of the power can be sent to the back axle, with further selection to one wheel or the other for the rubber-burning drifting and sliding at which Block is such an ace.
With muscular low front wings, huge grille for radiator and intercooler grille plus big side air intakes and high back spoiler, the Focus RS is – despite the absence of bonnet louvres – both dramatic and five-door functional. Four stunning colours include Nitrous Blue, a vibrant four-coat metallic exclusive to the RS, plus Stealth Grey, Absolute Black and Frozen White.
Now to see why Ken Block smiles, check out this video teaser!
[youtube]https://www.youtube.com/watch?v=Qy-mhyUAaqE#t=75[/youtube]