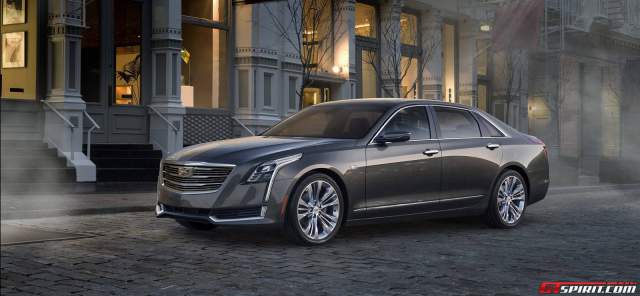 In line with reports, the plug-in hybrid powertrain option for the Cadillac CT6 has just been unveiled at the Shanghai Auto Show 2015.
That powertrain sees a 2.0-litre turbocharged four-cylinder engine mated to two electric motors and an advanced rear wheel electric variable transmission. The two electric motors take their energy from an 18.4 kWh lithium-ion battery pack located between the boot and rear seats. When it is all said and done, General Motors claims that the hybrid system delivers 335 hp and 432 lb-ft of torque.
Cadillac CT6's produced with this engine will be offered with three different driving modes. The first mode, understandably dubbed 'Normal', has been designed for everyday driving and sees the engine and electric motors operating in tandem with each other. In 'Sport' mode, more aggressive pedal mapping is featured with stiffer steering response also featuring. Last but not least is 'Hold' mode which allows owners to choose when the CT6 uses its engine and when it runs solely on electric power.
Elsewhere, the Cadillac CT6 PHEV comes fitted with the automaker's Regen on Demand system which allows for regeneration through the steering wheel mounted paddles when the car is braking.
Discussing the new engine option, Cadillac boss Johan de Nysschen said "The first-ever CT6 is a technological showcase throughout, making it an ideal platform for Cadillac to offer its first plug-in hybrid. In the CT6, Cadillac presents a new formula for prestige luxury. The advanced Plug-In Hybrid system is a key addition, providing a combination of exceptional fuel economy, crisp acceleration and strong electric-driving range."