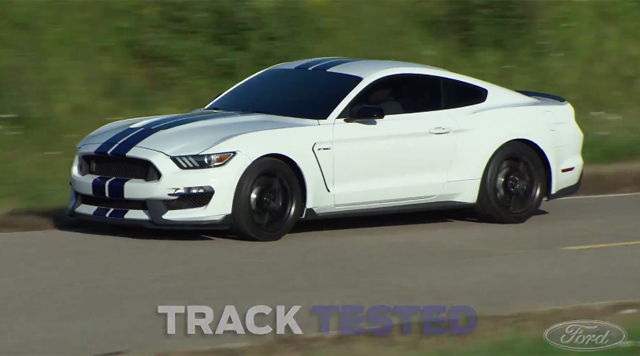 As customer deliveries of the 2016 Ford Mustang Shelby GT350 have yet to commence nor press drives begun, it remains to be seen just how the marque's most track-focused ever model performs. In order to give us an indication of the performance it will provide, Ford has released a video showing a couple of prototypes testing at the Virginia International Raceway.
[youtube]https://www.youtube.com/watch?v=P4rI0aoVgWg[/youtube]
Final horsepower and torque figures from the Shelby GT350's 5.2-litre naturally-aspirated V8 engine have yet to be released but it has been confirmed it pumps out in excess of 500 hp and 400 lb-ft of torque. This new engine uses a flat-plane crankshaft as rumoured to help the engine breathe easier. When it is all said and done, this new 5.2-litre V8 is the most powerful naturally aspirated Ford production car engine ever revealed.
As you would expect, power is then sent to the rear wheels through a six-speed manual transmission. A tweaked Torsen limited-slip differential is also utilised.
To help bring the mighty new GT350 to a stop, the car utilises six-piston Brake calipers at the front clamping down on 394 mm two-piece cross-drilled iron brake discs. At the rear, four-piston Brembos are found alongside 380 mm discs. Another important aspect of the 2015 Ford Mustang Shelby GT350 is its MagneRide dampers. The car also includes an injection-moulded carbon fibre composite grille opening and shock tower brace to stiffen up the chassis to provide extra rigidity and handling performance.