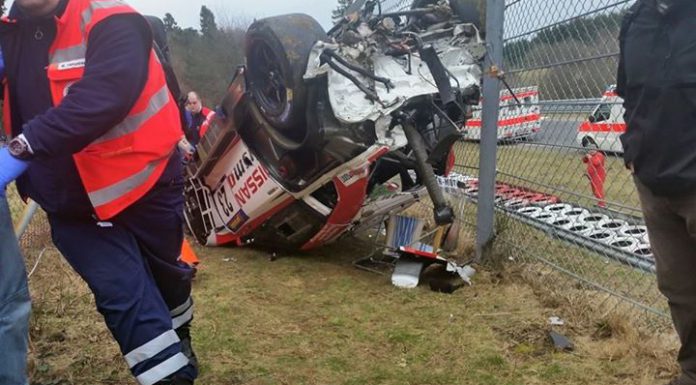 The first race of the VLN endurance series on the Nürburgring ended tragically after the Nissan GT-R Nismo GT3 of Jann Mardenborough crashed and killed one spectactor.
The race was aborted by the red flag after the serious accident. The crash saw the GT-R Nismo GT3 flip for unclear reasons before smashing over the barriers and the security fence at track section 80 (airfield). Alongside the death of one spectator, four others were injured with Mardenborough escaping with just minor injuries. The race was immediately red flagged to enable the emergency crews to enter the site safely.
[youtube]https://www.youtube.com/watch?v=GXHUxCmdkYY[/youtube]
Jann Mardenborough, born in 1991, is a British race car driver. Though contrary to most of his professional colleagues he has not long term experience in karting. Mardenborough became a race car driver by winning the GT Academy held by Sony and Nissan to promote the Gran Tourismo game series. He beat over 90,000 other participants.
In his first race after the victory, he secured the third place in his class at the 24h of Dubai. In 2012, he drove in the British GT championship and won one race and finished 6th overall in the GT3 class. In 2013, Nissan gave him a cockpit in a Formula 3 car. This year he will drive in the GP3 series as well as in the FIA GT Endurance Championsip. He will also drive the Nissan GT-R LM in the 24h of LeMans as well as the Nissan GT-R Nismo GT3 in the VLN and 24h of Nürburgring.