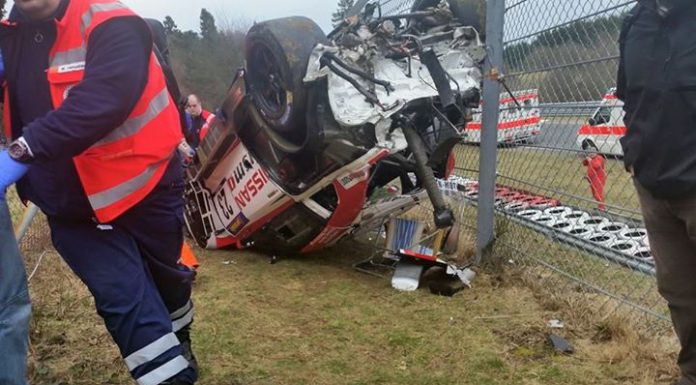 Following yesterday's unfortunate accident involving Jann Mardenborough and his Nissan GT-R Nismo GT3 during the VLN endurance series, the powers that be have decreed a temporary ban for GT3 race cars at the Nurburgring. Yesterday's race was red flagged as soon as it became clear that the accident was serious.
The German Motor Sport Association (DMSB) announced that cars competing in the SP7, SP8, SP9, SP10, SP-PRO and SP-X classes will not be allowed in DMSB-approved events, including the Nürburgring 24 Hours. The ban will remain in place until investigations are concluded and any recommended changes are made to improve safety.
In explicably, CUP2 class cars which include Porsche 997 and 991 GT3 Cup cars have not been banned from running on the Norschleife, despite arguably competing at a similar level as the outlawed cars.
[youtube]https://youtu.be/J9eUwJ79fvo[/youtube]
The announcement comes as it became clear that the German police have seized the Nissan GT-R NISMO GT3 as part of its investigation into the incident. As a result of the seizure, it has been reported that the Nissan NISMO team and race officials have not been able to access data or check the onboard footage. Whilst the team have said that they are cooperating fully with the investigations, it seems clear that it will be some time until the full cause of the accident is known.
DMSB General Secretary Christian Schacht said, "We cannot and will not go back to business as usual after an accident of this kind. We are all still deeply shocked and our thoughts are with the family of the victim. The security of the participants and especially the spectators must be a top priority."
[youtube]https://youtu.be/5quxhNEio_g[/youtube]
Whilst it is hoped that the ban will be lifted before the Nurburgring 24 Hour race due to take place in May, the specific inclusion of the event seems foreboding. The list of banned cars is quite extensive and will thin the list of entrants considerably.
For those that missed the news yesterday, Jann Mardenborough's Nissan GT-R NISMO GT3 careered off the circuit at the aptly named Flugplatz (which translates to "airport"), scaling a 12 foot fence, killing one spectator and injuring four others. The unfortunate accident was reminiscent of the extraordinary 1999 Le Mans crashes; the GT-R flips over as if caught in the wind and there appears to be nothing that the driver could do.
Flugplatz is particularly famous for producing airborne moments. It is a small crest which opens at the top into a brave right hander. It has claimed the careers of a number of racers before including Chris Irwin in 1968 who crashed driving a Ford P68 and Manfred Winkelhock in a March F2, both in similar circumstances to the NISMO GT3 incident. The below video shows the Winkelhock wreck which he survived.
[youtube]https://youtu.be/4F7mVEotx9c[/youtube]