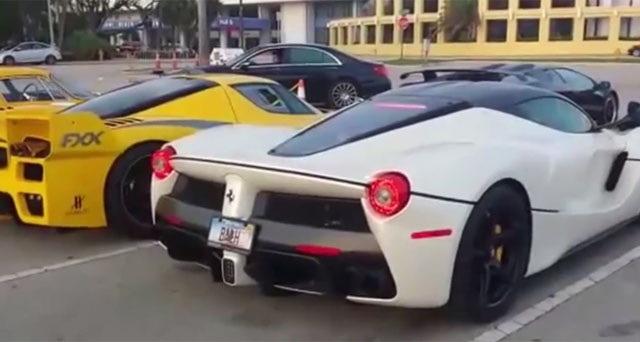 Considering just 30 examples of the Ferrari FXX were ever created, seeing the Italian supercar anywhere other than a Ferrari museum of trackday is exceptionally rare. At a recent car event in Miami, a bright yellow FXX made an appearance courtesy of Ferrari of Fort Lauderdale and it posed alongside a white Ferrari LaFerrari for some shots in a truly remarkable display of Italian power and panache!
[youtube]https://www.youtube.com/watch?v=N8emR9wnmJs[/youtube]
On the spec sheet, this is how the LaFerrari reads; it features a 6.3-litre V12 engine that has an output of 789 hp at 9000 rpm and 700 Nm of torque at 7000 rpm. That internal combustion engine is joined with an electric motor providing an additional 161 hp and 270 Nm of torque.
By comparison, Ferrari FXX is powered by a 6.3-litre V12 engine derived from the Enzo's screaming powertrain. Unlike the Enzo however which delivered 660 hp from the factory, the FXX pumps out an even more impressive 809 hp at a high 8500 rpm!