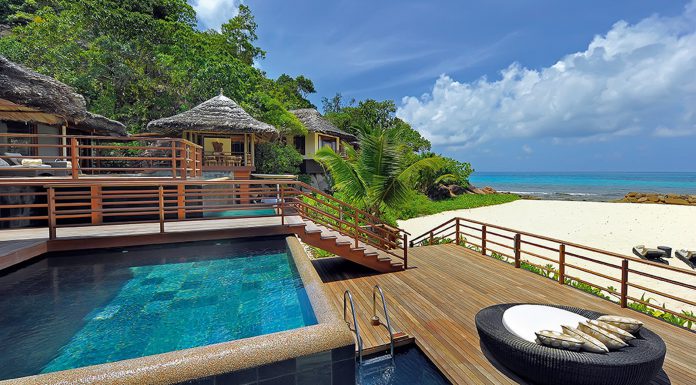 During three weeks in January and February 2015 the GTspirit team headed out on a Luxury Lifestyle Trip to some of the most exceptional and interesting locations around to the world in order to experience the most luxurious and unique hotels those places had to offer. Our journey led us to Mumbai, Delhi and Agra in India, Praslin and Mahe islands of the Seychelles, Johannesburg in South Africa and, via a short one-day layover in Dubai, back to Switzerland.
We have been able to experience culinary delicacies from many different parts of the world as well as incredible hospitality in some of the most outstanding hotels and we are more than happy to share our experiences with you.
India
Our journey begins in the incredibly fascinating and diverse country of India. We touch down in the capital, New Delhi, where temperatures in the winter can get quite chilly, so we put on our jackets as we leave the plane, because temperatures are even below 10°c.
Upon arrival the first thing we notice are quite a few massive US Airforce planes on the runways of Delhi airport. This was Barack Obama's entourage that had arrived because the US president was scheduled for a meeting with India's Prime Minister Narendra Modi two days after our arrival. Obama was also the honoured guest for the celebrations of India's upcoming National Day.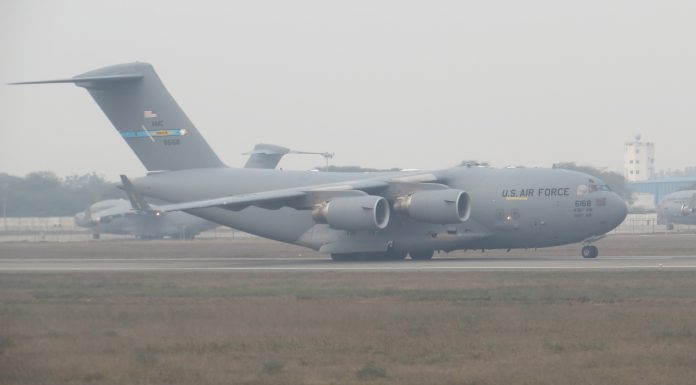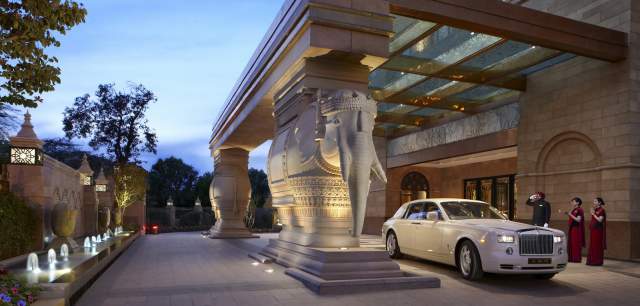 Right after picking up our luggage from baggage claim and exiting the arrival area we are greeted by two employees of The Leela Palace Hotel Delhi, which will be our first hotel on this trip. We are escorted to our transfer vehicle, a brand new 5 series BMW, and after that we are VIP-chauffeured to the hotel which is about a 10 minutes' ride from the airport.
The Leela Palace is situated in the diplomatic enclave of New-Delhi, where all the embassies are based, so the level of security is always very high and we never felt unsafe at any time. We got out of the car and were immediately greeted by name. We received garlands of flowers around our necks as well as the symbolic red dot on the forehead which stands for luck and good health. From the very first moment we step into The Leela Palace we feel very, very special. Something that we haven't experienced before.
One can choose from 254 rooms and suites and the hotel also features an amazing spa with gym, sauna, steam and drench rooms as well as various treatment rooms where Ayurvedic, Oriental and European therapies can be enjoyed.
The Leela Palace has an amazing rooftop pool and although temperatures are just a little over 15°c during the daytime the pool is heated nicely, so we could enjoy a few laps of swimming with a great view of New Delhi.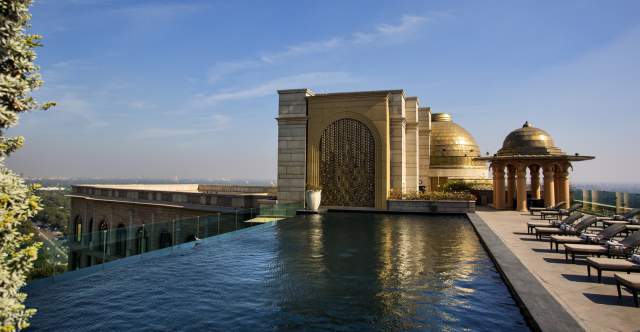 The next morning we set off very early on a three-hour trip to Agra, where we were hoping to see the Taj Mahal at sunrise. Crazy dense fog on our way there, however, already gave us an idea that there would not be much sun at sunrise. We passed India's Formula 1 race track, the Buddh International Circuit, and arrived right on time for the opening at 7 am but we can barely see the Taj Mahal after entering the gates. Our guide tells us that we are still quite lucky because the past few days the fog was even more dense and it had been raining, so we are not complaining.
We learned a lot of things about the huge mausoleum and are very impressed by the craftsmanship and work that has been incorporated in the construction of the Taj. The engraved marble in particular must have been an incredible task. After a three-hour tour and another quick trip to the nearby ancient red Fort Agra walled city, we make way for the arriving hordes of tourists and continue our way through the hectic streets of Agra back to Delhi, where we can enjoy a few more hours in the fantastic Leela Palace Hotel.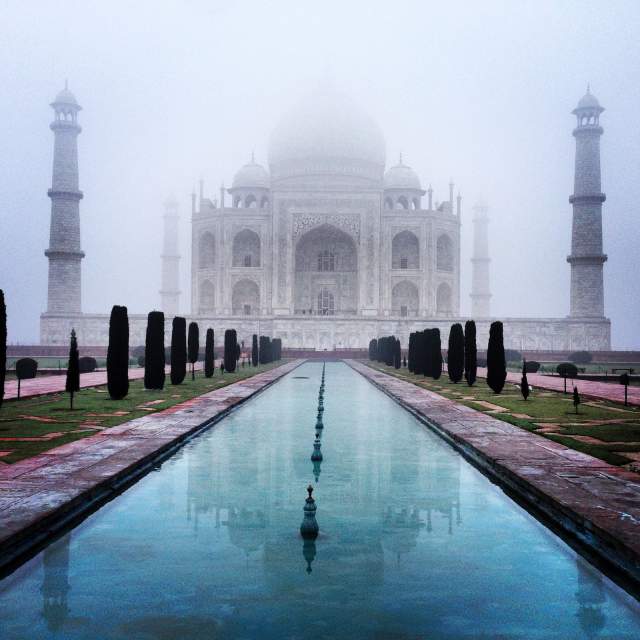 After a two-hour domestic flight from Delhi we arrive in the city of Mumbai, which is the financial and economical capital of India. Temperatures were also a lot different from Delhi. We get to Mumbai around noon and the temperature is already close to 30°c! We take one of the prepaid taxis at the airport and less than 30 minutes later arrive at the Four Seasons Mumbai, which is well situated near the business districts of South Mumbai but also not very far from the airport.
Again we are greeted with our names from the very first moment we step into the hotel and are very impressed by the staff's kindness and the extremely high level of service. The Four Seasons Mumbai serves 178 rooms and 24 suites with floor-to-ceiling windows providing a commanding view over Mumbai's skyline or the sea. The Spa has eight treatment rooms for a wide range of Ayurvedic treatments, as well as an outdoor pool, indoor jacuzzi, experience showers, steam room and relaxation room.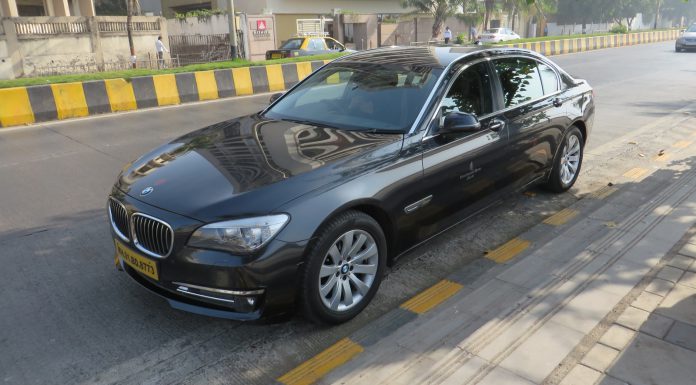 The Four Seasons provides a fleet of 5-series and 7-series BMWs for its guests for transportation. We asked the chauffeur to drive to the Bandra-Worli Sea Link, which is a road that links Bandra in the Western Suburbs of Mumbai with Worli in South Mumbai. What's special about it is that it's actually a bridge of 5.6 km through the sea. It was opened in June 2009 and reduces travel time between Bandra and Worli from 60-90 to 20 minutes.
The reason we go to the promenade where the sea link begins on the Worli side, however, is a different one. Our friends from the Facebook page Supercar Sightings in Mumbai told us that this is the best place to spot some of the growing number of supercars in Mumbai. When we arrive there, we already notice quite a few spotters and they tell us that usually there is an orange Aventador cruising by at this time of the day. However we have only been able to spot a yellow 991 Carrera S as well as a tuned Toyota Supra. "You know, this is not Monaco or London, but it is still not bad sometimes," one of the spotters tells us.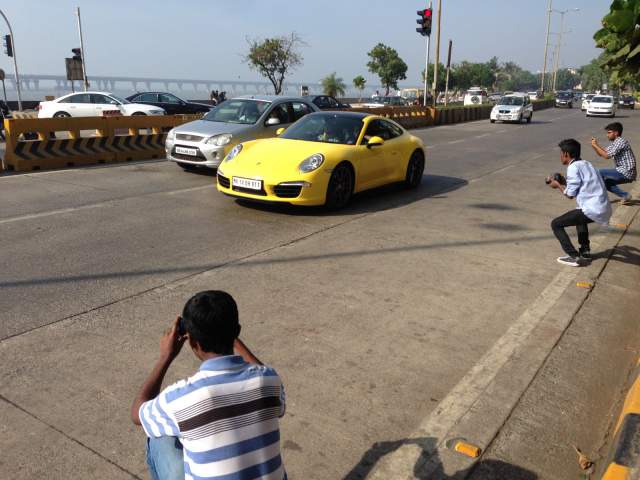 We spend the evening at the one-of-a-kind rooftop bar AER on top of the Four Seasons. It offers a panoramic view of the Arabian Sea and Mumbai's Worli district. The DJ plays good music and we enjoy ourselves very much. If you can, try to get up there as early as 5.30 pm to witness a fantastic sunset while enjoying a drink.
Next day we are doing the Dharavi slum tour, which we can highly recommend. The insights into daily Mumbai lives is staggering. Dharavi is Mumbai's biggest slum with about 1 million people living in an area of just 2.17 km² which makes Dharavi the most densely populated place in the world. The movie Slumdog Millionaire was filmed in Dharavi, however locals don't like that movie, because it sheds a bad light on the slum. It is incredible to see how people manage their lives in Dharavi, what variety of industries exist there and how happy people are despite not having much.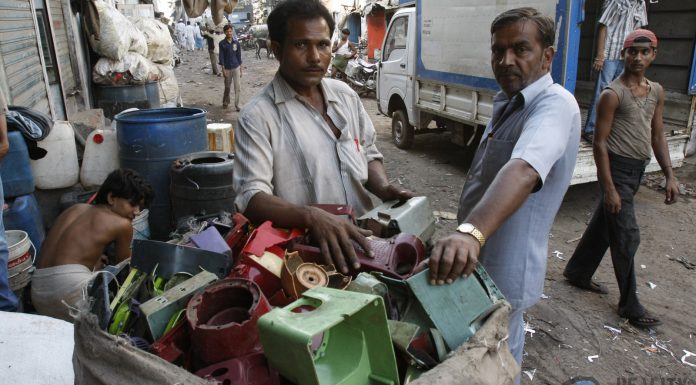 In sharp contrast to our highly interesting experience at Dharavi, we continue our journey to the most famous and iconic hotel in Mumbai or even India. The Taj Mahal Palace opened its doors in 1903 and is therefore running in its 113th year now. Including the newly added Tower building, which was opened in 1973, the hotel provides 560 rooms, 44 of which are suites.
The hotel has hosted a large number of celebrities over the years – we are shown a suite where Angelina Jolie and Brad Pitt have stayed regularly, for example. The Taj Mahal Palace is prominently located just opposite the Gateway of India, one of Mumbai's most visited sights.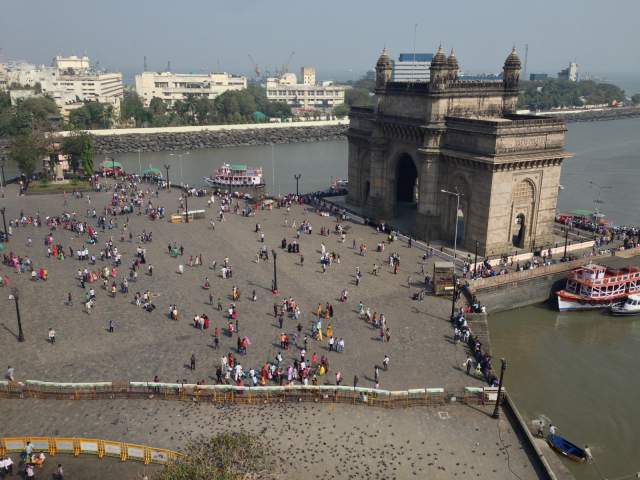 There is a choice of 11 restaurants that will take you on a culinary journey around the world if you wish. We try three of them and are very impressed by the tasteful and authentic flavours we can experience.
As it is Sunday we choose to do about a 20-minute walk to the Marine Drive where we mingle with the many locals hanging out on a Sunday. During the day it is already quite packed and it gets even more crowded at night. It is a 4 km long boulevard, shaped in a C form with a promenade lying parallel to the road and with scenic views of the natural bay and parts of Mumbai.
The Intercontinental Hotel at the Marine Drive also features a rooftop bar where one can have an amazing view of the bay. Not quite as spectacular as the AER bar on top of the Four Seasons, but still highly recommended.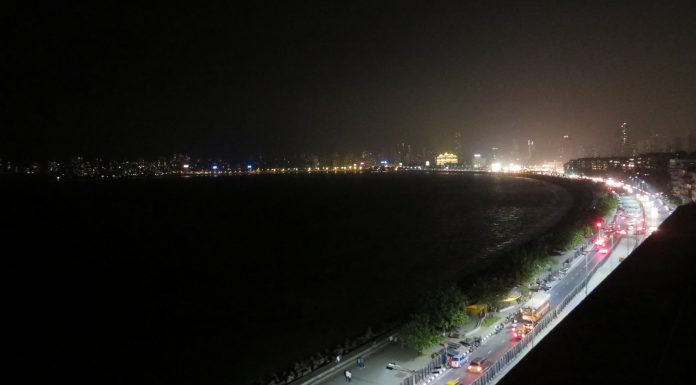 As it was our last day in India before an exhausting overnight flight to the Seychelles, we spent most of the day at the pool with the majestic Palace Wing in the background and enjoyed the scenery and the serenity in the middle of bustling Mumbai while occasionally cooling off and going for a swim. Thanks to a late check-out we were able to indulge in a relaxing afternoon before we had to leave the Taj Mahal Palace, Mumbai and India.
We generally felt very safe in India at all times. Expecting to be ripped off, we came to India with quite a cautious attitude, however our concerns were greatly dispelled from the very first moment we were here. We were never ripped off or felt endangered. People were very friendly and honest. Yes, some people may try to sell you things, but that's the same all over Asia and it's easily avoided when you just politely decline. The service level in the hotels was higher than we have ever experienced anywhere else in the world and we really appreciated that.
Some people say India stands for "I'll Never Do It Again!" Can we agree with them? Certainly not! We have had an amazing time during the 10 days in three different cities of India and people were wholeheartedly honest and friendly to us. We can't wait to return to "Incredible India"!
Seychelles
But for now it is time to move on. We embark on an overnight flight to the Seychelles, where we arrive on the main island of Mahé the next morning. Booked on a flight to the small Seychellois island of Praslin, we are a bit worried whether we can make it on time, since the flight for some reason had been rescheduled an hour later than originally planned. We end up missing our flight but that was not a big deal because the airline had us booked already on to the next flight just 45 minutes later.
After a little bit of sweating (not sure if because of the missed flight or the humid air) we finally sit in a DHC-6 Twin Otter, a Canadian 19-passenger propeller aircraft for a mere 20-minute flight to Praslin.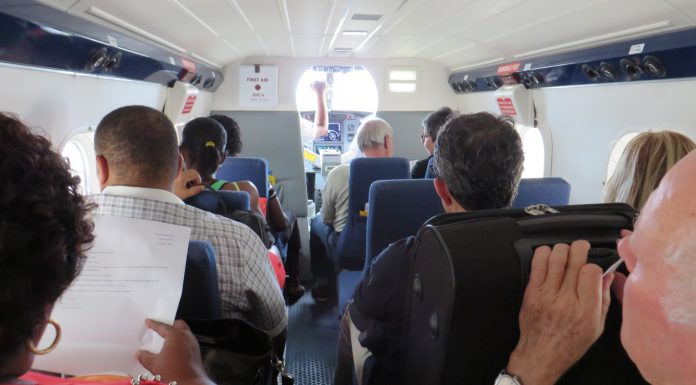 Upon arrival we try to find a taxi, which isn't quite as easy because the drivers don't seem to be very motivated to work today. Instead they just sit on their bench and keep chatting. After a few minutes somebody finally has pity on us and drives us the three km to the Constance Lemuria Resort on the north-western tip of the island.
The Constance Lemuria is quite a large resort with 105 rooms in numerous bungalows spread over more than one hectare as well as the only 18-hole golf course in the Seychelles with a quite spectacular signature tee on top of a mountain and the hole a few hundred metres down.
It is surrounded by three fantastic beaches – Grand Anse, Petite Anse and one of the most beautiful ones we have ever seen: Anse Georgette. Especially nice is the fact that you never feel that there are too many people here since the area is so spread out. In fact on Anse Georgette, which we visited in the morning, we have had the beach for ourselves for over an hour.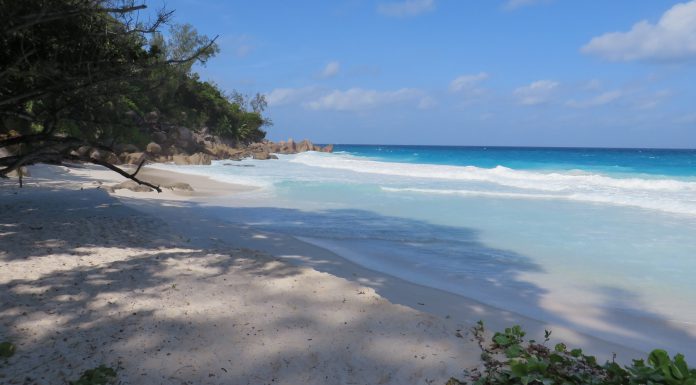 If at some point for a weird reason you might feel you have had enough of the paradise-like beaches, you can still enjoy the three-level infinity pool or indulge in the spa which offers a various range of treatments from Shiseido, an exclusive Japanese brand that is over 140 years old.
Dining options also leave nothing to be desired with the four restaurants putting their focus on excellent fresh seafood. We still dream about the mouthwatering creations at the Lemuria to this day.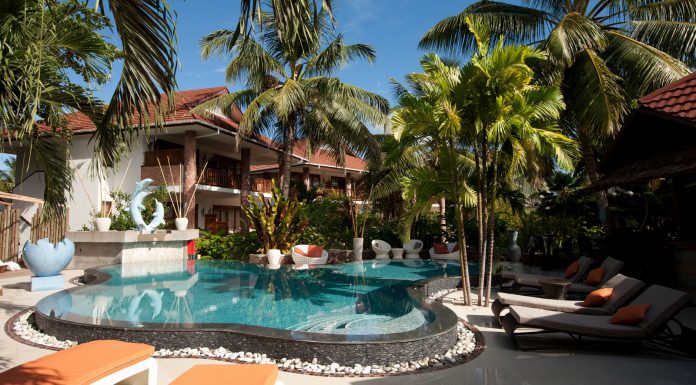 The next day we head to the other side of the island through the Praslin National Park. The drive through the rainforest-like jungle is quite spectacular and is an experience in itself. After a 20-minute taxi ride we arrive at our next destination, the Le Duc de Praslin hotel.
The beautiful Cote d'Or beach, with the most picturesque setting we have seen in a long time, is only a few metres away. The beach spans over 3 km and the palm trees hanging almost horizontally really resemble postcards from the Seychelles. Swimming is easy and relaxing because there are no strong currents and the beach is very flat as opposed to our experience at Anse Georgette where we got slapped in the face by the huge waves quite a few times.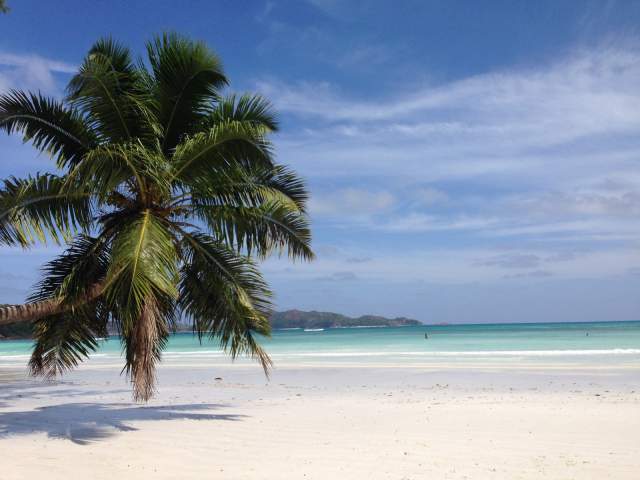 Le Duc de Praslin provides 36 rooms as well as 2 luxurious villas on top of a hill overlooking the beach and sea. We really like the open interior design (especially bathroom) which was done by the British expat Andrew Gee, calling the Seychelles his home for over 20 years now.
Also we can especially recommend dining at Café des Arts, which is opposite the hotel and right on the beach. The food we enjoy by the Seychellois chef is visually appealing and tastes delicious. The latest addition is a Chill Out Lounge and Tapas Bar on top of Cafe des Arts, which had opened only a few days earlier.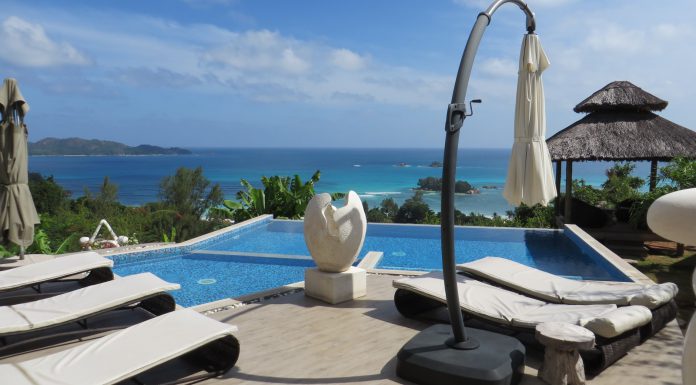 The next day it is time to leave Praslin and we return to the main island of Mahé with the same propeller plane that we have used to get to Praslin. There is also another option to go by speedferry, however since we only have limited time we don't want to spend three hours on the boat and the price difference was only marginal anyway.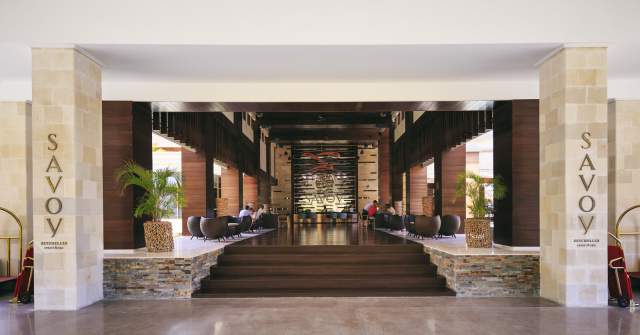 On Mahé we again take a taxi which brings us to the Savoy hotel, our next destination for today. The Savoy Resort and Spa is a newly opened (2013) hotel, located at the lively and popular Beau Vallon beach, where there is quite a lot of entertainment going on and people are selling food and souvenirs all along the beach promenade.
The hotel also hosts the biggest pool on the Seychelles and provides ample entertainment for everybody including a tennis court, a spa with treatment rooms, sauna, steam room and ice fountain as well as six different restaurants and the "Gecko Bar" overlooking the beautiful Beau Vallon beach, where the hotel also provides free sunbeds for its guests.
Obviously the hotel is quite big with 163 rooms, however due to its generous layout it never felt crowded. The hotel features a few honeymoon suites as well as a presidential suite, which spans the whole top floor of one of the buildings.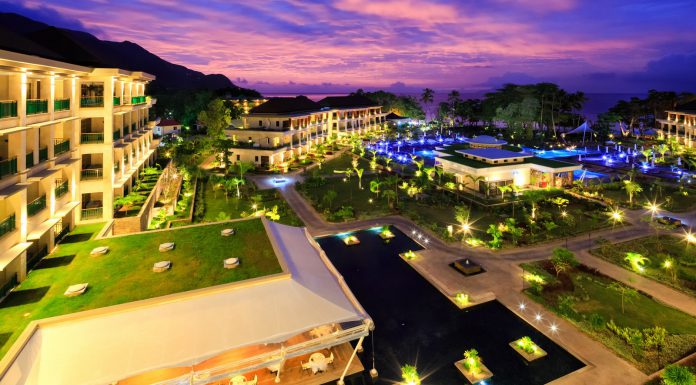 After checking in early, we decide to 'go local' and try the local bus. Timetables on the internet are hard to find and sometimes not very accurate and not easy to read either, so we trust the concierge at the Savoy telling us which bus to take and what time it is supposed to arrive. With a few minutes delay the rattling bus arrives with great noise. We hop on, pay a mere 5 rupees and can ride in one direction for as long as we want.
Under even greater noise the bus takes off in northern direction towards the Hilton Northolme Resort where we get off the bus for a lunch at the Hilton.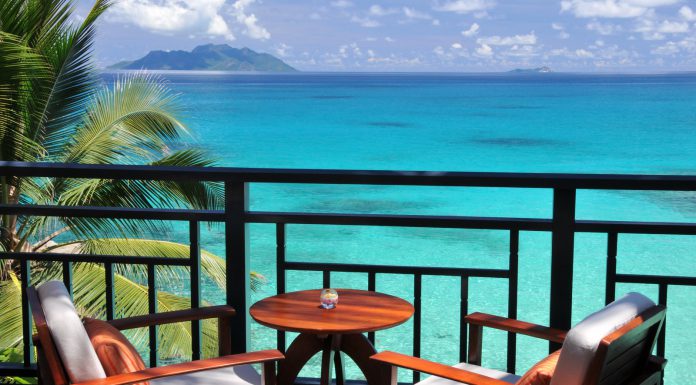 We enjoy this beautiful view over a delicious lunch and are told that the hotel only has 40 rooms and therefore is one of the smallest hotels of the Hilton chain, however each of those 40 rooms are bungalows that are built into the steep rocks ascending from the turquoise blue sea. One can choose between Hillside or Oceanview Villas and just now there is a presidential villa being built which should be available for booking soon.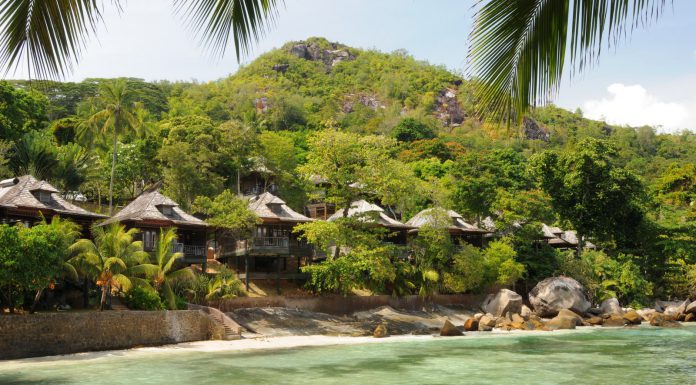 We then return to the Savoy and decide to rent a car, because we heard that driving on the small and narrow roads that wind up the Morne Seychelles National Park can be quite fun. And oh what fun that was. We drive on twisty roads, barely wide enough for one car and with stunning views of the blue sea and sky in the background.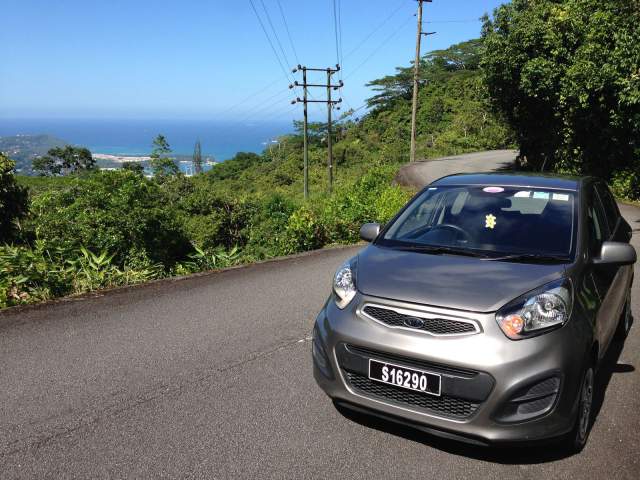 Having driven most of the famous Alpine mountain passes, this really was a different experience to remember. About halfway through the national park, which feels like driving through a rainforest, we arrive at a heritage site called "Mission Lodge" with a commanding view over the green hills and the blue sea. Renting a car and driving those roads is highly recommended when you are on the Seychelles!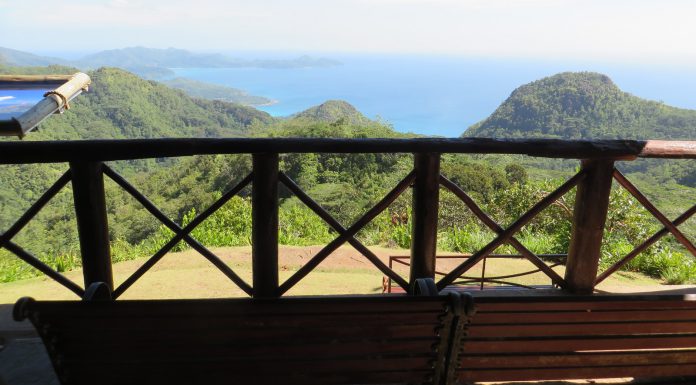 As we descend from the national park hill, the scenery gets even better. Driving down further south towards Baie Lazare, we arrive at most beautiful beaches, one more beautiful than the other. And all of them are basically empty. We haven't felt this close to paradise in a long time. Shortly before sunset we take the opportunity to sit down at a bench on the beach and just watch the sunset for half an hour. Sitting under a palm tree with the white beaches, a calm sea and a small fishing boat in front of us while the sun melts with the sea, this is a truly magical moment that pictures can hardly describe, but I'll try: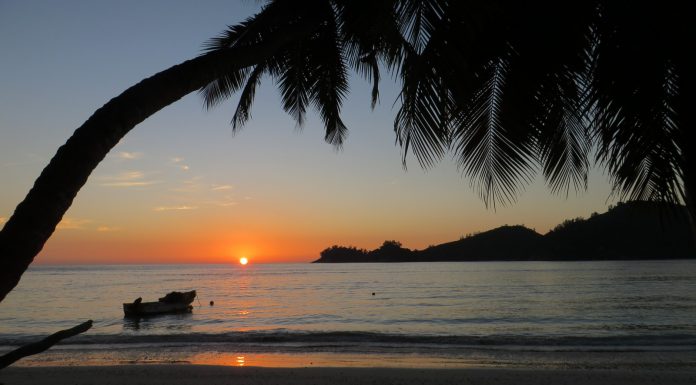 After the sun has set we continue driving for a few minutes until we reach the quite hidden "Maria's Rock Cafe", which is famous on the Seychelles for its seafood that will come to your table rare and then you are given a hot stone with some spices and condiments and you can cook the food on the hot stone to your liking. Every dish is accompanied by a portion of rice and some fresh salad and vegetables.
We opted for the fish and prawns and can highly recommend that if you are looking for a different dining experience. With a full moon lighting up the night, we drive back to the Savoy at Beau Vallon because early the next morning it is already time for us to leave paradise for the next destination.
South Africa
Around lunchtime our plane touches down in Johannesburg, South Africa, and immediately after leaving the airport we feel the heat of South African summers. The temperatures in our rental car constantly show more than 35°c and at one point I saw 40°c on the dashboard.
Nevertheless we decide to head into downtown Sandton, which is one of the nicest areas of Johannesburg nowadays, since the centre of the city itself pretty much became the centre of crime and violence and gets more and more abandoned day by day. It is therefore not advisable for tourists to go there, also because there is not much to see or do. All the major companies have moved out of downtown Johannesburg and most of them are now based in Sandton.
In Sandton's centre there is Sandton City, a huge shopping mall, with the famous Nelson Mandela Square and a 6-metre statue of Nelson Mandela and lots of restaurants and shops around it nearby. Here we can enjoy our first fillet steak in South Africa with a glass of red wine, which was delicious.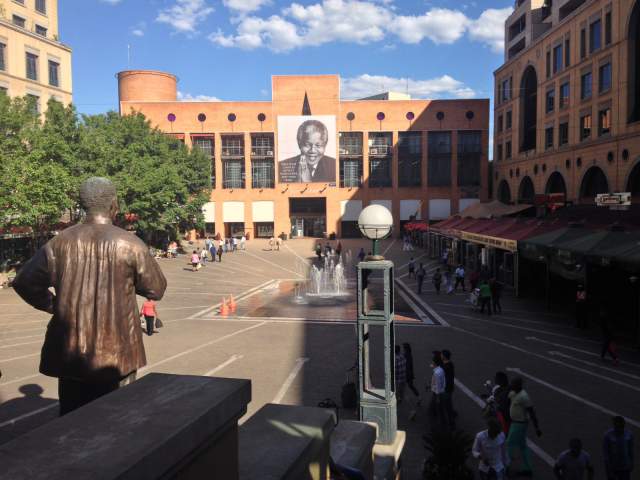 On the streets we notice a whole lot of BMWs (and also quite a few of Audis and Mercedes', however not as many), which we believe is because BMW runs a production plant in Pretoria, just about 40 kilometers north of Johannesburg.
Suddenly we realise that all traffic lights have gone off and people at intersections stop and then continue driving in the same order as when they stopped. This is apparently how traffic works in South Africa at stop signs when there are no traffic lights. Quite interesting to see if you are only used to driving in Europe.
At a nearby café we are told that these power outages happen rather frequently. Otherwise known as load shedding, this is an intentionally engineered electrical power shutdown where electricity delivery is stopped because the demand exceeds the power supply capability of the network. As a result of this many households and shops, as well as the traffic lights, stop working for up to five hours. Bigger hotels have their own diesel generators, which are activated automatically when load-shedding occurs, so power should be available again after a few seconds. Also the only restaurant in the streets that seemed to have electricity was a local McDonalds.
The next morning we dare to drive to downtown Johannesburg because we want to get a view of the whole city and there is an observation platform on the 50th floor of the Carlton Center which we want to visit. Carefully trying to avoid less desirable neighbourhoods we make our way to the Carlton Center and, after asking around a few times, we find the way to "Top of Africa" on the 50th floor which really is worth a visit.

From downtown Johannesburg we drive to the northwest district of Fourways where there is an entertainment complex called Montecasino, which is a building with lots of restaurants, shops and a casino. The ceilings are painted and illuminated in a way that one thinks you are walking under the open sky. Walking from the restaurants to the casino the sky turns from daylight to night which is quite fascinating to see, keeping in mind that it's still bright sunshine outside.
Montecasino opened its doors on 30 November 2000 and attracts over 9 million visitors per year. Attached to the entertainment and leisure complex is The Palazzo, the hotel that we are going to check in at now.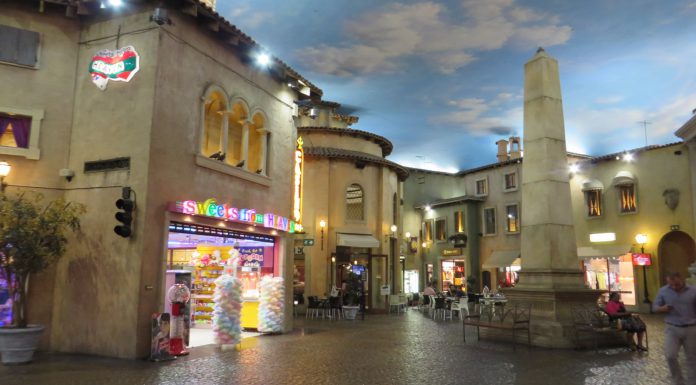 The Palazzo is recreating the look and feel of old-style Italian glamour in 246 rooms. With the columns that lead to the Montecasino complex as well as the design of the pool area and the lobby, this theme continues throughout the resort. The hotel also provides King Suites, a Penthouse and a Presidential Suite. From the Mediterranean restaurant Medeo we have a great view of the central fountain while enjoying a fresh Caesar salad.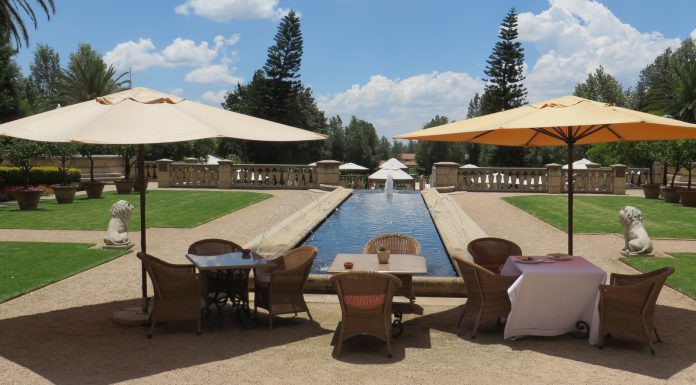 The rest of the afternoon we relax at the beautiful pool with the Palazzo in the background and enjoy cooling off from the heat every once in a while, before we head out for dinner. With Tripadvisor's help, we find a nice little restaurant, called Chaplin's Grill which is famous for its meat delicacies. The tender piece of beef fillet is one of the best steaks we have ever eaten and, accompanied by a glass of excellent red wine, we thoroughly enjoy the evening at the terrace of this fantastic restaurant with a lukewarm breeze in our faces.
Since the sun has now officially set not just within the Montecasino complex but also outside, we return to the Casino area for a few bets on the roulette table, however after quickly realizing that "the Casino always wins" we call it a day and head to bed because we are due to get up early tomorrow.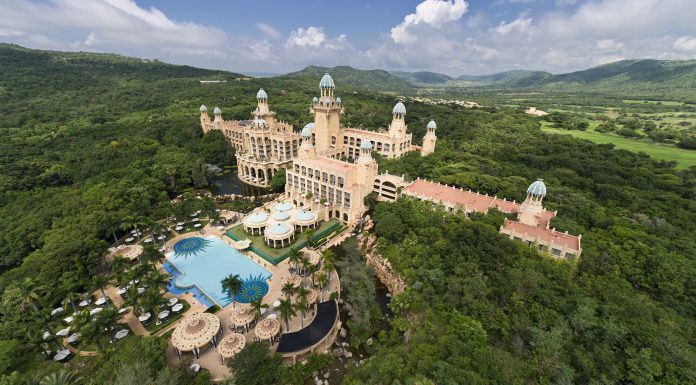 The next morning we have an extensive breakfast because a two to three-hour drive into the South African bush lies ahead of us. Our destination is the entertainment complex Sun City, located at the foot of the Pilanesberg National Park, about 180 km north-west of Johannesburg. The roads are lined with people, cattle, small corrugated metal huts, selling all kinds of souvenirs, simcards, or if you are in need of a haircut, this can also be done. More often than not, the roads resemble airport runways because they are straight for many kilometers and we sometimes find ourselves going faster than we probably should.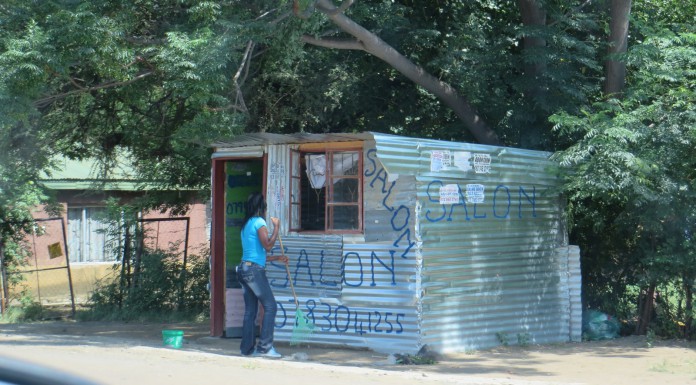 Getting back into our car after a quick stop at a rest area, the thermometer shows sizzling 40°C and so we quickly put the AC on full power and continue our trip. Soon we arrive at The Palace of the Lost City, one of four hotels at the Sun City entertainment complex, housing 335 rooms including 15 suites.
Sun City provides ample entertainment for everybody, be it the fantastic "Valley of Waves" – a man-made beach with artificial waves coming towards you – or the casinos, the worlds fastest zipline, a spa to indulge in massages and body treatments, Safaris through the Pilanesberg National Park, hot air balloon rides, two 18-hole golf courses or the various nightlife options including clubs, bars and restaurants. The list seems to be endless and Sun City claims to have 101 different activities which is a number we don't question at all.
It's quite fascinating to find such a huge resort so remotely located in the South African back country and we are incredibly impressed by the huge size of it. You are better off taking one of the many shuttles to get from one point to another because walking those distances is not a good idea, especially not at 35+C°.
After a quick lunch at the pool area and checking in at the Royal Suite, which boasts its sheer size of 250m² and offers commanding views over the pool and the resort, we rush to the lobby where we are taken to the meeting point for the "Pilanesberg National Park Game Drive", a three-hour safari in an open-air vehicle through the National Park.
We "brought our luck" as our driver Elvis likes to point out quite a few times, because we are able to see four of the "Big Five" (elephant, lion, leopard, buffalo and rhinoceros) and take lots of pictures of the wildlife strolling around in the park. At this time of the day we are also able to witness a fantastic sunset behind the lush green hills of the park and can highly recommend this experience.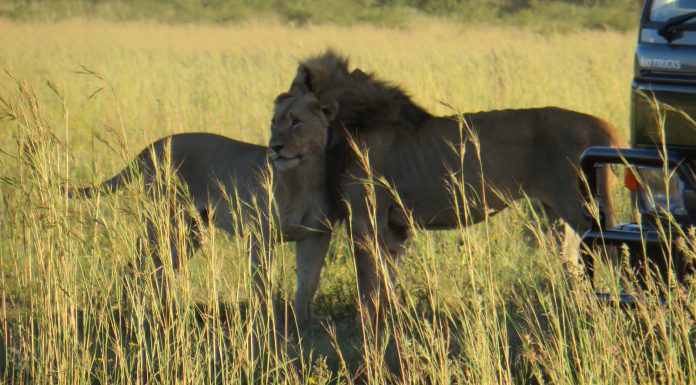 After a delicious dinner at the Plume restaurant, where we try springbok for the very first time (and like it a lot), we return to our massive suite, where we make use of our own in-room-sauna and the huge shower for ultimate relaxation before heading to bed after this long and exhausting yet amazingly interesting day.
The next morning a lavish breakfast buffet is being served in the majestic Crystal Court including fresh sushi and sashimi as well as all kinds of fruit and more egg dishes than you can imagine. Invigorated by this extensive breakfast, we unfortunately already have to head back to Johannesburg for our last destination in South Africa. However returning to Sun City is definitely on the cards in the future, because one night simply isn't enough to experience even 10 per cent of what they have to offer.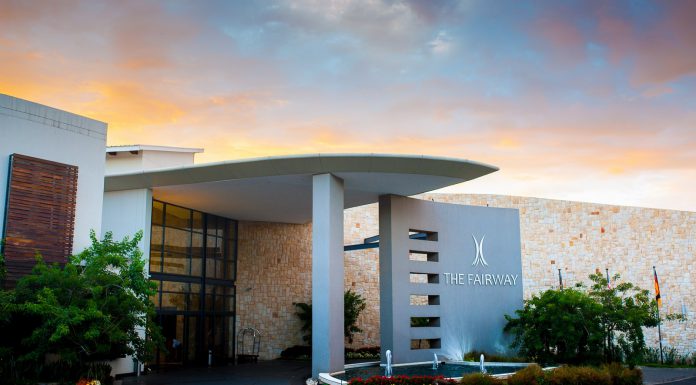 The Fairway Hotel, Spa & Golf Resort is our last hotel on this extraordinary trip and it certainly is a nice one to end it. Dealing with the problem of "load shedding" as mentioned earlier, the hotel has its own "silent pack" generator running that starts working within 10 seconds of power outage being detected.
Opened in 2010, right in time for the FIFA Football World Cup in South Africa, the Fairway still looks brand new today and contrary to most of the other hotels we stayed at it has a more modern and fresh appearance – outside and also from the interior point of view which we like a lot.
It is located right next to the Randburg Golf Course and only about 15 minutes from Sandton centre. The hotel has 76 rooms including family rooms and 14 villas with 4 bedrooms each, so big enough to house a group of friends or a large family. Our luxury room is appointed with the finest materials to ensure the highest level of comfort and luxury. The bed is incredibly comfortable and comes with a choice of pillows to fit everyone's likings. We especially love how spacious are the bathroom and showers.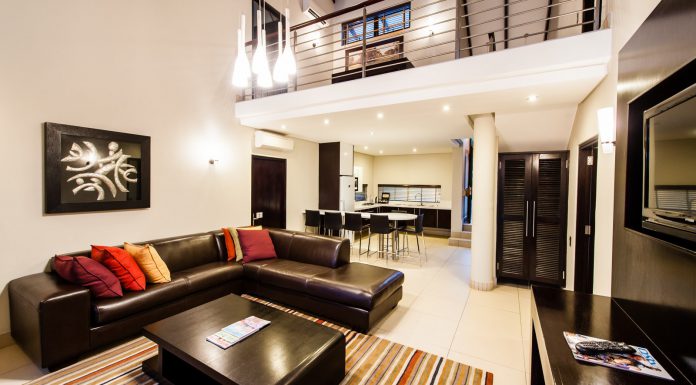 The hotel has two pools, one at the centre of the main building with the restaurant and rooms and another one located in close proximity to the villas. The water is quite fresh but exactly right for the high temperatures outside. An extensive spa with 11 treatment rooms is available too, offering a wide variety of hydrotherapy treatments as well as saunas, steam rooms, jacuzzi and outside pool provides a lot of options dedicated to nourishing the mind, body and spirit.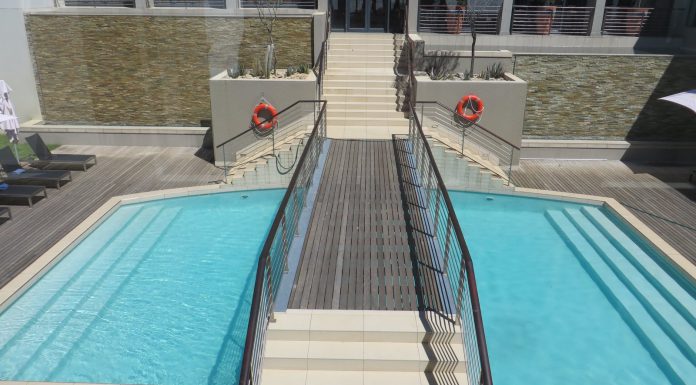 United Arab Emirates
A rather short overnight flight later we touch down in the capital of the United Arab Emirates, Abu Dhabi, where we have a full 18 hours layover to explore. We rent a car and grab a sandwich and coffee for breakfast before heading out east towards Al Ain.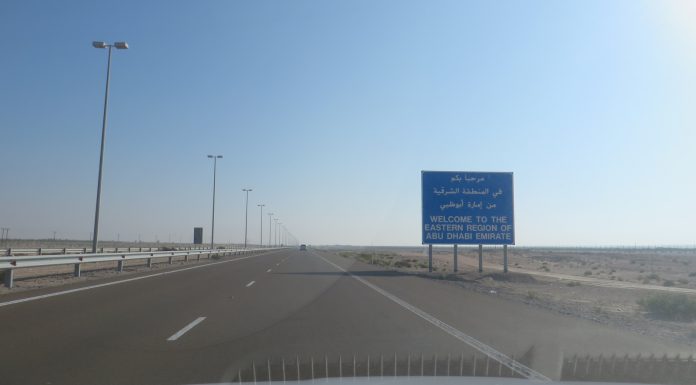 The three-lane highway turns into a two-lane highway and while heading straight into the desert we hardly see any other cars. This doesn't mean that we can speed up because there are frequent speed cameras along the way. Coming closer towards Al Ain, we also encounter many camels both sides of the road.
About two hours after departure we reach Jebel Hafeet, one of the highest peaks of the UAE, 1350 metres above sea level. We arrive at around 9.30 am, still early in the morning, and therefore have a fantastic view of the Emirates' desert on one side and the Omani desert on the other side, because the border to Oman is exactly crossing through Jabel Hafeet mountain.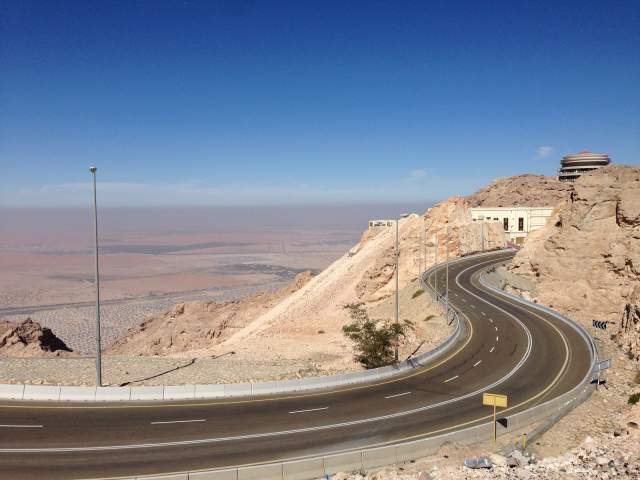 Another highlight, aside from the view from the top, is the road leading there. The road conquers 1219 meters in altitude difference via 21 sharp corners. It was built in the 1980s by a German construction company. Every year in January a cycling championship is held at this road, the Jebel Hafeet Mercure Challenge. Besides the amazing road in the Seychelles, this is now the second truly challenging road, where we wished we had a proper sportscar to drive.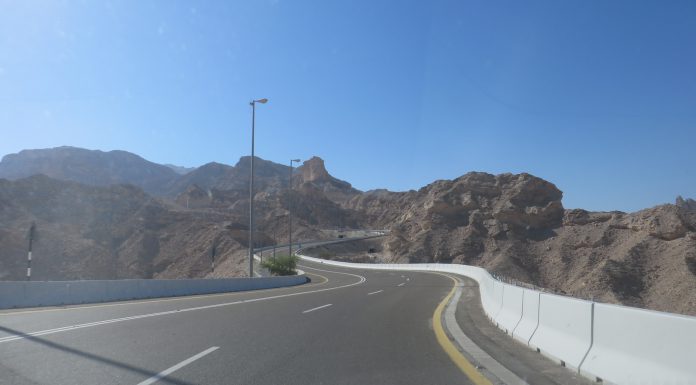 We saw that one truck apparently tried to take one of the corners too fast as the wreck is still there – hopefully the driver wasn't too badly hurt.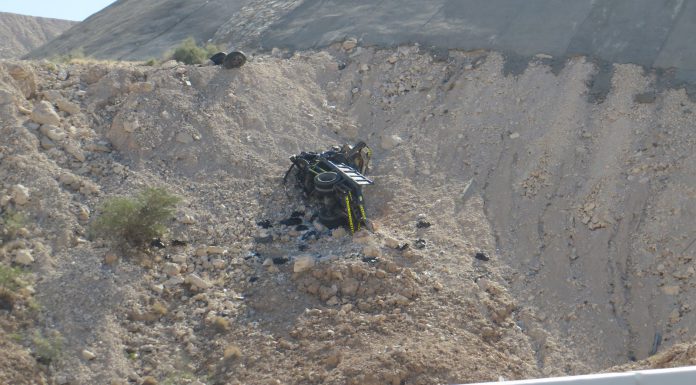 From Jabel Hafeet we head into downtown Dubai, where we meet a friend who runs a workshop for exotic cars (Simon Motorsport). Upon arrival the first thing we notice is a LibertyWalk widebody Ferrari 458 Italia, fitted with an Innotech Performance exhaust. Curiously we check out the fantastic Ferrari when our friend asks us if we wanted to hear some of that sound.
Of course we agree and he starts up the 458 Italia. Honestly my ears are still ringing if I think about that moment today. The sound was incredible. You can hear a sample of that here: https://www.facebook.com/video.php?v=10152616696030143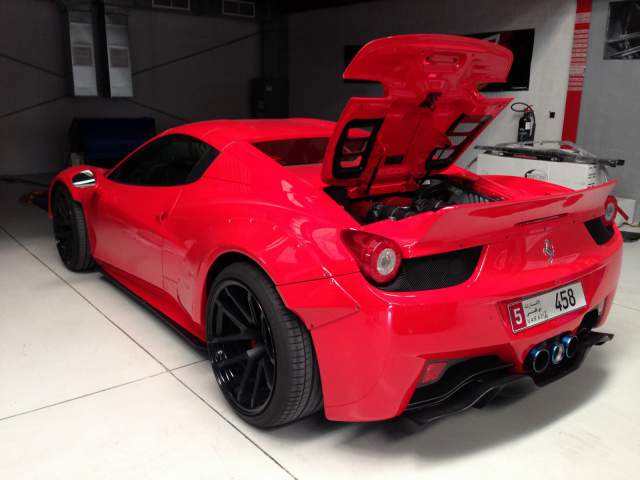 Next we are travelling to Jumeirah Beach Residence, or JBR for short, to spot some of the exotics which cruise in numbers along "The Walk". It doesn't take long and we can spot the first combo of Ferrari 458 Italia and Lamborghini Huracan and a Bentley Continental GTC after that.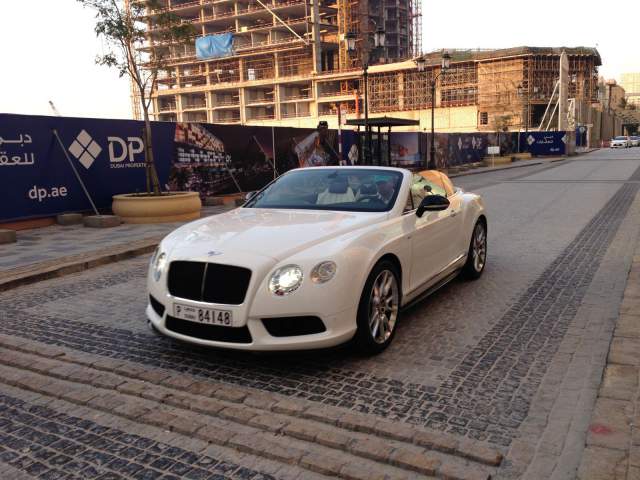 While we enjoy a great Lavazza coffee at one of the many cafes along "The Walk" our camera doesn't stand still. Lamborghini Murcielago LP640, Bentley Continental GTC, Rolls Royce Ghost, Bentley Mulsanne, Maserati GranTurismo – you name it. All those cars within less than an hour. Apart from Monaco during the F1 GP and London, this is probably THE place to spot exotics.
Since it is dinner time already, we choose the "Ciao" restaurant at the Sheraton hotel for a pizza, where service has been exceptional (they even brought me a charger for my phone), the pizza however was only mediocre. Since they are going to replace their chef soon, things should improve – at least that's what the waiter was telling us. :-)
Another overnight flight later, we arrive in cold Zürich, Switzerland, at around 6.30 am the next morning. We left Johannesburg about 36 hours ago at +36°c and arrived in Zürich at freezing -10°c – understandably we felt like stepping right back on to the plane.
Having taken home a ton of impressions, over 3600 photos and videos and a lot of recommendations from very unique and extraordinary hotels in fantastic places in the world, we hope you enjoyed reading our report and can make use of some of the information and references that we liked to share here.