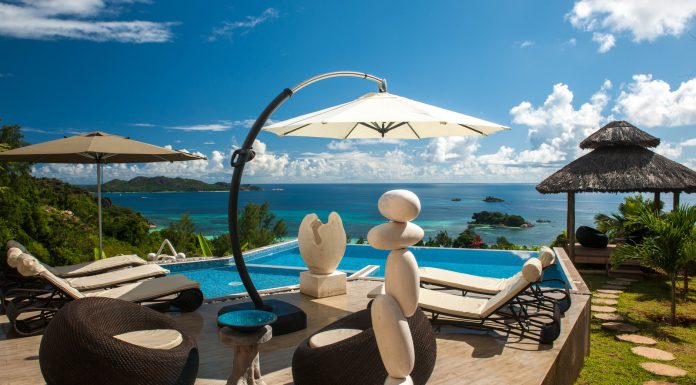 Greeted by a welcome drink and some flowers, we felt very welcome and comfortable from the very first moment we entered the open-air reception at Le Duc de Praslin. The open architecture and the lush greenery and plants in the outdoor areas immediately gave us a sense of paradise. It clearly makes you feel and experience the Creole spirit of this hotel, which is run solely by Seychellois staff.
Le Duc de Praslin is a 4-star superior resort located just a few metres from the outstanding Cote d'Or beach, so fine white sand and turquoise waters are just a few footsteps away. The hotel offers 36 spacious ensuite rooms as well as two luxurious villas that are located a few hundred metres up the hill and offer a stunning view of the beach and the sea. Just recently a few more rooms have been added to meet the growing demand.
The Le Duc de Praslin is a Seychellois family-run business, now in its second generation and they put a lot of effort in true Seychellois hospitality, which gives you a home-from-home feeling.
Most of the rooms have recently been refurbished and the interior has been designed by Andrew Gee, a British expat calling the Seychelles his home for over 20 years now. We especially loved how everything fits so well together and has a unique touch to it as well as the plentiful decoration throughout the resort.
The state-of-the-art rooms are circled around the main building which houses the reception as well as the main restaurant, Le Dauphin. Water flows through the koi carp ponds throughout the property to create a Zen-like atmosphere and everything is very beautifully decorated with lots and lots of flowers and plants everywhere.
When everything is lit up at night we found more than a few times that we just had to stop and stare at the beautiful setting amidst a tropical garden with over 100 varieties of orchids which is also home to six Giant Tortoises that live in part of the garden – the oldest is 105-year-old Josephine. Guests who enjoy a more cosy atmosphere compared to an anonymous hotel resort will love the Le Duc.
There are four options to choose from, when it comes to accomodation. Superior rooms offer 64m², which are a bit more spacious than standard rooms at 50m², as well as the four honeymoon suites (75m² or 807 sq ft) which especially offer beautiful views of the exotic gardens surrounding the Le Duc and with added privacy. The honeymoon suites also provide outdoor open-air showers in a private inner courtyard.
All rooms are very spacious and tastefully decorated and we especially loved the open layout of the bathroom with its big rainshower and separate bathtub. Especially catering for families, there are extra large one or two-bedroom suites of 100m² (1,077 sq ft) and 135m² (1,453 sq ft) respectively. Le Duc also offers enticing family packages.
Certainly one of the highlights are the two villas located a few hundred metres away from the main resort, which can accomodate up to eight people in four ensuite bedrooms providing enough space for everybody, with a sizes of 260m² (2,800 sq ft) in total. Located at a cliff overlooking the superb beach of Cote d'Or, and with the fantastic pool, these villas provide the ultimate luxurious experience for friends or families who enjoy a different kind of accomodation with enhanced privacy while still enjoying the service and hospitality of the hotel.
Both villas have a fully equipped kitchen und come with modern facilities and a large outside dining terrace. They are contemporarily decorated and the exceptional view from the pool sure is the highlight in our eyes. Guests staying at the villas can opt for butler service with a chef who cooks delicious meals at the villa or they can enjoy the two dining outlets, Le Dauphin and Cafe des Arts.
Right at the doorstep there is the fantastic and huge Cote d'Or beach, which is over 3 km in length and offers some of the most picturesque scenery we have ever seen with its palm trees hanging there almost horizontally. The beach is quite flat and even when there is high tide it is very calm and one can enjoy relaxed swimming.
Anse Lazio, which is reputedly one of the most beautiful beaches of the Seychelles and probably worldwide, is just a 10-minute drive away and a few more beaches can also be reached after a short drive in case Cote d'Or is not stunning enough!
Le Duc has three beautiful pools, two of which are in the main resort area and the third being on top of the hill at one of the villas. What's unique about them is that all of three have their water treated with magnesium and various other beneficial minerals instead of chlorine to avoid skin and eye irritation.
Also available is a jacuzzi and for those who need extra pampering, a small spa offers a variety of relaxing massages and treatments using only natural ingredients in relaxing surroundings.
Le Dauphin is the main restaurant located in the centre of the resort where breakfast is served in the mornings while dinner usually has a dedicated theme for every day of the week ranging from local Creole cuisine to international dishes with a local influence. Breakfast and dinner are served as a buffet.
Cafe des Arts is the hotel's fine dining restaurant located opposite the hotel, directly at the Cote d'Or beach. We had the opportunity to enjoy an exceptional culinary experience twice and were thoroughly impressed by the mouthwatering creations that the Seychellois chef presented to us. Naturally focusing on seafood, the dishes were delicious and very fresh. Live music is performed by local artists a few times a week, adding to the already fantastic dining experience.
The "Chill Out" Tapas Lounge Bar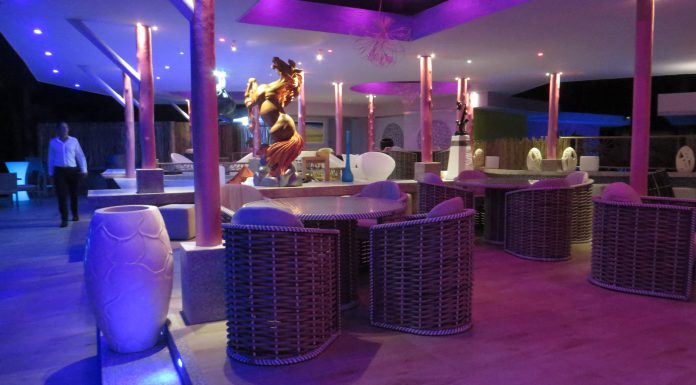 The latest addition to the hotel is the "Chill Out", a beautifully decorated Lounge Bar on top of Cafe des Arts, playing relaxed music while serving delicious tapas and cocktails. And this comes with the best view of Cote d'Or that you can imagine. The furniture and interior as well as the lighting design is again the work of Andrew and we must admit that we really like his work, as it gives the bar a very trendy and hip, yet cozy, feel.
The bar features a signature cocktail which we were also happy to try and help refine.
Conclusion
The Le Duc de Praslin is a different experience and unique for the Seychelles. It bridges the gap between anonymous ultra luxury hotel complexes of international chains and local guesthouses that can be found throughout the Seychelles. It gives a homely feel while still being luxurious enough to fulfill most guests' demands, especially if you are staying at one of the villas.
Dining options are on an extremely high level too, so no reason to complain here whatsoever. We also loved the refurbished and newly built rooms which are truly state-of-the-art and very modern compared to many other resorts that have been running for 10+ years without any major renovations. And all of this comes for a very competitive price.
Room rates at the Le Duc de Praslin start from EUR 300 (~$339 USD) including tax per room per night.
Check out their Website and Facebook too!