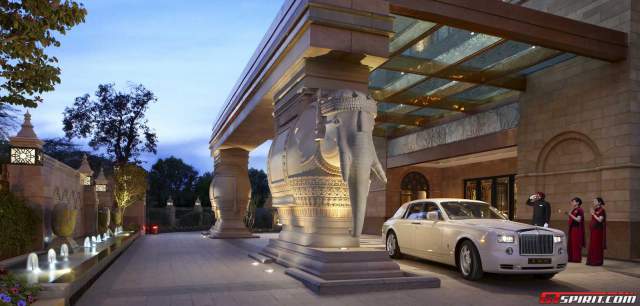 While Delhi certainly offers its fair share of luxurious five star hotels that are truly excellent, there are not many that stand out. The Leela Palace however is one of these rare examples that does. We have come to Delhi as a starting point to explore India and to do a tour to the Taj Mahal and wanted to stay at one of the best addresses in the city. We certainly knew our stay would be pleasurable, however our expectations were greatly exceeded.
It all began with a very convenient airport pick up and transfer. We were greeted by a Leela Palace employee right when we came out of the arrivals area at Delhi airport and were then chauffeured to the hotel in a brand new BMW 5-Series equipped with a refreshing towel and some bottled mineral water.
After a quick drive of only about 10-15 minutes, we reached the hotel and immediately dived into an oasis of calm and serenity in contrast to the hustle and bustle of the city of New Delhi. What then happened made all the difference. Upon getting out of the car, we were being treated like royalty and received a red dot on our foreheads which is supposed to ensure health and luck, as well as a necklace made from flowers. Check-in was then comfortably been done in our room and shortly afterwards we were complimented with a nice cappuccino and freshly pressed orange juice.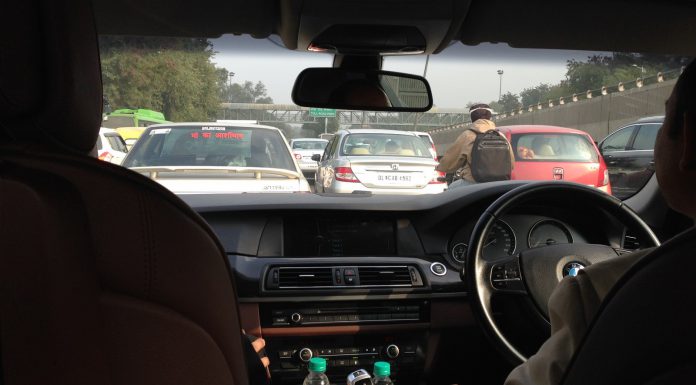 The Hotel
The Leela Palace, New Delhi is one of eight properties of the Leela group in India. Plans are to expand in other parts of the world soon. The hotel is located in a very secure location in the diplomatic enclave of New Delhi.. Despite its young age of less than four years, the Leela Palace has hosted more than 70 heads of state from all over the world.
It features 254 rooms and suites and while the rooms are outstanding as such already, the suites are simply breathtaking. Some of them even offer their own private pool – yes, your own pool within your suite.
The service was immaculate and has always been very friendly and attentive during our two nights stay, be it at the restaurants or room service or during check-in/check-out. We got the feeling that the staff has been working here for a long time already and they are really well trained. Staff that I had never knowingly seen before knew me by my name (and they could even spell it correctly, which is a rarity in my case).
The founder Chittarath Poovakkatt Krishnan Nair's premise was something that translates into "Guest is God", and you can certainly feel that every employee of Leela lives by this motto. Service and hospitality in every area of the hotel, be it the restaurants, the SPA, housekeeping or the reception really was unmatched.
The Rooms and Suites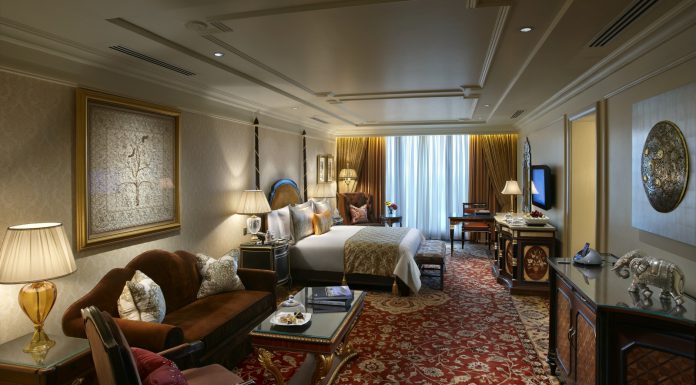 We stayed at a Grand Deluxe Room which impressed with sheer luxury and it was very well appointed with a big LCD screen, luxurious carpets and a giant powerful shower in the bathroom. The room made a great visual impact with impressive décor, state-of-the-art amenities, and this type of room also provides spectacular views of the city's skyline. While we wouldn't exactly call the room small with 550 square feet (51m²) of space, this is in fact the smallest room you can book at The Leela Palace. If you are going to spend a little more, then the further options are Premier Room, Grand Premier Room, Royal Premier Room, which are even bigger providing an amazing view of nature and gardens at the palace.
Then there is a variety of suites to choose from if you wish to indulge in even more luxury. The Grande Suite with a pool for example is artistically designed in a grand Indian theme with floor-to-ceiling columns, beautiful arches and a private pool providing an exceptional experience. Clearly the highlight of this suite is the pool that comes with a Jacuzzi which can be temperature-controlled.
Royal Club rooms in the 8th and 9th floor as well as all the suites also offer access to the Royal Club Lounge with complimentary five food & beverage presentations, complimentary usage of boardroom up to 2 hours per stay, spa style shower heads, complimentary airport transfers, an exclusive concierge and delicately carved wooden furniture.
This is only topped by the Presidential Suite which features eight rooms of opulence. A 24-hour butler service, a private study, dining room and gymnasium and last but not least Rolls Royce transfers are included too.
The Spa and Pool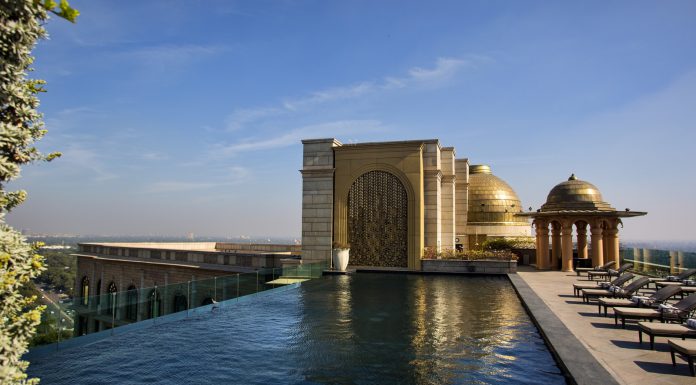 The Spa offered by the Leela Palace is a world-class facility designed by Jeffrey A. Wilkes in association with world leaders ESPA. The Spa is another highlight of this hotel, because it offers the best European, oriental and Ayurvedic therapies with only pure and natural ingredients. The Spa area has two treatment levels with a café, relaxation lounge, a gym, roof terrace and sauna, steam, and drench rooms. On the roof terrace you will also find a breathtaking infinity pool offering stunning views while relaxing with a drink or two or occasionally going for a swim. Note: During winter times, the pool is heated to the perfect temperatyre, so even in January where temperatures can fall into the single digit Celsius range, swimming is still possible and very enjoyable.
Dining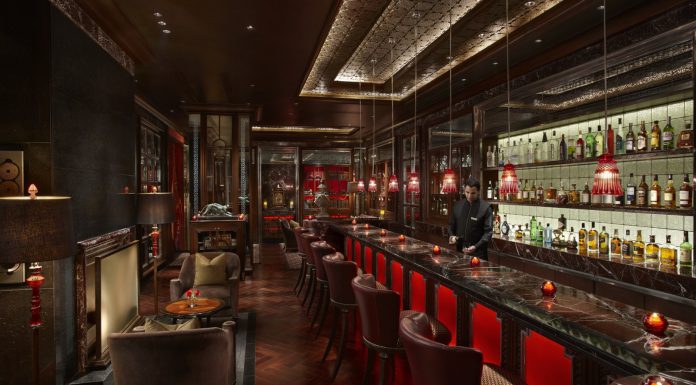 Our breakfast was served in the Qube restaurant, which is just one of five different options that serve delicious dishes from Indian and French-Italian to Japanese cuisine. It goes without saying that of course there is an exquisite bar where connoisseurs can enjoy a fine cigar with a good glass of whiskey from a select collection.
The Leela Palace New Delhi also claims to serve the most expensive drink in the world, priced at around 1'300'000.- Rupees which converts to around $22,000 USD. So far they have sold three of them we were told by the head of PR and Marketing Deepti Uppal.
Conclusion
The Leela Palace New Delhi doesn't only stand out from the most luxurious hotels in Delhi or India but it can easily compete with other outstanding properties around the world. What it sets apart from other hotels really is the extremely high level of service and hospitality that we experienced. We didn't find a single point to criticise during our stay and thoroughly enjoyed all the amenities from the infinity pool at the rooftop to the spa and the restaurants. Last but not least the perfectly trained and highly motivated staff made our stay truly extraordinary.
Be sure to check out their Website, Facebook, Instagram and Twitter too!