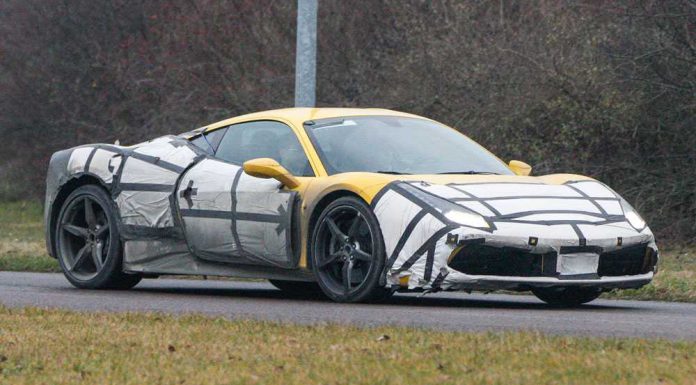 Two new prototype of the upcoming Ferrari 458M have been spied testing with one sporting the new front and rear fascias as well as the revised headlights and taillights for the very first time.
The name of the car remains unclear but it is shaping up to be either the Ferrari 458M (M for Modificato), the Ferrari Italia T or the Ferrari 398 Italia T. Either way, it will reportedly use a variant of the Ferrari California T's 3.9-litre twin-turbocharged V8 engine tuned to produce 670 hp. Such a power figure is 100 hp more than the current 458 Italia and more importantly, about 30 hp up on the McLaren 650S.
Visually, the yellow prototype pictured features new headlights and taillights and despite being largely hidden under camouflage, the tweaks are apparent particularly with the taillights appearing slightly smaller than the current car. Elsewhere, the test mules utilise a brand new dual tailpipe system as well as a different rear diffuser and Formula One inspired red LED light at the rear.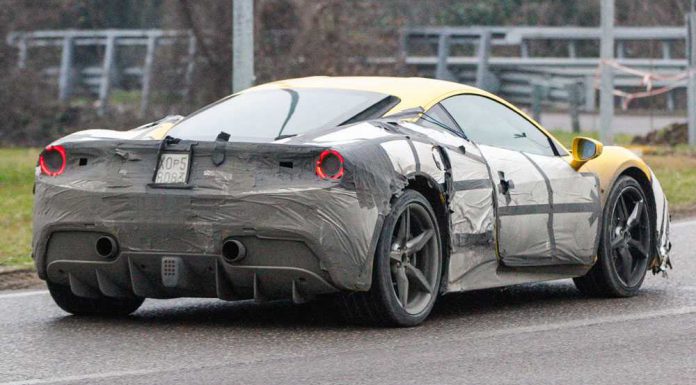 From a further visual perspective, some rather dramatic changes are likely to ensure that the new engine gets an adequate amount of air going its way. As a result, we expect to see larger front air intakes, also helping to cool inevitably larger brakes, as well as reshaped bumpers both up front and at the rear.
The car will be unveiled at the Geneva Motor Show 2015.