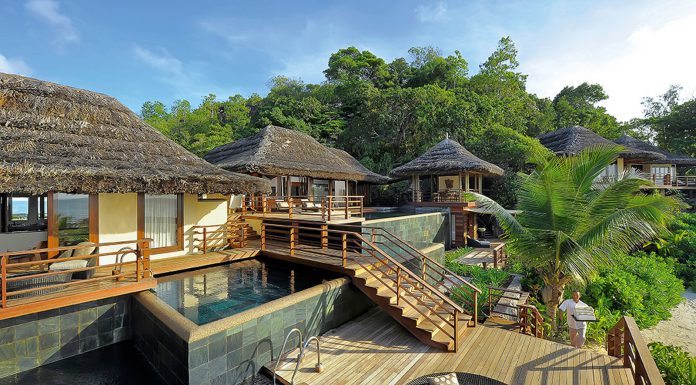 After a long overnight flight with hardly any sleep, we have arrived at the reception of the Constance Lemuria Resort, a member of the Leading Hotels of the World, on the small island of Praslin, Seychelles. While being checked-in, we have received a nice and cold welcome tea of ginger and orange as well as a local newspaper from our home country, very attentive. Shortly after the formalities had been done we were being chauffeured in a golf club cart to our room. Only later we understood why there are so many of them here – the property is simply huge, even if you don't take the golf course into account.
As soon as the gates to the main building with another reception were opened and we have been greeted by "Welcome to Lemuria", it felt like the gates of paradise were being opened to us. With a little fountain in front of us, whose water flows down a staircase, and the amazing infinity pool behind, plus the turquoise Indian Ocean as the backdrop, this really was a very picturesque start to an amazing stay.
The Constance Lemuria Praslin Resort is one of seven properties run by the Constance group, which focuses on luxury accomodation all across the Indian Ocean. They have two hotels in the Seychelles, two in the Maldives, two on Mauritius and one more in Madagascar.
The Lemuria provides 105 rooms in numerous buildings which are spread over more than a hectare.
The Lemuria opened its doors in 2000 and puts a lot of effort in conserving the Seychelles' natural resources and during construction about 15 years ago it was important for the owners that nothing of the natural beauty of the Seychelles was being destroyed. The outcome was that many of the beautiful villas are built into the rocks, embedded in the nature, surrounding even trees that have been there before the hotel, which looks beautiful and is ecologically very friendly.
They also run a turtle preservation campaign since turtles often come to some of Lemuria's beaches to hatch their eggs, which is also very spectacular for the guests to watch. Naturally the turtle is Lemuria's mascot, so you can find a small inflatable turtle in every bathroom, as well as two real and really big ones strolling around the resort. They are usually to be watched in a part that has been called the "Jurassic Park" by Lemuria's employees. We can understand why, because it really feels like it when you are being chauffeured through the rainforest-like jungle in an electric golf cart.
A kids club with lots of different activities is also available to keep the young from the age of 4 – 11 entertained and leave their parents a little more relaxation during their holidays. The activities range from a kids' pool and open play areas over computer stations to theme days where they can make ice cream, pizza or smoothies. Babysitting is available on request too.
Accomodation at the Lemuria is available in Junior and Senior Suites as well as Villas which can accomodate up to 4 people and are mostly catered to families with kids. Apart from that there is a Presidential Villa with the enormous size of 1250m², that can accomodate up to 12 people, leaving enough space for everybody.
The Presidential Villa gets occupied quite frequently as public relations director Diane has told us. So we were lucky to get a view of the villa which nestles discreetly at one end of the resort. It seemed more like a whole village to us with its four buildings, own private pool, jacuzzi and even a private area of beach, which often gets used as a dancefloor for parties as well.
There is also a VIP Lounge which can be used to relax or to shower and freshen up in case you arrive early and your room is not yet ready or if you have a late flight out and you want to have a place to stay before leaving the resort, which is quite a good idea as we found.
In total there are 105 rooms available, all of them offering a spacious bathroom with a window to the main room and a nice terrace with beautiful views. We stayed at a Junior Suite with a commanding view of the Grand Anse beach and the turquoise water of the Indian Ocean. If you ask anybody how they picture paradise, I am quite sure the image described would match what we woke up to in the morning.
The Lemuria is surrounded by three very beautiful beaches – Grand Anse, Petite Anse and, a little bit secluded and hidden behind the golf course, Anse Georgette. Grand Anse and Petite Anse were right in front of our doorstep when we left our Junior Suite. You can borrow snorkel gear for free and many other watersport options including diving or excursions are possible too. Unfortunately the sea was quite rough when we stayed there, so the waves were quite a bit too challenging for snorkeling.
Otherwise many coloured fish and other sealife can be watched just a few metres into the ocean, Diane told us while showing us around. Since we have seen a manta ray from the restaurant, which is a few metres above, I have no doubt that the sea life is very abundant and can be watched here, unlike in many other destinations in the Indian Ocean where it has been destroyed by tourists.
While Grand Anse and Petite Anse compare well with other beautiful beaches, there is one thing that makes Anse Georgette really special and many people describe it as the most beautiful beach in the world. Since it is a little hidden, slightly remote behind the Lemuria Golf course, it is not frequented as much. In fact when we went there at 9.15 am we were the only people at the beach for over an hour. And only a few more people arrived after that.
Anse Georgette is beautifully shaped like a half moon and the waves we have seen here were really big, which is fantastic to watch and fun to play with. Inexperienced swimmers however need to be careful as there have been incidents in the past of people being hurt. We were hit in the face by the waves quite a few times as well, but it was so much fun! There are no facilities at Anse Georgette, no sunbeds and umbrellas either, but there is a big tree at the back of it, providing nice and relaxing shade.
U Spa by Constance offers a various range of treatments from Shiseido, an exclusive Japanese brand, which is over 140 years old and one of the oldest cosmetics companies in the world. In total there are four treatment rooms, which can be booked to enjoy, relax and rejuvenate with one of the therapies in a very calm and serene setting, surrounded by bamboo trees and palms. The Spa's facilities also include a sauna, steam bath, Jacuzzi, a fully equipped gym, hairdresser and a plunge pool. Between the hours of 10am and 2pm the guests can enjoy all the facilities for free, while from 2pm until 9pm the aqua and wellbeing area is reserved for guests who have booked treatments.
The three-leveled infinitypool offers stunning views of the Indian Ocean while swimming a lap or two.
There is a choice of four restaurants to cater for every taste in paradise. We were told that most dishes are prepared with locally grown foods and the majority of the produce that is converted into delicious meals comes from the Seychelles.
Beach Bar & Grill is focused mainly on seafood and we were delighted by the creations the chef has presented to us. The restaurant is beautifully located on the western end of Petite Anse Kerlan beach, elevated a few metres, providing beautiful views of the bay. For the more romantic there is also the option to have "Dinner on the Rocks", which are just three tables that are nicely secluded and located a little bit above the rest of the tables – on the rocks.
Legend is the buffet restaurant that offers a lavish choice for breakfast and dinner, while you enjoy the views of the turquoise water in the bay of Petite Anse Kerlan. For lunch there is also an a la carte menu available and dinner features international specialties from Italy, India and Asia.
Seahorse is only open for dinner and offers fine-dining with local flavours and European impacts.
Lemuria is surrounded by an amazing 18-hole golf course, which is the only one on the Seychelles and therefore many of the guests even bring their own gear to enjoy the course. Those who don't can, of course, rent golf gear and golf carts at the Lemuria. Never having played golf before we were very eager to try it, so resident manager Mr. Hilton Hastings took us on a quick lesson, together with Dominique who is responsible for the golf players at the resort. We did our very best, and managed to hit the ball quite often, however at the spectacular signature tee we failed quite miserably. It was still great fun nonetheless, thank you Hilton and Dominique.
Conclusion
The Constance Lemuria impresses with its beautiful setting in an even more beautiful location and a flawless service, which really gives you the feeling of being in paradise. With three of the most amazing beaches in the Seychelles and probably in the world, as well as the only golf course in the Seychelles, the hotel is unique in many different ways.
The fantastic food, the exceptional staff and the numerous activities will make you not want to leave again. This most luxurious experience doesn't come cheap, however it is well worth it.
Check out their Website, Facebook and Twitter too!