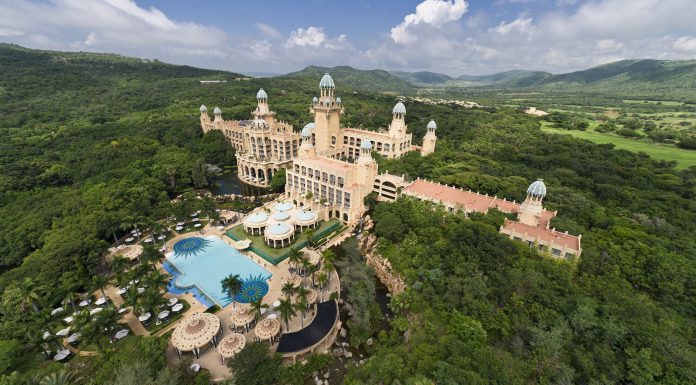 Very rarely there are moments where we can just stop and stare at something. This is a big one. Literally.
When we arrived at The Palace of the Lost City, which is one of four hotels and the flagship of entertainment complex Sun City, we could barely believe our eyes simply because of the sheer size of the resort – 1,500 hectares in total. It felt like a whole city to us where you could do literally anything.
Located at the foot of the Pilanesberg, about a two-hour drive from Johannesburg, the variety of leisure activities seems endless and ranges from safaris through the Pilanesberg National Park, hot air balloon rides over, the world's fastest Zipline rides reaching 120 km/h, a gigantic maze, Segway tours, two 18-hole golf courses to amusement in the various casinos, bars and nightclubs, just to name a few of the alleged 101 activities.
Sun City has also hosted lots of famous musicians such as Frank Sinatra, The Beach Boys, Elton John, Rod Stewart, Michael Jackson and Queen throughout the years, as well as it has hosted events such as the Miss South Africa and Miss World pageants.
Sun International, the company that runs Sun City, has three five-star establishments, positioned in a "Golden Triangle" that links Cape Town's landmark The Table Bay, within the Victoria & Alfred Waterfront; Sun City's The Palace of the Lost City, nestled in an extinct volcanic crater surrounded by the Pilanesburg big 5 nature reserve, and Zambia's gracious Royal Livingstone, set against the stunning backdrop of Livingstone's Victoria Falls.
Opened in December 1992, The Palace of the Lost City was one of Sol Kerzner's masterpieces. The attention to detail is stunning. Be it the handcarved walls, the lobby's ceiling paintings which took eight artists over 5,000 hours to create in the same way Michelangelo painted the Sistine Chapel, or the 300,000-piece mosaic in the lobby area which again required nine months of work. At one point Kerzner had 10,000 people working at the construction site in order to have the Palace finished on time.
There isn't a single part without a story behind and that's what makes it so fascinating.
Located in the middle of the South African bush, this opulent palace, a member of The Leading Hotels of the World, certainly stands out from the vast hotel landscape all around the world. In the beginning the hotel, as part of Sun City, mostly catered for gambling guests as it was the only part of South Africa where gambling was legal.
We were told by Mrs. Herliane Portenschlager, who has been working at the resort for over 24 years, that it is constantly evolving to meet the ever-changing needs of their clients. Nowadays there are three main sources of revenue, which are the gambling Casino guests, the conference and event guests – which are mostly wedding guests or conferences of international companies (when we were there YAHOO! had a conference) – and the family and holiday guests, which is a growing group.
Due to ongoing soft refurbishments nothing at the Palace looks dated or worn out, although the opening was already 22 years ago. While there hasn't been any major refurbishment, everything is kept very well in place, and there are no changes in style, theme or architecture, which we liked very much.
Local jewellery as well as handmade attire and clothing can be bought at the Palace Collection next to attractive souvenirs, so your shopping needs will also be met at any time.
There is a quite a selection of accomodation to choose from with the Palace providing 335 rooms altogether including 15 suites. Each room is luxuriously appointed and fitted with individually crafted furniture. Luxury rooms with 36m² (388 sq ft) offer views of the gardens and the green scenery around the resort. Although deemed as the cheapest option, you certainly feel the abundance of luxury in the tastefully appointed rooms with warm African decor. Bathrooms are spacious and are equipped with a bathtub and a large shower.
When we checked in, we have however received a "small" surprise. Our room wasn't yet ready, as it was vacated just that morning. Although we didn't question that, it was a bit weird, as occupancy during weekdays is usually not as high because lots of guests are coming for the weekend as the resort is basically a perfect family destination offering something for everybody.
Being escorted to the room, we discovered that we were upgraded to a Suite, the Royal Suite to be exact. It provides overwhelming 243 m² (2,615 sq ft) of luxury lodging with a huge living room, a business centre with a computer ready for work, a fully equipped kitchen with great Lavazza coffee-maker, obviously a bedroom with a four- poster kingsize bed and an astonishingly big bathroom with your own sauna and huge shower as well as a separate bathtub with jacuzzi function.
Except the bathroom, all of the rooms have a commanding panoramic view over the resort and pool, 24/7 butler service is also included and they will do their very best to fulfill any desire that you might experience during your stay. Needless to say that we were swept off our feet by the incredible size of the suite. We actually misplaced our camera and it took us 30 minutes to find it again, just to give you an example of how big this was! The suite also comes equipped with a basket of fruit, as well as wine and Champagne and some snacks.
In between those two options of accomodation, the Luxury rooms and the Royal Suite, there are further choices available such as rooms meeting the needs of disabled guests, inter-connecting Family Rooms as well as Superior Rooms, Junior and Superior Suites.
Aside from the Royal Suite, which we were more than happy to stay in, there are two more suites with similar sizes of 243m² (2,615 sq ft) and 250m² (2,690 sq ft), however offering two bedrooms, the King Suite and the African Suite, both again with commanding views of the resort.
And then there is a special little extra Suite that you will find no information about anywhere else on the Internet, because it is actually not directly advertised anywhere. The room doesn't cost anything either. Those who might jump in now and are ready to book, be advised, there is no "free lunch" and the room is by invitation only.
We are talking about the Palace Salon here, which is in fact laid out similarly than the other 250m² (2,690 sq ft) suites, however the big difference is that it is equipped with its own casino. You can play Blackjack, Baccarat, Roulette and you can participate on ncaa tournament betting and maybe even enjoy some slot machines while having dinner. Only requirement: You have to put down 500,000 ZAR (~$44,000 USD) in gambling money if you are alone or 1,000,000 ZAR (~$88,000 USD) if you have more than one person wishing to gamble in your own private atmosphere.
Especially catering for the wealthy Chinese guests with an affinity to gambling, the Suite was just being prepared for an arrival because the Chinese New Year celebrations were just around the corner.
The incredible gardens around the Palace were awarded national botanical status in 1999 and are 25 hectares in size, where you can spot exquisite bird life and rare plant species.
Located not only in close proximity but even right at the doorstep of the Pilanesberg National Park, it is only natural that the resort offers drives through the park in an open vehicle. We were lucky enough to see four of the big five (elephant, lion, leopard, buffalo and rhinoceros) as well as lots of other animals and can therefore only recommend this three-hour adventure in the late afternoon, where you will also be able to witness a beautiful sunset behind the lush green hills of the Pilanesberg. Highly recommended!
A great pool is available at the east side of the Palace surrounded by the South African bush, big enough to allow all guests to enjoy a swim to cool off from the temperatures which went up as high as 36°C when we were there in the beginning of February, which is one of the hottest months of South Africa's summer. Located a bit further east there is the "Valley of Waves", a man-made beach and huge pool of 5,600m² with artificial waves coming towards you, as if you were swimming in the sea. At peak season up to 5,000 people can enjoy the Valley of Waves. There are also water slides and bridges through the botanical gardes, to keep the young entertained.
Behind the pool you will find Tanning Island, a hideaway set among plants and rocks which will then lead you on a fascinating walk on the Royal Staircase to the Royal Baths, which is open for day visitors and resort residents. The adjacent Observatory Bar serves exotic cocktails and refreshing drinks all day.
The Spa is located at the scenic Gary Player Country Club and offers a wide range of treatments in 11 treatment rooms. The facility of course also includes a well equipped gym, a hair salon, a spa pool, Vichy showers and steam rooms. Treatments include massages, skin care, pedicure and manicure and hydrotherapy.
The Crystal Court is the first thing you will see when you walk through the lobby and it is totally stunning. Very impressive floor-to-ceiling arched windows flood the room with light. In the centre of it, there is a fountain made of four elephants and a giant chandelier hanging above it. This is really a majestic location to enjoy breakfast and high tea while somebody plays the same Bösendorfer piano that Elton John and Liberace have played. The sumptous breakfast buffet has been one of the best we have ever seen.
Plume is the classic French fine dining restaurant offering a formal menu of delicious dishes from the modern and traditional South African-French fusion kitchen.
The Grill Room is the Palace's steakhouse where the best pieces of beef (and others) can be ordered, while enjoying an overview of the Palace's lakes in a traditional and cosy setting.
The Palace Pool Deck offers light meals, snacks and drinks by the water including woodfired pizza prepared in an oven nearby, so satisfying appetites after some extensive swimming in the pool.
Romantic venues, such as the King's Tower, elevated 70 metres above the ground overlooking the whole resort, or The Palace Gazebo can be booked for a memorable dinner for two.
The 18-hole golf course was designed by Gary Player, one of the greatest players in the history of golf winning 165 tournaments in his career, and is therefore named the Gary Player Golf Course. The course measures 8,000 yards from the championship tees and is home to the Nedbank Golf Challenge, which is held every year with a prize fund of $2 million USD.
Aside from that, there is another 18-hole golf course, the Lost City Golf Course which was also designed by Gary Player. It stretches over more than 100 hectares and is famous for its signature hole #13, which features a water hazard that is home to Nile crocodiles. If your ball hits the water, you better leave it there.
Conclusion
The Palace of the Lost City, as a part of Sun City entertainment complex, is outstanding in so many different ways. We were thoroughly surprised by the vast quantity of different entertainment options there are and are sure that you could even spend two weeks there and not feel bored a single day – something we can say about very few resorts. Whenever we are returning to Johannesburg, we will definitely come back to Sun City as two days simply haven't been enough to even experience only 10 per cent of what they have to offer. The resort offers something for everybody and therefore it's easy to recommend it.
Check out their , , Twitter and Youtube too!