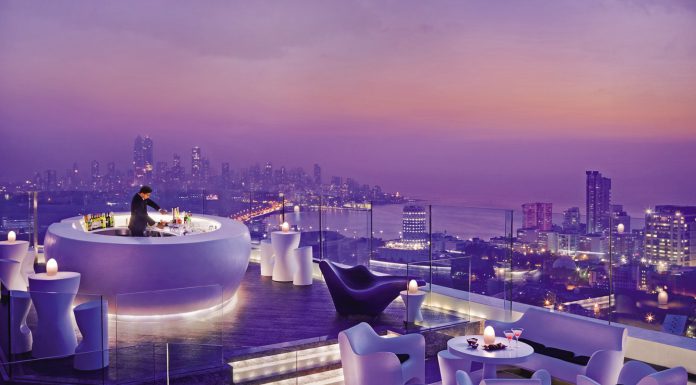 Mumbai, which used to be known as Bombay until 1996, is one of the most densely populated cities in the world and with over 20.7 million inhabitants in its metropolitan area, it is also the most populous city in India. It is a highly vibrant and diverse city with great contrasts. The city is also the commercial and financial capital of India, so it is only natural that some of the best hotels can be found there. We have chosen to stay at the Four Seasons, currently running in its seventh year since the opening in May 2008.
The Hotel
The Four Seasons, Mumbai is strategically well located, as it can be reached from the international Airport in 20 minutes (excluding rush hour traffic) and at the same time is in close proximity to the business district of South Mumbai, where most major businesses are headquartered. It is basically in the middle of the city, overlooking the Arabian Sea on one side and the Mumbai skyline on the other side.
The hotel provides a fleet of 7 and 5-Series BMWs for airport transfers and city transportation which we were more than happy to use a couple of times. The cars are equipped with free WiFi, which is very convenient if you don't have a cell contract that offers data roaming in India or a local Sim card.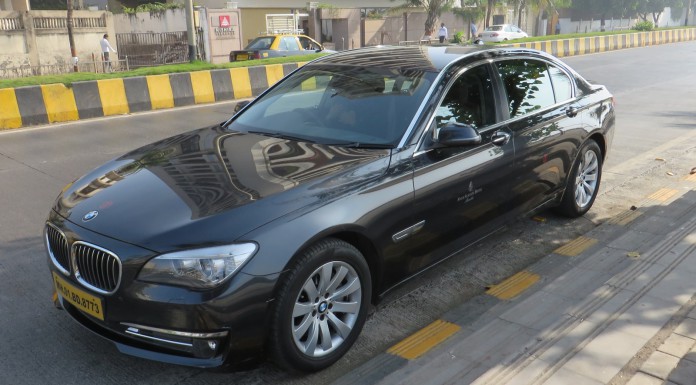 The Rooms and Suites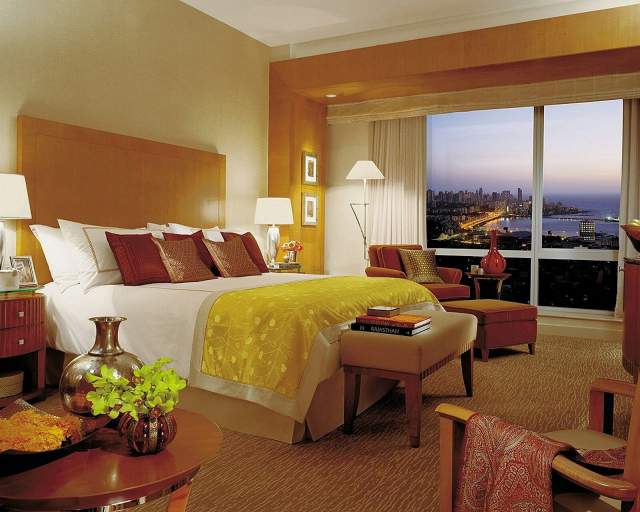 The hotel serves 202 rooms, 24 of which are suites. Their design focuses on contemporary architecture and décor, featuring warm neutral tones, plush wool carpets and rich fabrics with classical Indian touches.
We had booked a Four Seasons Executive Suite which boasts its sheer size of 950 square feet (88m²) and actually consists of two different rooms plus bathroom and a small storage area for the suitcase and wardrobe. The suites have huge floor-to-ceiling windows which give you a great view of Mumbai's skyline or the sea, depending on which direction you are facing.
But even the regular Deluxe Rooms are large and spacious enough with the size of 530 square feet (49m²) and offer the same degree of luxury that you would expect from a Four Seasons property. One of the best points of the room however, was the extremely comfortable bed as well as the pillows. A luxury in itself. The marble bathrooms are spacious, have a walk-in shower, a separate bathtub and a separate toilet.
The Staff
This deserves a chapter of its own. Why? Because the staff did an outstanding job in making us feel as comfortable as possible. Good service and hospitality is vital for a pleasant stay and in our case we were seriously impressed by the excellent job they did. Everybody knows your name from the moment you step into that hotel.
They follow up on everything. You cannot move an inch without someone asking how your day is going or if they could do something to make it better. You are actually regarded as a most welcome guest in this intimate hotel rather than just a number as in many other ones. Also you can always have a quick chat with them and they are eager to have a short and interesting discussion with you. There is nothing you cannot ask them to help you with and they deliver.
The Spa and Pool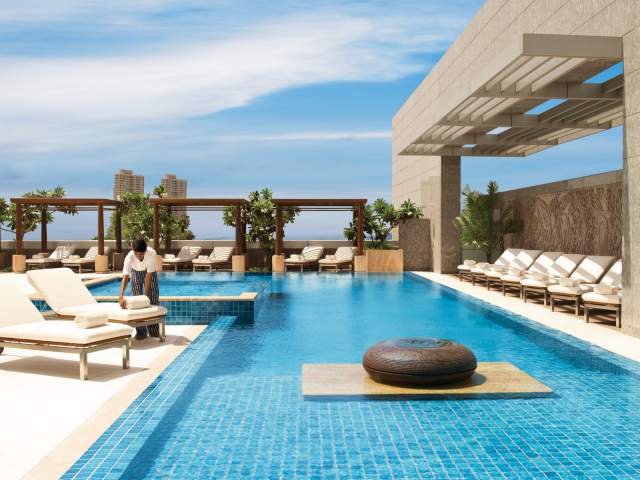 The Spa offered by the Four Seasons Mumbai has eight beautifully designed spa treatment rooms, including two spacious suites (Natrajasana and Vajrasana) that function as private spas. Fortunately we opted to book one of the spa treatments, the Tulaa massage, which was performed by a therapist in the most professional way we have ever received a massage. If you are going to stay at the Four Seasons, you don't want to miss this experience and should surely make your booking for one of those highest quality treatments early. There is also a wide range of Ayurvedic treatments available.
Apart from the treatment rooms in the first floor, there is also a steam bath located at ground level, as well as a jacuzzi, an ice fountain and two special showers providing hot or cold experiences such as Scottish cold mist or warm tropical rain.
Dining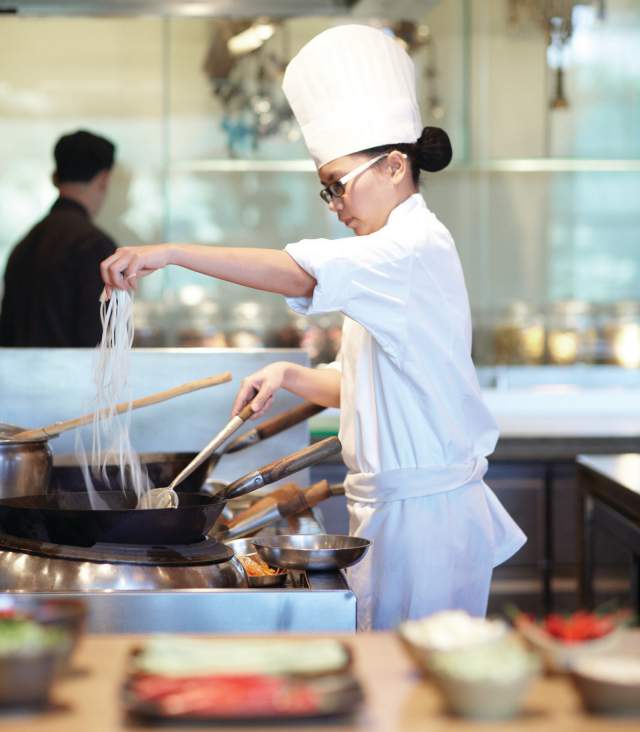 A lavish breakfast buffet is served in the Café Prato, with its high ceilings and floor-to-ceiling windows on two sides of the restaurant that floods the interior with light. During the rest of the day a good variety of à la carte dishes including pizzas and pastas, contemporary main dishes, kathi rolls, home-style curries and kebabs can be ordered for a quick business lunch or a relaxed afternoon bite with friends.
The second dining option for lunch or dinner is San-Qi (the three energies), which spans two floors, that are linked by a dramatic staircase lined with wine racks. The wine list is quite impressive and it includes the best of Old and New World wineries, including a hand-picked selection of Bordeaux and some of the best blends from emerging wine producers in the Nashik region of India. San-Qi also takes guests on an amazing culinary adventure through some of the most popular cuisines of the East – Japanese, Chinese, Thai and Indian.
"We don't offer fusion kitchen. Only real, authentic, asian cuisine!" – General Manager Andrew Harrison told us in a quick interview over breakfast. He also mentioned that due to the pollution of Indian waters, all the fish are imported from Thailand to ensure the highest quality.
The AER bar on the rooftop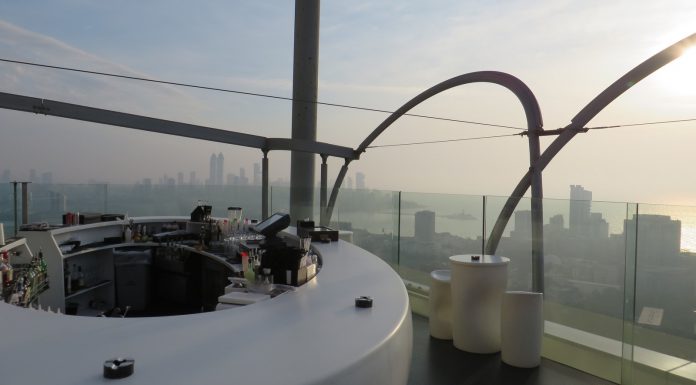 The AER lounge is India's highest rooftop bar and certainly one of a kind. Covering the entire roof of Four Seasons Hotel Mumbai, this open-air lounge creates a great atmosphere of relaxation high above the bustling streets of Mumbai's suburb Worli. Located in the 34th floor, you are as close to the sky and the stars as it gets, while having an incredible outlook over the streets and skyline of Mumbai. The DJ plays nightly sets of upbeat jazz, funk, house, club and a unique twist on classic hits from the '80s and '90s. Access is complimentary for guests but AER can also be visited by non-Hotel guests for a cover charge.
The view of the sunset is spectacular and we recommend getting up to AER as early as 5:30 pm, which is the perfect time to enjoy watching the sun sink into the Arabian Sea.
Conclusion
The Four Season Mumbai is definitely a recommendation in our eyes. Its most important asset really is the staff working here. The AER bar clearly stands out and is a real gem which for some people is reason enough to book a night there.
General Manager Andrew Harrison, a British expat who has called Asia his home for decades now, does a great job in making sure that everything works out as planned. We felt very welcome and thoroughly enjoyed our stay here.
Check out their Website, Facebook, Instagram and Twitter too!