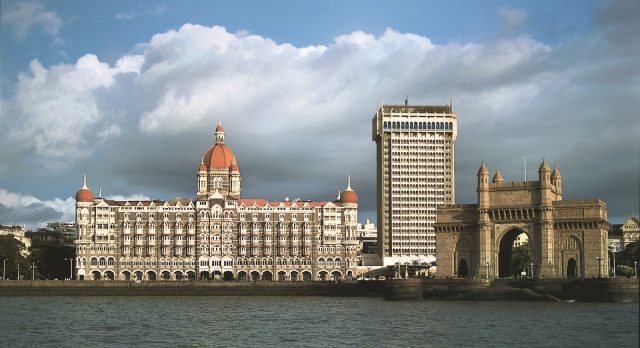 The Taj Mahal Palace is Mumbai's or probably even India's most iconic and most famous hotel. It opened its doors in 1903 and since then hosted more celebrities and heads of state than most other hotels in the world.
We have had the pleasure to stay at this extraordinary property and were thoroughly impressed by its appearance 112 years after opening. With its prominent location just opposite the Gateway of India, one of Mumbai's most visited sights, it cannot easily be missed.
The Taj Mahal Palace was built by Indian pioneer industrialist Jamsetji Tata, the founder of the Tata group. Construction took only four years and the hotel opened its doors to guests for the first time on December 16, 1903. In 1973 a separate building, the Tower Wing, was attached to the Palace to meet the increasing demand for rooms.
It is part of and flagship property of the Taj Hotels, Resorts and Palaces group, which operates in 11 different countries and employs 13,000 people. The hotel was the first to have an elevator as well as the first to have a Chinese and Mediterranean restaurant, we were told by PR director Nikhila Palat.
During the 112 years since its opening, the hotel has constantly been evolving and improving, which is the only way they could manage to continue as such a well visited property. Once you enter the Taj Mahal Palace all the noise and bustle from the streets of Mumbai are forgotten as you immerse into the tranquility of the lobby while you smell a subtle scent of orange. We were comfortably checked in at a lounge, enjoying some great cappuccino before being escorted to our room on the third floor of the Palace Wing.
Palace Wing and Tower Wing combined, the hotel can accomodate guests in 560 rooms, 44 of which are suites. Most people prefer to stay at a Luxury Grande Room in the Palace Wing because of the legacy and heritage and so did we. The rooms are spacious with 400 sq ft (37m²) and blend tradition with modernity while providing outstanding views of the Gateway of India and the Arabian Sea or are overlooking the pool.
They offer a large and luxurious Satwario marbled bathroom with huge overhead rain shower and bathtub with hydro massage hand-showers. The linen and pillows are extremely comfortable and the bed is huge, ensuring that we got a great night's sleep.
We were lucky enough to get a viewing of the 15-room Presidential Suite which is booked around five times per month on average, as PR director Nikhila Palat told us. It is insanely spacious spanning 5,920 sq ft (550 m²) and provides a private gym as well as a private sauna and steam room. It goes without saying that the Presidential Suite of course also provides the best view of the Gateway of India and the Arabian Sea.
We were also given a glimpse of the Rajput Suite, where famous celebrities such as Brad Pitt and Angelina Jolie have stayed. This Suite is decorated and appointed with finest materials from the Rajasthan area. A highlight of this Taj Signature Suite is the ornate 120-year-old swing seat that has been there since the very early days of the hotel.
The poolside has quite a fantastic view of the majestic Palace Wing building surrounding it. Seating at poolside is available where you can have breakfast or a snack during daytime.
Jiva is Taj's award-winning and all-natural Indian Spa. The philosophy of Jiva or "Innerforce" is inherently rooted in India's ancient approach to wellness. Inspired by ancient Indian healing wisdom, Jiva believes that a spa unfolds a holistic path of life that opens out channels to nurture one's life force.
Jiva offers a great variety of signature treatments, Indian therapies, scrubs, ayurveda treatments and yoga/meditation classes. The Spa provides four treatment rooms and there is also a small sauna and a steam room as well as a well-equipped gym available.
When it comes to dining options, you really are spoilt for choice, since you can choose from 11 restaurants, which all offer authentic cuisine and take you on a culinary journey around the world. We opted for trying out the Indian restaurant, Masala Kraft, as well as the Souk, which offers Mediterranean specialties from Greece, Turkey, Morocco, Lebanon, Egypt and Syria.
In both we were totally impressed by the amazing authentic flavours we could experience. At the Masala Kraft we could enjoy a great tiffin meal, which is a light lunch that usually consists of rice, dal, curry, vegetables, chapatis or "spicy meats" and is usually served in a tiffin box, otherwise known as dabba. Mumbai is known for its dabbawalas, delivery workers who deliver the hot lunches packed in dabbas to city office workers from their suburban homes, using a complex and efficient delivery system.
We were also recommended to try the Konkan Café restaurant, which is located about a 20-minute walk or 5-minute taxi ride from the Taj Mahal Palace in the sister hotel Vivanta Taj President. It serves authentic food from the Konkan region which consists of the coastal districts of Maharashtra and Goa and spans about 720 km on the westcoast of southern India. The whole restaurant is styled as a Konkan home with greatest attention to detail ranging from a wall that is made from Konkan bricks over wallpaintings made from leather to pillars with engraved dancing elephants.
Konkan Café's Executive Chef Ananda Solomon, who originates from the Kerala area, has won many international awards which make him one of the most celebrated chefs in the Taj Group of Hotels. We loved the delicious menu he prepared for us and can only recommend dining at Konkan Café.
"Ninety per cent of the restaurants' ingredients are imported from the respective countries to make sure that the quality is high and the food authentic," – PR director Nikhila Palat told us over a delicious lunch at the Souk, the Mediterranean restaurant which is led by chef Simoun Chakour from Syria.
Conclusion
The Taj Mahal Palace is the hotel with the greatest heritage in India's hospitality landscape. It is one of the most exceptional properties you can stay at and has managed to stay on top of the list by constantly evolving. You can feel as majestic as a great Maharaja when you are staying at the Taj and this experience alone is worth it. To make the most of it, be sure to book a room in the Palace Wing though.
Check out their Website, Facebook, Youtube and Twitter too!