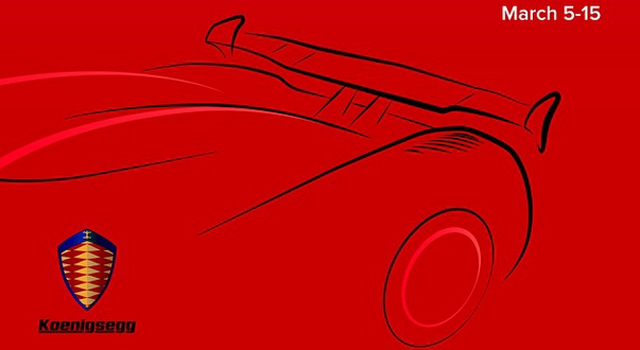 A second teaser image of the upcoming Koenigsegg Agera RS hypercar has been released before the Geneva Motor Show 2015.
While the teaser isn't very revealing, it is immediately apparent that the Koenigsegg Agera RS will feature a different rear wing than the Agera R. The most obvious change is the implementation of prominent end plates. It also appears as though the shark fins on the rear wheel arches of the Agera R will be carried through to the Agera RS.
While the official debut of the Koenigsegg Agera RS is just a few days away, details about the model remain relatively scarce. With that being said, it is pinned to be an evolution of the Agera R and is expected to sit between the 1200 hp Agera R and the 1341 hp Koenigsegg One:1. As such, a number of parts from the One:1 are likely to be used by the Agera RS with revised suspension components also expected alongside less weight.
Beyond the Agera RS, the Swedish marque will also reveal the Regera at the Geneva Motor Show 2015. It is set to be the world's quickest and most powerful production car. Those accolades will be achieved through a potent hybrid powertrain with 700 hp alone being produced by the electric motors. The electric motors will feature a 9 kWh liquid cooled battery pack which is larger than the 6.8 kWh battery pack used by the Porsche 918 Spyder for example.
It remains to be seen what internal combustion those electric motors will be joined with there's a chance it could use the same 5.0-litre twin-turbocharged V8 engine as the One:1 which already produces 1341 hp. Either way, we know that the Regera will be more powerful than the One:1 but won't be as track-oriented as the One:1.