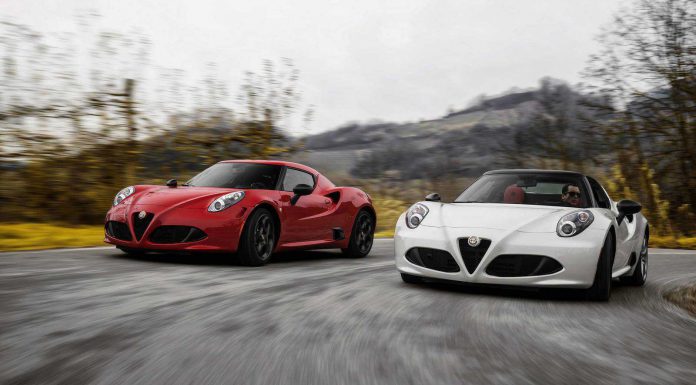 The Alfa Romeo 4C Spider is set to celebrate its European debut at the upcoming Geneva Motor Show 2015. Its appearance at Geneva will follow on from the Italian sports car's world premiere at January's Detroit Motor Show. The Spider will be shown alongside the Alfa Romeo 4C Coupe.
Alfa Romeo has also chosen Geneva as the place to debut a number of new standard features to the 4C Coupe. For starters, the sports car now comes standard with a Hi-Fi sound system, Bi-LED headlights, a special car cover and car care kit as well as parking sensors and cruise control. These features were previously optional extras.
When the Alfa Romeo 4C was being developed, its carbon fibre monocoque was engineered to support the removal of the roof with very few tweaks. As a result, the 2015 Alfa Romeo 4C Spider only needs the addition of a carbon fibre roll hoop, a new crossbeam in the engine compartment as well as beefed up upper body brackets to support the soft top.
Beneath the skin, the Alfa Romeo 4C Spider uses the same 1.75-litre turbocharged four-cylinder engine as the coupe delivering 237 hp and 258 lb-ft of torque 80 per cent of which is available at a mere 1700 rpm. As a result, it can reach 96 km/h (60 mph) in a brisk 4.1 seconds while recording 1.1 g of lateral acceleration as well as 1.25 g of maximum braking deceleration. Three different exhaust systems are available for the 4C Spider with the range-topping Akrapovic dual-mode exhaust providing the rawest and most all-encompassing soundtrack. Elsewhere, the standard exhaust system is available alongside a racing exhaust from the factory.
Mated to the engine is a paddle-shift dual-clutch transmission which can pump through gear changes in a brisk 130 milliseconds at full throttle. The transmission also offers a selection of different driving modes with 'Race' mode being the most hardcore as it optimises the engine, transmission, electronic differential and electronic stability control system.