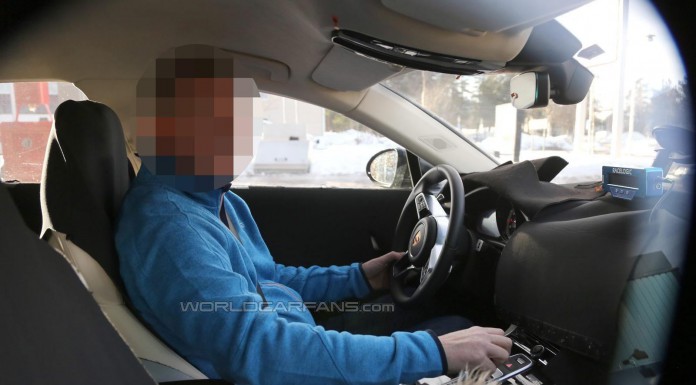 A new prototype of the next-generation Porsche Panamera was recently spied in the midst of winter testing and a spy photographer managed to snap the very first details about the new car's interior.
While much of the German sedan's interior has been covered up in this development model, some differences are immediately apparent compared to the existing Panamera. For starters, it appears as though a number of different buttons have been removed from the centre console suggesting that the systems they once operated will be moved into the multimedia display.
Another new element is a different sports steering wheel from Porsche featuring a selection of aluminium components. Judging by the covers draped across the dashboard, it is also likely that a number of changes are featured there as well including different materials and stitching.
Beyond the interior modifications, we know that the next-generation Porsche Panamera will feature a brand new exterior design. Consequently, it will feature completely revised front and rear fascias while also adopting new headlights and taillights. Additionally, the next-generation Porsche Panamera will feature a sleeker design with a "faster" roofline according to the project's chief designer Michael Mauer.
Beyond the design, one of Porsche's key focuses with the new Panamera is weight saving. As a result, the second-gen Panamera will use a brand new MSB architecture from the Volkswagen Group. Additionally, the new Panamera will make use of aluminium to the same degree as the 991-generation Porsche 911 with the German marque confirming weight is its enemy.
When it is all said and done, the 2017 Porsche Panamera should weigh between 1800-1900 kg depending on its configuration. This weight reduction is particularly noteworthy as the new Panamera will come adorned with even more technologies than the existing car and be required to pass ever-stricter crash regulations.
Another key change for the second-generation Porsche Panamera will be its introduction of a brand new range of engines. This range will reportedly consist of turbocharged V6 and V8 petrol engines with a diesel V6 also likely to be offered.
[Via World Car Fans]