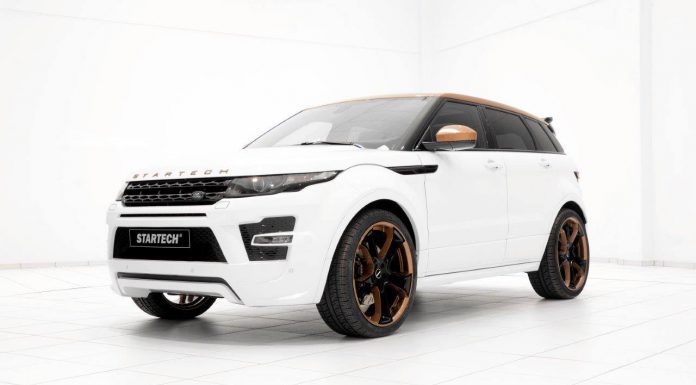 The Geneva Motor Show 2015 won't just be home to numerous new car releases from the world's leading marques but it will also play host to numerous tuning companies unveiling their latest offerings. The most recent to do so is Startech with the announcement of its tuned Range Rover Evoque.
As with the numerous other bodykits available for the Range Rover Evoque, the Startech kit adds an extra level of flair to the British crossover alongside an additional sense of aggression and intimidation. With that in mind, the new bodykit incorporates an entirely new front fascia. That new fascia includes modified air intakes as well as a reshaped lower grille. Additionally, new LED daytime running lights have been installed.
Moving to the side of the Startech Range Rover Evoque, it features a set of 22-inch wheels combining black spokes and dark bronze inner rims. Additionally, drilled rotors have been installed alongside beefed up black brake calipers. At the rear, Startech has installed a large roof-mounted wing as well as four angular tailpipes.
Completing the visual upgrades are bronze coloured wing mirrors and bronze across the roof and the Startech badging.
Beyond the Startech Range Rover Evoque debuting at the Geneva Motor Show 2015, we know that the 2016 Range Rover Evoque facelift will be celebrating its reveal.