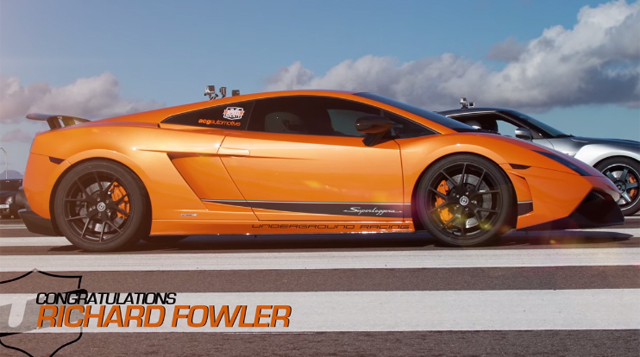 When the Bugatti Veyron was revealed a decade ago, it literally sent heads spinning due to the fact that it features a quad-turbocharged 8.0-litre W16 engine delivering 987 hp (1001 PS) and can hit 407 km/h (253 mph). Fast forward ten years however, and twin-turbocharged Lamborghini Gallardos are routinely putting out more power, torque and recording earth-shattering acceleration times and trap speeds to make the Veyron jealous.
[youtube]https://www.youtube.com/watch?v=nyUedXDBnLI#t=77[/youtube]
So in order to see just which is faster once and for all, a twin-turbocharged Lamborghini Gallardo LP570-4 from Underground Racing was recently pitted against a bone-stock Bugatti Veyron in a rolling drag race.
With a total of 1250 hp being sent through the rear wheels compared to the 987 horses developed by the Veyron at the flywheel, the result is inevitable; the Gallardo absolutely annihilates the French supercar once its boost builds and the speeds continue to rise.