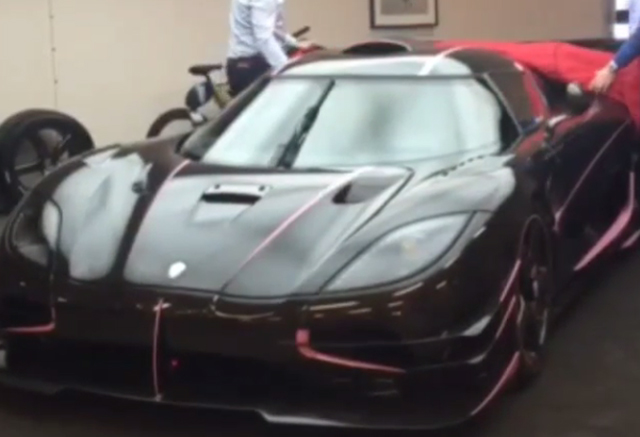 A grainy video has just emerged of the moment the latest Koenigsegg One:1 was unveiled at the firm's Swedish factory. This particular One:1 is noteworthy for the fact that it features a bare carbon fibre body as well as a selection of bright pink accents.
As such, pink can be found across the front fascia, bonnet, side skirts and the roof and makes this Koenigsegg One:1 incredibly unique. What's arguably more amazing is the fact that this is reportedly the second One:1 owned by a single Chinese enthusiast who also had his custom Pagani Zonda 760 JC with pink accents completed over in Italy.
It is said that this Chinese collector also owns a purple carbon fibre Pagani Huayra, the one-off Bugatti Veyron Super Sport Merveilleux Edition as well as the hybrid hypercar trio; the Porsche 918 Spyder, Ferrari LaFerrari and McLaren P1.
In case you didn't know, the One:1 features a staggering 1 Megawatt of power which converts to 1,341 hp together with 1,371 Nm. This extreme power needs to be read alongside an equally impressive 1,341 kg to fully understand that the Koenigsegg One:1 features a perfect 1 hp to 1 kg power to weight ratio.
The Koenigsegg One:1 is expected to reach speeds in excess of 450 km/h so aerodynamics are key to the One:1 package. Thanks to the new front facia and the Le Mans prototype inspired rear wing, downforce at 260 km/h is equal to 610 kg whilst at 440km/h, the One:1 develops 830 kg. The One:1 is able to pull 2G's of force in the corners!