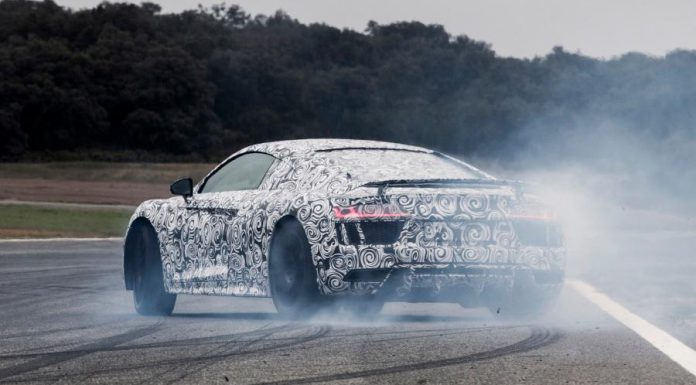 Prior to the launch of the second-generation 2016 Audi R8 at the Geneva Motor Show 2015, the German marque has revealed that the car will be available in a wider array of variations than ever before.
For starters, Audi R8 technical lead Roland Schala revealed to Top Gear at the Ascari circuit that the platform shared with the Lamborghini Huracan provides almost limitless room to develop new and exciting variants. As a matter of fact, Schala said, "The production line for this new car is so flexible, so there's no problem to change it, to bring different models like a Superleggera, or GT, or Clubsport variants of the new R8."
Schala also confirmed that engines to sit below the Huracan-derived 5.2-litre V10 will be made available after the car launches. For starters, the 4.2-litre V8 of the outgoing car is expected to make a return and be made available alongside the V10 initially set to be made available in V10 and V10 Plus guises. Beyond the V8, there's even the chance a V6 will be offered.
When asked about this, Schala said, "As low as a V6? Maybe. The V6 is a perfect engine for this kind of car. We have a lot of potential with the V6, from 400bhp upwards, so it's possible."
Elsewhere, it has been confirmed that the German marque is pondering a V8 diesel for the R8 range but it still remains undecided on such an engine. "With our history on the racetrack, we've discussed the idea of a diesel, but is it the right step to bring it in?," said Schala.
""It would certainly make us unique, but you need more technology around the engine to keep it clean – filters, ad blue for NOX reduction – and of course there's the weight.
"You have a lot of torque though, but the question is whether that's good for a car like the R8, because with lots of torque you don't have to change the gear as much, and the R8 has to have an emotional side," he added.
As for a turbocharged R8? Schala said that Audi is currently focused wholly on naturally-aspirated engines for the R8 but did indicate a hybrid could see the light of day.
[Via Top Gear]