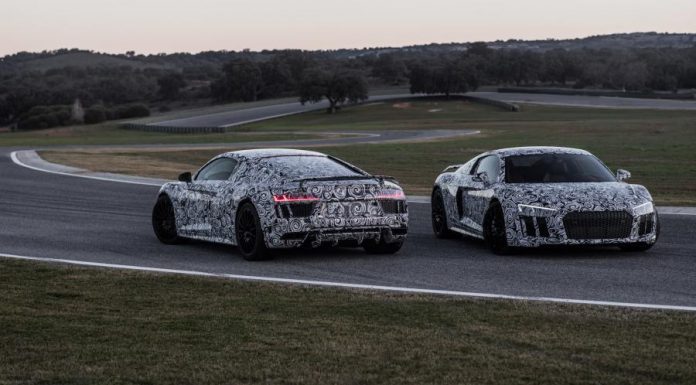 Ahead of its world debut at the Geneva Motor Show 2015 in a couple of weeks, a host of images of the second-generation Audi R8 hitting the Ascari circuit under heavy black and white camouflage have been released.
The car featured is the range-topping Audi R8 V10 Plus which is set to be powered by a tuned 5.2-litre V10 engine delivering a total of 601 hp and 560 Nm of torque. By comparison, the 'standard' 2016 Audi R8 V10 produces 532 hp at 8000 rpm and 540 Nm at 6500 rpm. All told, the new Audi R8 V10 Plus delivers 60 hp more than the outgoing model. Alongside the boost in power, the new R8 V10 Plus has apparently shed 68 kg over the current car.
As a result, the new Audi R8 V10 Plus will reach 96 km/h in just 3.2 seconds on the way to a top speed of 330 km/h. Overall, the new car is 0.3 seconds quicker and 13 km/h faster than the previous generation.
From a visual standpoint, the R8 V10 Plus will be distinguishable from the R8 V10 predominantly due to its large rear wing.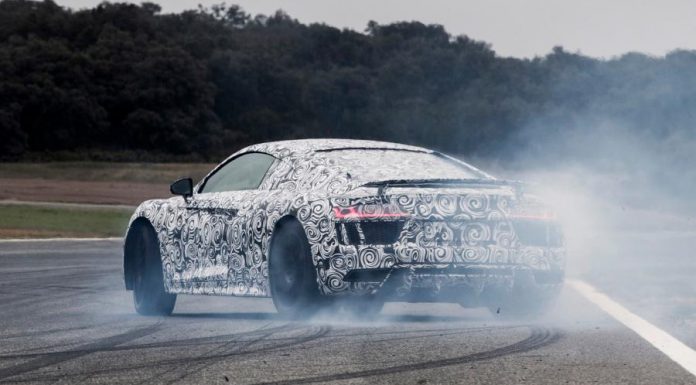 Interestingly, the second-generation Audi R8 won't be available with a V8 engine at launch but such a powertrain could be offered down the road.