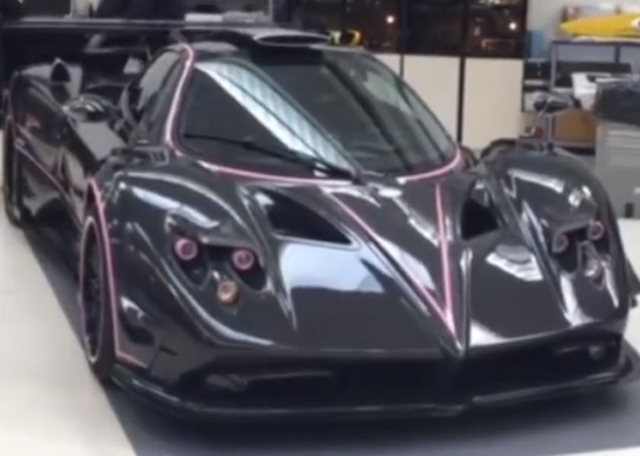 An image has just emerged online showing the latest bespoke Zonda reportedly dubbed the Pagani Zonda 760 JC. As the name suggests, the Italian supercar is just the latest in a long-line of custom 760 badged Zondas and could be the most extreme to date.
From the low-quality video, we can see that the Pagani Zonda 760 JC features a carbon fibre exterior with numerous green accents. Additionally, it features a brand new headlights design unlike all other Zondas and a bonnet incorporating large air extractors. Elsewhere, the Zonda 760 JC reportedly features the same taillights as the Zonda 760 LM as well as its towering rear wing. Finally, a purple dragon graphic can apparently be found running down both sides.
According to current reports, the Chinese owner already has a purple carbon fibre Pagani Huayra, has ordered a Koenigsegg One:1 with pink accents and owns the bespoke Bugatti Veyron Super Sport Merveilleux Edition.
It remains to be seen if the owner has opted for a manual or automatic transmission but the name indicates that the car utilises the same 7.3-litre V12 engine delivering 760 hp as the other Zonda 760 models.