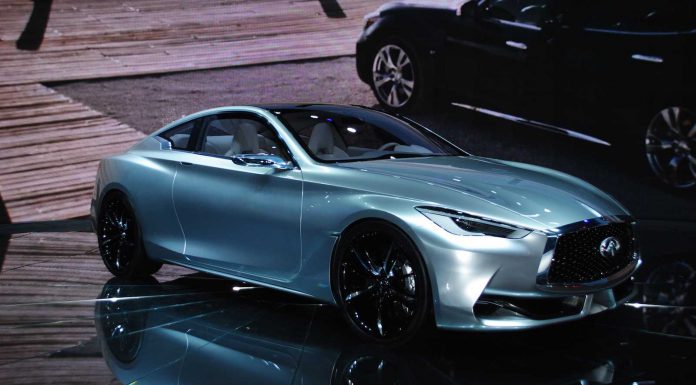 New details about the Infiniti Q60 introduced at the Detroit Motor Show 2015 have emerged with indications that the car has been given the thumbs-up for production and that it will be available with two different Mercedes-Benz sourced engines.
Australian publication Motoring claims that a Mercedes-Benz 3.0-litre twin-turbocharged six-cylinder engine will be made available for the production-spec Infiniti Q60 with it tuned to deliver around 330 hp. If proven true, that engine will reportedly be mated to a seven-speed dual-clutch gearbox driving the rear wheels.
Beyond the twin-turbo six-cylinder, Motoring suggests that a twin-turbocharged 4.7-litre V8 built by Mercedes-Benz will also be made available for the range-topping model designed to rival the BMW M4 Coupe. It will apparently deliver 407 hp. Beyond these two Mercedes engines, the Infiniti Q60 could be available with a 3.5-litre V6 hybrid powertrain as well as a naturally-aspirated 3.0-litre V6.
Design wise, the Infiniti Q60 was inspired by the Q80 Inspiration Concept. As a result, it features similar flowing lines alongside a menacing and bold front fascia. As the car has been designed as a sporty, 2+2 coupe, Infiniti designers also focused heavily on the car's cabin. With that in mind, sport seats have been installed for front and rear occupants alongside a variety of different quilted leathers.
When the road-going Infiniti Q60, it will likely adopt a more restrained design but is expected to be just as head-turning as other current Infiniti models.
[Via Motoring]