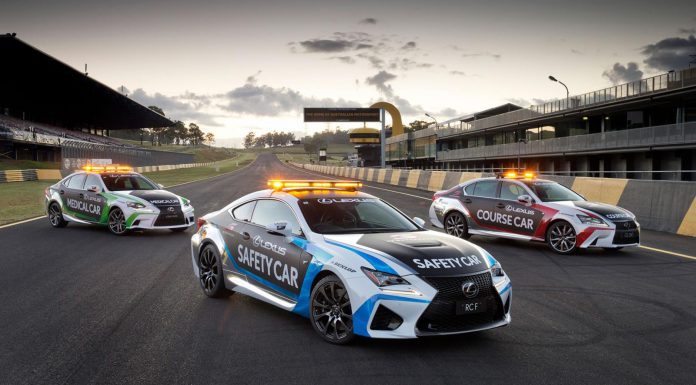 The Lexus RC F Safety Car has just been introduced for the 2015 V8 Supercars season as part of a new collaboration between Australia's premiere racing series and the Japanese marque. Joining the official Lexus RC F Safety Car will be a Lexus GS 350 F Sport acting as the official course car while a new Lexus IS 350 F Sport will be the medical car.
Discussing the partnership, Lexus Australia chief executive Sean Hanley said, "V8 Supercars is the world's leading touring car series and our involvement as supplier of vehicles reflects the new energy in our brand and our dynamic model lines. This partnership is also the perfect opportunity to show Australian motorsport fans the new RC F, which is just as suited to driving on a track as it is on the road."
The chief executive of the V8 Supercars, James Warburton, expanded on this by saying, "We are proud and excited that Lexus has chosen our sport to showcase their high performance credentials.
"The stunning RC F safety car will be a feature of its own, and together with the IS 350 F Sport and GS 350 F Sport, we are absolutely delighted these ultra-high performance vehicles will be an integral part of V8 Supercars in 2015."
As a reminder, the 2015 Lexus RC F makes use of a 5.0-litre naturally-aspirated V8 engine delivering a total of 483 hp and 391 lb-ft of torque.
The inclusion of Lexus into the V8 Supercar series as the official safety, course and medical cars could ultimately see the firm enter into the racing series. As a matter of fact, Lexus Australian confirmed last year it has had "very high-level discussions" about entering the series when it opens up to allow coupe body styles in 2017.