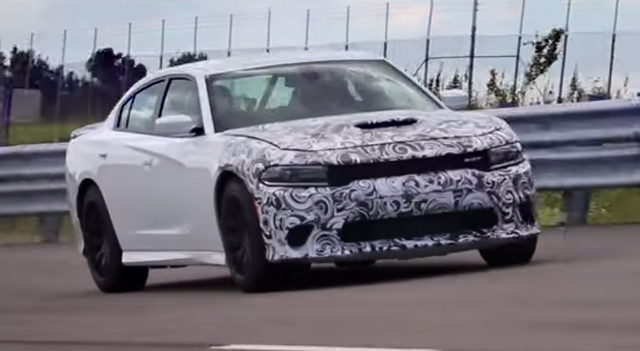 Alongside being the most powerful production sedan on the market, the 2015 Dodge Charger SRT Hellcat claims to be the world's fastest. To put this to the test, the American marque recently headed to the racetrack to test out the top speed of the American muscle sedan.
[youtube]https://www.youtube.com/watch?v=q7eZ_qlDf40#t=101[/youtube]
In one direction with the wind at its back, the Dodge Charger SRT Hellcat managed to hit 332.9 km/h (206.9 mph) and while going against the wind, it topped out at 325 km/h (202.2 mpg). Averaged out, that is right on 329.1 km/h (204.55 mph) right in line with the car's claimed top speed.
Making such an incredible top speed achievable is the 6.2-litre supercharged V8 engine. It delivers a total of 707 hp and 650 lb-ft making it comfortably the most powerful production sedan ahead of the 625 hp Mercedes-.Benz S65 AMG. As a result, it can hit 96 km/h (60 mph) in a mere 3.7 seconds and can brake from 160 km/h to zero in just 13 seconds.
Just like the Challenger SRT Hellcat, this engine is mated to a TorqueFlite heavy duty eight-speed automatic transmission capable of performing 160 millisecond shifts with rev-matching. Braking is provided by the largest brakes ever offered by the Chrysler Group and the same as those from the Challenger with 15.4 Brembo two-piece rotors at the front with six-piston calipers.