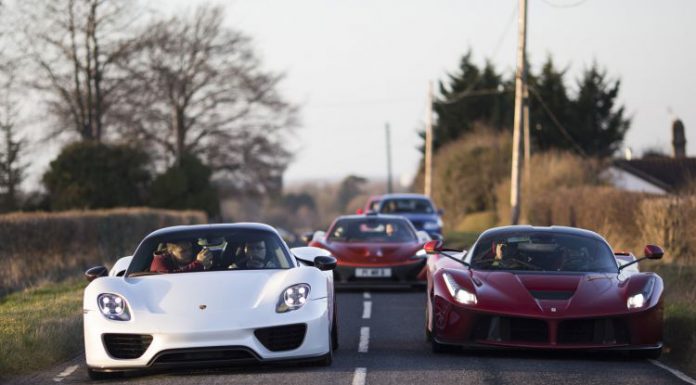 British car collector and businessman Paul Bailey has become the first person to own the McLaren P1, Porsche 918 Spyder and Ferrari LaFerrari after recently picking up the two latter cars on one truly sensational road trip with his Volcano Orange McLaren P1.
Bailey took delivery of his P1 last year and it was actually just the second P1 to be delivered to a customer. Earlier this month, he picked up his eye-catching Rosso Fiorano Ferrari LaFerrari from the Ferrari dealership in Nottingham which is about 35 miles from his home. In true supercar enthusiast style, he picked up the LaFerrari with his P1 and handed over the keys to the LaFerrari to his wife.
The two hybrid hypercars then continued their journey to Cambridge's Porsche dealer some 100 miles away where Bailey picked up the keys to his white Porsche 918 Spyder and Supercar Driver were fortunate enough to go along for the ride!
On paper, here is how the three compare: The McLaren P1 produces a combined 903 hp from its 3.8-litre twin-turbocharged V8 engine paired with an electric motor. The Porsche 918 Spyder uses a naturally aspirated 4.6-litre V8 delivering 608 hp and mated to two electric motors lifting power to 875 hp. The LaFerrari is the most powerful with its V12 engine and HY-KERS like hybrid system pumping out 950 hp!