While it has yet to be confirmed, the recently revealed Audi Prologue Concept reportedly previews a future, range-topping Audi A9 luxury sedan alongside previewing the German firm's new design language.
If the Audi A9 is launched in 2017 as speculated, it will act as the German firm's direct rival to the Mercedes-Benz S-Class which is already available in both sedan and coupe specifications and later this year, will be available as a convertible. As a result, a drop-top variant of the Audi A9 could be created to rival the S-Class Convertible and with this in mind, Theophilus Chin has rendered such a model.
As for the first Audi Prologue Concept unveiled at the Los Angeles Auto Show 2014 in late November, it features flowing and elegant lines, streamlined wing mirrors, an aggressive front end and a taut and low-profile roofline.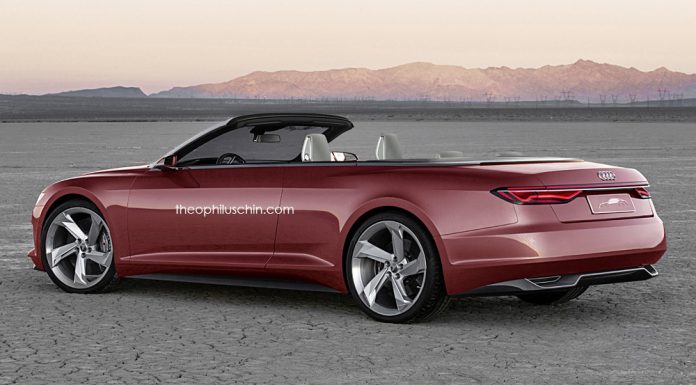 One of the key new design traits from the Audi Prologue Concept is its redesigned singleframe grille. It incorporates Audi's four-ringed logo and compared to existing Audi models, is significantly wider and positioned lower than usual. Up close, the new singleframe grille uses a fine diamond pattern to add an extra sense of class.
[Via Theophilus Chin]