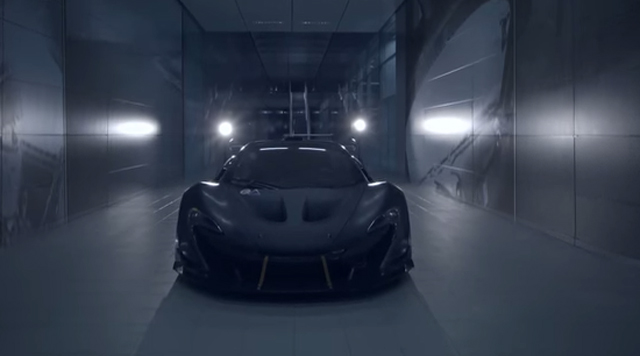 Ahead of its world debut at the Geneva Motor Show 2015, a new video showing the production-spec McLaren P1 GTR has been released. The clip showcases the track-only variant of the P1 hybrid hypercar testing in the Middle East.
[youtube]https://www.youtube.com/watch?v=4pDwmMruOtA#t=76[/youtube]
In case you didn't know, the McLaren P1 GTR is built around its lightweight carbon fibre MonoCage chassis from the road-going P1. It weighs a mere 90 kg and consists of the upper and lower structures including the roof, the roof snorkel, engine air intake cavity and the battery and power electronics housing. It is so strong that it meets FIA load requirements for rollover in the GT racing category without necessitating the use of a more traditional roll cage.
The front track has been increased by 80 mm and has been completed with an aggressive front splitter even more pronounced than the road cars. Reprofiled low temperature radiator ducts seamlessly flow into the leading edge of the aggressively flared front wheel arches while the active aerodynamic flaps from the 'normal' P1 have been maintained.
Beyond the aerodynamic changes, the McLaren P1 GTR sees a small boost in power with it now delivering 986 hp (1000 ps) compared to the 903 hp of the road car.