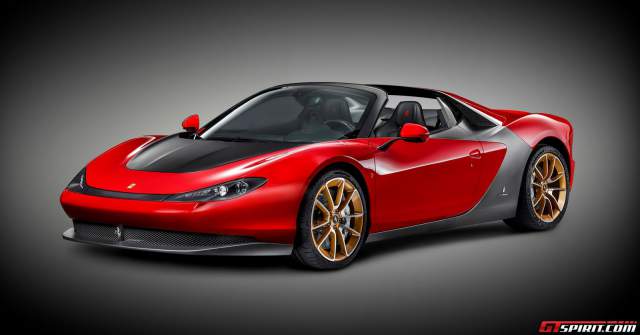 In December, the very first of six 2015 Ferrari Sergio's was delivered to its new owner at the SBH Royal Auto Gallery in the United Arab Emirates. Now it has been confirmed that the remaining five units will be delivered to their respective customers by the end of January 2015.
Of those five still yet to find their new homes, three examples of the Ferrari Sergio are heading to the United States while one is heading to Japan and the other is going to Switzerland.
Compared to the Pininfarina Sergio concept from the Geneva Motor Show 2014, the Ferrari Sergio now features a windscreen, a higher nose to pass pedestrian protection regulations as well as normal doors. Additionally, the interesting decklid of the original concept has been modified but is equally as high-catching. Elsewhere, the headlights and taillights have been are brand new for the production car.
The Sergio is based around the Ferrari 458 Spider but uses the more powerful engine from the 458 Speciale A. This engine displaces 4.5-litres from its screaming, naturally-aspirated eight cylinders and consequently pumps out 597 hp which is enough to send the special Sergio model to 100 km/h in a mere three seconds.