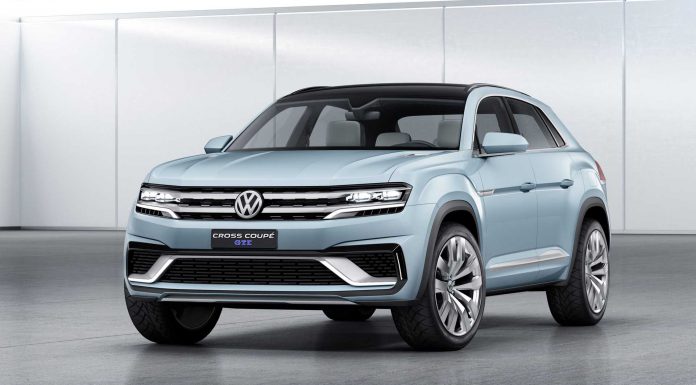 Prior to the Detroit Motor Show 2015 starting, the Volkswagen Cross Coupe GTE Concept has just been introduced. The Cross Coupe GTE Concept is the third concept in Volkswagen's range of crossover concepts and previews the design of the next-generation Volkswagen Tiguan as well as the German firm's new seven-seat SUV to be produced next year.
Underpinning the Volkswagen Cross Coupe GTE Concept is the MQB platform and all told, the car measures 190.8 inches long. A plug-in hybrid powertrain has been selected with it including a 3.6-litre V6 combined with two electric motors. On its own accord, the V6 produces 276 hp and 258 lb-ft of torque. An electric motor driving the front wheels then provides an additional 54 hp and 162 lb-ft while the second electric motor powers the rear and delivers 114 hp and 199 lb-ft.
As a result, the Volkswagen Cross Coupe GTE Concept delivers a total of 355 hp and 280 lb-ft which can see it sprint to 96 km/h (60 mph) in 6.0 seconds flat. Top speed sits at 209 km/h (130 mph).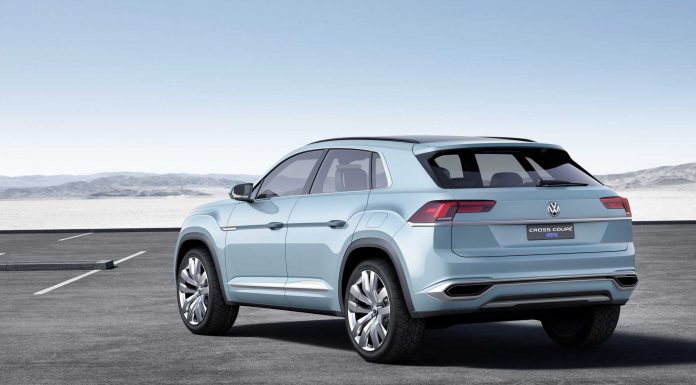 A number of different driving modes have been created for the Volkswagen Cross Coupe GTE Concept. One is an all-electric mode, another provides maximum power from the engine and electric motors while the Battery Hold / Battery Charge mode constantly retains a certain level of charge from the battery. When running in all-electric mode, the Cross Coupe GTE Concept has a range of about 32 km.
As the car has been created to preview a new design language from the German firm, it brings with it many unique elements not found on other Volkswagen products. With that in mind, it features aggressive and sharp lines as well as muscular wheel arches at all four corners.
[showhide]
VOLKSWAGEN CROSS COUPE GTE MAKES WORLD DEBUT AT THE 2015 NORTH AMERICAN INTERNATIONAL AUTO SHOW
New five-seater plug-in hybrid concept shows the future design language for Volkswagen's North American SUVs
Mid-size SUV uses V6 plug-in hybrid drivetrain, with 276-horsepower 3.6 VR6® FSI engine, two electric motors (54 and 114 hp) and all-wheel drive
The front end of the concept car offers a look at a new SUV for the U.S.
Interactive gesture control for the instrument panel opens up a new dimension of information and operating quality
Sporty GTE Mode is balanced by zero tailpipe emissions EV driving for up to 20 miles in E-Mode
The concept car, with five seats and an overall length of 190.8 inches, offers outstanding comfort on long journeys
From the end of 2016, Volkswagen will build the seven-seater mid-size SUV at the Chattanooga plant in Tennessee
Wolfsburg / Detroit, January 2015. At the end of 2016, Volkswagen will start production of one of its most important new models in the past five decades in Chattanooga, Tennessee: a seven-seater mid-size SUV. As a preview to this vehicle, Volkswagen is now showing the five-seater Cross Coupe GTE at the North American International Auto Show in Detroit. This stylish and upscale SUV uses a plug-in hybrid system with a maximum output of 355 horsepower and an all-wheel-drive system that uses an "electric driveshaft". The hybrid has a manufacturer-estimated fuel economy rating of 70 MPGe.
Klaus Bischoff, chief designer at Volkswagen says: "The Cross Coupe GTE is the ambassador of a new design language developed by Volkswagen for the U.S." And he continues, "The concept car has a commanding presence; it is powerful with a look that could almost be described as aggressive."
"Numerous details hint at how we envision a future production SUV model for North America. The underlying concept combines German engineering and design with a vehicle that suits the American lifestyle. That means high efficiency, clear and powerful design, logical operation and supreme quality-combined with lots of space, superior performance, and outstanding comfort."
The GTE acronym generally applies to all sporty Volkswagen models with a high-tech plug-in hybrid drivetrain. They offer the driving characteristics of a grand tourer (Gran Turismo or GT) and, thanks to one or more electric motors and a battery (E as in Electric), they also offer zero-emissions driving. The Cross Coupe has a zero-emissions range of up to 20 miles and can reach 60 mph from rest in just 6.0 seconds. The car has various operating modes: E-Mode, GTE, Hybrid, Off-road and Battery Hold/Battery Charge.
The Cross Coupe GTE is the third concept car presented by Volkswagen on the way to the production version of the mid-size SUV. Together, all three concepts-the CrossBlue presented in Detroit in January 2013, the CrossBlue Coupe most recently shown in Los Angeles in November 2013 and the Cross Coupe GTE-represent just a part of the wide spectrum of SUV variants that can be produced off Volkswagen's modular transverse matrix (MQB) architecture.
Exterior
The Cross Coupe GTE, which is painted in Grand Pacific Glacier blue, has an even stronger presence than the concept cars unveiled in 2013. Although all three SUVs were based on the Volkswagen design DNA and have styling features in common, the Cross Coupe GTE's detailing marks a break with the previous concept cars and thus increases the momentum towards series production.
The concept car now presented in Detroit is 190.8 inches long, 79.9 inches wide and 68.3 inches high. Klaus Bischoff says: "The car makes a visual statement from every angle. Regardless of whether you imagine the Cross Coupe GTE in Manhattan, driving along the Pacific Coast Highway in California or in the middle of the Rocky Mountains, this SUV looks upscale everywhere."
The powerful exterior design is characterized by a very clear and logical line structure. The precise edges of the long hood look like they have been cut with a laser. The headlights, turn signals and the radiator grille merge together seamlessly, with two aluminum bars (polished at the front, brushed on top) forming the basic structure of the radiator grille.
The design of the lower air inlet is just as striking as that of the radiator grille. The outside is framed by high-gloss black trim, with a polished aluminum insert on the inside that mirrors the corresponding elements on the radiator grille. The LED dual headlights are a particularly striking and distinctive feature, with the outer modules generating the low beam, while the inner ones provide the high beam. The distinctive Daytime Running Light signature will also be seen in future production models. This consists of the four LED headlights and four "LED light wings", two of which are in the radiator grille and two in the lower air intake.
The sharp front ridge of the hood forms a line that extends over the front fenders and below the windows to the tailgate. Another strong character line is formed at a lower level between the wheelarches and incorporates the door handles. Like the entire car, the side profile itself has powerful proportions and an upscale appearance. The combination of an A-pillar that is set a long way back and emphasizes the raised hood, the strikingly sloped C-pillar, and the short overhangs give the design a sporty yet rugged appearance. The overhangs also give the vehicle very competitive ramp breakover, approach and departure angles for excellent off-road performance.
The wheelarches emphasize the power and the physical presence of the SUV, and give it an extremely confident stance. The wheelarch on the driver's side houses the service flap for the charging plug for the lithium-ion battery and the passenger side has the fuel filler flap. The 22-inch aluminum-alloy wheels, shod with 285/40 tires, have 10 highly polished spokes.
At the rear, the side character line feature merges into a polished aluminum trim strip, above which are trapezoidal LED taillights. The Cross Coupe GTE also follows the new Volkswagen design language for the U.S. at the back, with a focus on clearly defined horizontal line structures. The striking design of the rear lights, the strict horizontal look of the tailgate and an aluminum panel extending right across the bumper follow this language. A skidplate with an integrated diffuser forms the final major design element at the back of the SUV.
Interior
The Cross Coupe GTE not only previews future Volkswagen SUV exterior design-it also shows how Volkswagen designers envision a mid-size SUV interior of tomorrow. This look ahead reveals the consistent further development of two key features of Volkswagen interiors. The first is the clear, horizontal orientation of the interior architecture, especially the control panel.
The second characteristic feature of every Volkswagen interior is the self-explanatory and intuitive operation of all elements and systems. Volkswagen will retain this in the age of interactive information and control systems. In the Cross Coupe GTE, the combination of gloss black applications with the seamlessly integrated displays and chrome elements creates a striking new interior design language that is clearly influenced by the German Bauhaus movement.
Under the windshield, the concept car features an Ink Blue Nappa leather border that matches the Grand Pacific Glacier exterior paintwork. Like a wing, the information and control level extends across the whole width of the car. On the outside of the instrument panel, there are two horizontal polished aluminum air vents. The 10.1-inch infotainment touchscreen, which is integrated in the middle of the control panel, is framed by two sets of vertical air vents on either side.
The whole area boasts a completely new architecture so that the infotainment and instrument panel appear to be a single unit. All functions are controlled via touchscreen. This high-end digital world is capped by an Active Info Display, with displays that can be individually set by the driver.
The driver and front passenger can manage all infotainment functions and the basic vehicle configuration via the 10.1-inch touchscreen, using proximity sensors and gesture control. Gesture control is a completely new feature, and allows occupants to swipe over a playlist from some distance away to browse and play tunes.
The layout of the graphics changes depending on the selected driving profile-Snow, Sport, On-road and Off-road. Furthermore, navigation data can be displayed in a two-dimensional or three-dimensional form. In the 3-D view the user can configure the display individually at three or even more levels that float above one another in a virtual space. They all show the map with the position of the vehicle but with different information: if the driver has configured the Points-of-Interest (POI), the middle level has geographic information such as the current altitude while the bottom Car level has the route and position. The levels can be freely moved from the top to the bottom, but individual settings are always made on the top level.
The 12.3-inch instrumentation screen has a conventional shape, but all the information shown is digital. The 1,440 x 540 pixel resolution gives extremely high-quality interactive graphic presentation of all details. Individual interactions/graphics are allocated to different basic functions. The graphics change, for example depending on the drive mode selected, such as E-Mode or GTE, and information such as driving, navigation and assistance functions can be integrated in the area as required.
A brushed aluminum horizontal strip runs across the whole width of the interior below the infotainment screen and instrument cluster. A touchscreen below this strip is used to control the climate control, including the heated and cooled seats. The shift lever for the 6-speed DSG® dual-clutch automatic transmission always remains in a central position, like a joystick. A quick click activates the R, N and D modes; a separate button, integrated in the lever, switches to P. The rotary driving profile selector for the On-road, Off-road, Sport and Snow profiles is housed behind the shift lever and uses lightpipe elements (transparent, perfused with LED light) that are fully in keeping with the modern look of the interior. Black hard keys take care of the ESC, E-Mode and GTE-Mode, while aluminum is used for the start/stop button.
The seats feature elegant bi-color semi-aniline Nappa leather surfaces, with perforated leather in the center that creates a visual link to the aluminum covers on the high-end speakers in the doors. The rear seat bench has a two-third/one-third split fold, resulting in a continuous cargo floor. The rear-seat climate control is also controlled via a touchscreen. Attachments for tablets are incorporated in the headrests of the rear seats and the Volkswagen Media Control app enables them to access the radio, media sources, and navigation via Wi-Fi.
Powertrain
Thanks to the modular transverse matrix (MQB) architecture, Volkswagen can not only offer a vehicle with conventional gasoline and diesel engines, but can produce them as plug-in hybrids, with natural gas powertrains, and as zero tailpipe emissions electric and fuel cell vehicles. This means that the Cross Coupe GTE, too, can be produced with every conceivable powertrain.
The SUV concept is powered by a 3.6-liter VR6® gasoline engine and two electric motors. The six-cylinder direct-injection engine (FSI) delivers 276 horsepower and 258 pound-feet of torque. The two electric motors produce 54 hp and 162 lb-ft (front) and 114 hp and 199 lb- ft (rear). They are powered by a compact lithium-ion battery housed in the center tunnel, which is rated at 14.1 kWh. The total output of the drive system adds up to 355 hp and 280 lb-ft, enough to power the Cross Coupe GTE onto a top speed of 130 mph and accelerate from 0 to 60 mph in just 6.0 seconds.
The Cross Coupe GTE features a number of driving profiles: On-road (with Comfort and Eco sub-modes), Off-road (with Rocks, Sludge & Sand and Gravel), Sport and Snow. The profiles change the setup of the SUV. There are also five drive modes: E-Mode; Hybrid; GTE; Off- road; and Battery Hold / Battery Charge.
E-Mode. Thanks to the lithium-ion battery, the Cross Coupe GTE can travel up to 20 miles as an EV. In E-Mode, the 114-hp rear electric motor drives the vehicle and the VR6 engine is shut down and decoupled from the drivetrain by disengaging the clutch. As soon as the gasoline engine needs to be restarted due, for instance, to the battery charge status, it re- engages smoothly in a fraction of a second. Power electronics manage the flow of high- voltage energy from and to the battery and to the electric motors. The 12-volt electrical system is supplied by a DC/DC converter. The battery is charged via external power sources or while driving.
Hybrid. The concept car starts in Hybrid Mode by default. The Cross Coupe GTE is then a classical full hybrid that charges the battery via regenerative braking and automatically uses the VR6 engine and/or the electric motor depending on the drive situation. In this mode, the battery state of charge is kept constant; the driver can actively influence this by using the battery hold function.
Coasting: As soon as the driver takes his or her foot off the accelerator and the battery is sufficiently charged, the gasoline engine and electric motors are shut down and disengaged from the drivetrain.
Recuperation Mode: If the driver removes his or her foot from the accelerator or brakes when the battery is not sufficiently charged, both electric motors work as generators and feed the energy generated during braking to the lithium-ion battery. In this case, too, the VR6 engine is shut down and disengaged.
Driving with the VR6 engine: When the gasoline engine alone is powering the vehicle, the concept car is purely front-wheel drive to achieve excellent fuel economy.
GTE. The driver uses the GTE button to switch to the most dynamic side of the vehicle. This makes the throttle, transmission and steering characteristics even sportier. In addition, the VR6 engine and the electric motors work together to deliver the full system output and the maximum system torque.
Off-road. All four wheels are powered as soon as the driver activates this mode. In this case (and when the battery charge is low), the front electric motor is employed exclusively as a generator that is driven by the gasoline engine in order to provide the power for its counterpart at the rear axle. As the power to drive the rear axle flows electronically, the all- wheel-drive system is referred to as an "electric driveshaft". Since the VR6 engine drives the rear electric motor via the front motor in Off-road Mode, all-wheel drive is available even when the battery has a low state of charge and the car is running as a plug-in-hybrid.
Battery Charge/Battery Hold. The dual-mode Battery Hold (energy content of the battery stays constant) and Battery Charge (battery is charged whilst driving) is activated via a sub- menu in the infotainment system. It serves to hold the vehicle in E-Mode, for example, when the driver knows they are about to enter an urban area.
[/showhide]