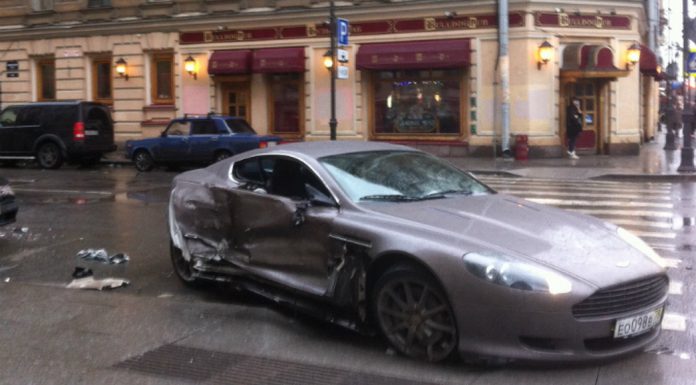 An Aston Martin DB9 has been crashed in Russia just three days after the 15-year-old owner took delivery of the British grand tourer.
According to the teenager, he was given the car by his father for New Year's but the DB9's previous owner claims that the boy actually purchased the car in cash with two of his friends.
Eyewitnesses who saw the crash claim that the teenager immediately fled the scene after crashing into a Volkswagen Tiguan. However, the teen did return to the scene of the crash where he claimed to local Russian media that he was not at fault for the crash.
"Before leaving the intersection I looked around. There was no one. Suddenly, out of nowhere, on the right side of my side flew a Volkswagen Tiguan. My speed was low – about 40-50 km/h [25-30mph], but he was going around 80 km/h [50mph]," he said.
As for the damage suffered to the DB9, much of the right hand side of the car has been wrecked and it will inevitably cost a lot for the car to be repaired.