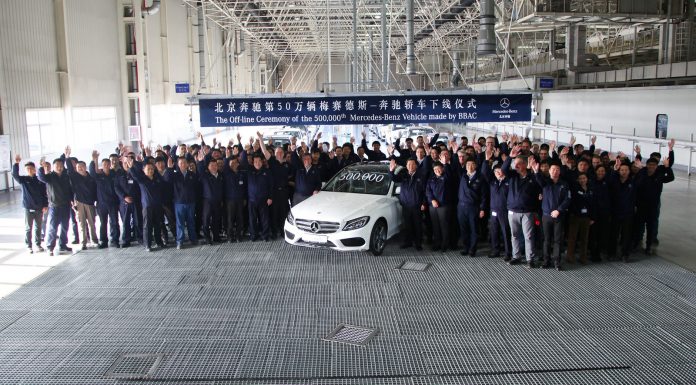 The joint venture between Daimler and China's BAIC Motor, known officially as Beijing Benz Automotive Co, has just created its 500,000th car in China since production started there in 2006.
The most impressive thing about the production figures is that about 250,000 of the vehicles have been produced in the last two years. As for the 500,000th vehicle produced, it is a long-wheelbase Mercedes-Benz C-Class for the local Chinese market. Next year, the factory will begin local production of the Mercedes-Benz GLA.
Discussing the production numbers, member of the board of management of Daimler AG responsible for Greater China, Hubertus Troska said, "Going forward, we are determined to pick up the pace even more as we just signed a 1 billion Euro agreement with our partner for the localization of further compact car models. BBAC is undoubtedly on its path to become the largest Mercedes-Benz passenger car plant worldwide."
In 2014, Beijing Benz Automotive Co produced a total of 120,000 vehicles which is about half of the total number of Mercedes-Benz models sold in China last year.