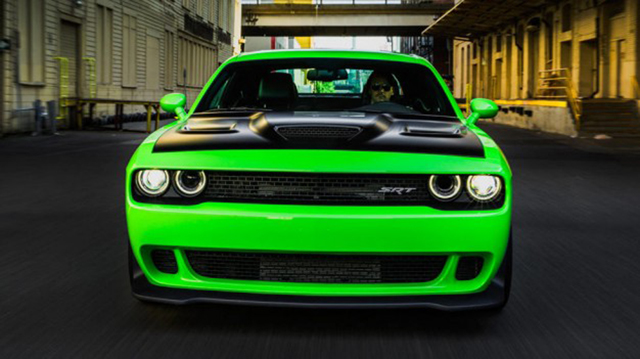 Customer deliveries of the 2015 Dodge Challenger SRT Hellcat recently kicked off but it has emerged that those ordered with satin black bonnets won't be reaching customers anytime soon.
Dodge has yet to reveal the cause of the delays, but a number of Challenger SRT Hellcat buyers to have optioned the satin black bonnet have been told that their cars won't be delivered until as late as February next year. If customers want their cars faster, they'll have to switch to a body-colour finished bonnet.
It is quite possible that Dodge is still working out a number of bugs in the satin paint process which is much harder to perfect than typical gloss paint.
Either way, the American firm said, "The optional satin black hood feature on the 2015 Dodge Challenger SRT Hellcat is not currently available for production. Customers who placed orders can opt to change their order to a body-color hood. If a customer decides to keep this option, his/her order will be held until the satin black hood becomes available (date TBA)."
Under the hood, the 6.2-litre supercharged V8 engine of the Challenger SRT Hellcat pumps out a truly spectacular 707 hp and 650 lb-ft of torque! To help limit power of the new SRT Hellcat in not-ideal situations, it comes standard with a black key fob which limits power to 500 hp while the red key fob unlocks the full potential of 707 screaming horsepower! This power comes courtesy of a 6.2-litre HEMI V8 supercharged engine which we now know is the most powerful engine the Chrysler Group has ever produced. According to first reviews of the car, the engine is just as exceptional as it sounds!