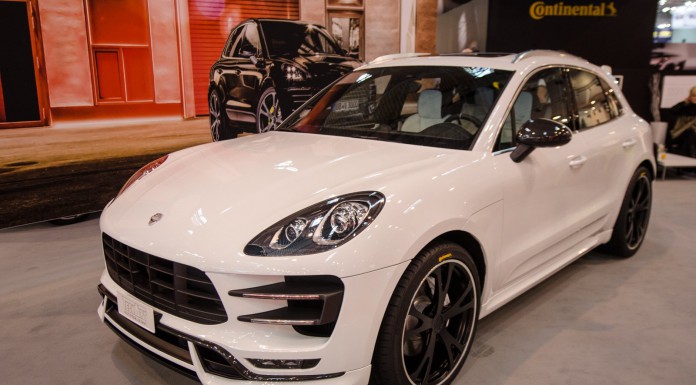 TechArt is currently displaying a selection of its Porsche Macan upgrades at the Essen Motor Show 2014 with an eye-catching white show car. The famed Porsche tuner offers a huge selection of visual and performance packages for the latest Porsche SUV and in the flesh, the car is immediately identifiable from the run-of-the-mill Porsche Macan variants on the market.
From a visual standpoint, TechArt offers a new front spoiler, side skirts, roof spoiler, tailgate spoiler and rear diffuser for the Porsche Macan made from high-quality PU-RIM. Interestingly, the front spoiler, roof spoiler and new side wing mirror trims are also available in carbon fibre.
A range of power kits are also available from TechArt for the Macan. Set to hit the market in the first quarter of 2015, the TechArt Power Kit TA B95/T1 adds an additional 50 hp and 70 Nm of torque to the range-topping Porsche Macan Turbo. All up, a TechArt tuned Macan Turbo delivers 450 hp at 6200 rpm alongside a torque reading of 620 Nm at 2700 rpm. As a result, the car rockets to 100 km/h in a brisk 4.4 seconds and 160 km/h in 10.9 seconds. The top speed has also been increased by 5 km/h up to 271 km/h.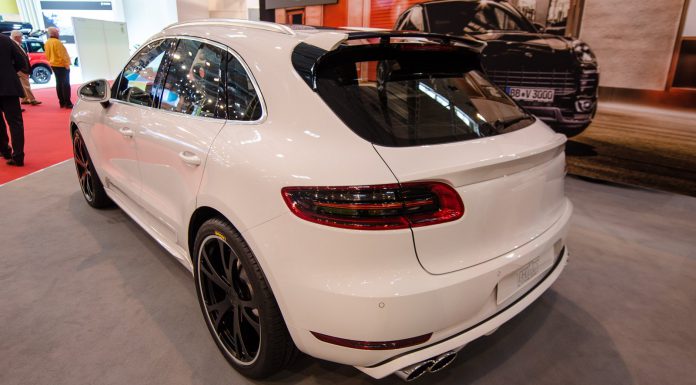 Alongside the Power Kit for the Macan Turbo, TechArt offers its TA B95/SD1 kit for the Macan S Diesel.