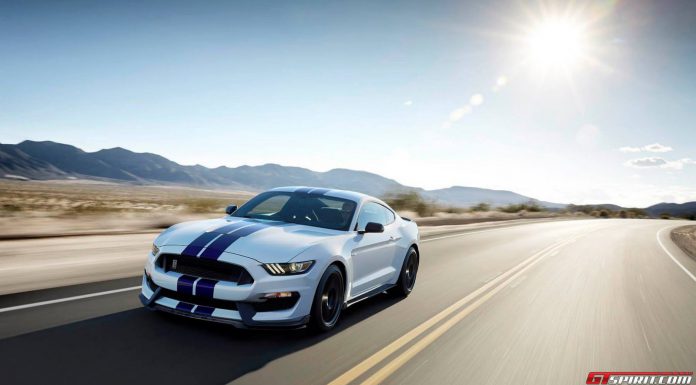 The 2015 Ford Mustang Shelby GT350 was only revealed just over a week ago and now it has emerged that the track-tuned Mustang variant could be priced from $52,995.
Alongside this starting price, the Shelby GT350 will reportedly be available with an optional Tech Pack which will add $2995 to the asking price. It will see the inclusion of leather-wrapped electric seats, Shaker Audio, the MyTouch Ford infotainment system with an eight-inch touchscreen as well as dual-zone climate control.
To put the price of the new Shelby GT350 into perspective, the current range-topping 2015 Ford Mustang GT starts at $32,100. Elsewhere, Chevrolet charges $75,000 for the track-oriented Camaro Z/28 but it is important to note that according to new reports, the GT350 isn't actually Ford's answer to the Z/28. Instead it will unveil the GT350R at the Detroit Motor Show 2015 and that car will likely be priced similarly to the Z/28.
Beneath the skin, the 2015 Ford Mustang Shelby GT350 uses a high-revving 5.2-litre V8 engine promising to deliver over 500 hp and 400 lb-ft of torque. This new engine uses a flat-plane crankshaft as rumoured to help the engine breathe easier. When it is all said and done, this new 5.2-litre V8 is the most powerful naturally aspirated Ford production car engine ever revealed.
To help bring the mighty new GT350 to a stop, the car utilises six-piston Brake calipers at the front clamping down on 394 mm two-piece cross-drilled iron brake discs. At the rear, four-piston Brembos are found alongside 380 mm discs. Another important aspect of the 2015 Ford Mustang Shelby GT350 is its MagneRide dampers. The car also includes an injection-moulded carbon fibre composite grille opening and shock tower brace to stiffen up the chassis to provide extra rigidity and handling performance.
[Via Horsepower Kings]