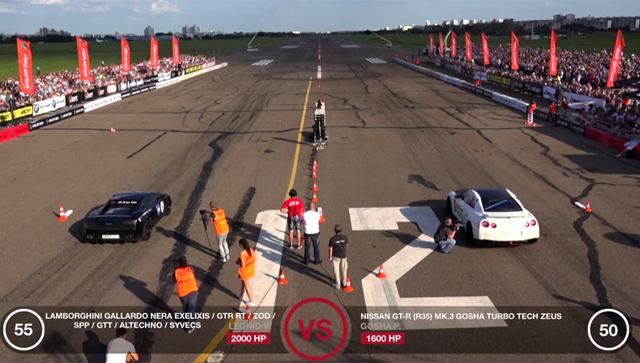 Since being revealed back in 2007, the Nissan GT-R has continually been one of the fastest accelerating cars on the planet. Also since debuting, it has become a favourite among tuners thanks to the almost infinite performance upgrades available for the car as well as the reliability of its 3.8-litre twin-turbocharged V6 engine.
[youtube]https://www.youtube.com/watch?v=YrJJYhb3xoU#t=92[/youtube]
Down the quarter mile, the AMG Performance Alpha Omega Nissan GT-R is the world's quickest and it has about 2000 hp under the bonnet. The following GT-R by comparison manages to deliver 1600 hp but as this clip shows, is more than capable of embarrassing a much more powerful Lamborghini Gallardo Nera!