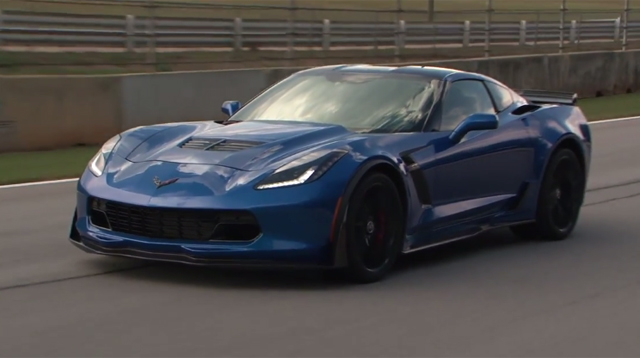 While the 707 hp V8 engine powering the Dodge Challenger and Charger SRT Hellcat models has been receiving a lot of attention and praise lately, one must not forget about the other new for 2014 American engine delivering over 600 hp. It is of course the supercharged LT4 V8 powering the 2015 Chevrolet Corvette Z06.
[youtube]http://www.youtube.com/watch?v=aW8JMWQ9Wm8[/youtube]
We've seen the potent 2015 Corvette Z06 on display at a selection of auto shows and now we have our very first chance to see the car and its engine in action on the track courtesy of the video above. The clip includes a huge selection of Z06s finished in all different colours hitting the track and perfectly demonstrating just how ferocious the car is on a racetrack!
As a reminder, the LT4 supercharged 6.2-litre V8 engine powering the 2015 Chevrolet Corvette Z06 delivers 650 hp and an equal 650 lb-ft of torque. Peak horsepower is reached at 6400 rpm while peak torque is found at 3600 rpm. Excitingly, 90 per cent of the total torque figure is available from just 2500 rpm through to 5400 rpm.
The engine leverages direct injection, active fuel management, cylinder deactivation and continuously variable valve timing to produce that performance. The gearbox choice is between a traditional seven-speed manual or an all-new, high-performance eight-speed automatic transmission with paddle shifters for manual control.