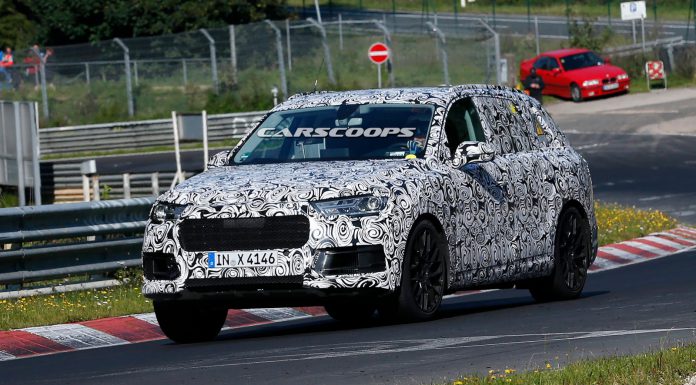 We've known for quite some time that Audi is preparing to release the next-generation Q7 SUV sometime next year. Now it has emerged that an e-tron hybrid variant of the new Audi Q7 will be launched in 2015 as well.
Despite Audi and Porsche being owned by the Volkswagen Group, the Audi Q7 e-tron hybrid will reportedly rival the Porsche Cayenne S E-Hybrid. As a matter of fact, it is set to use the same 3.0-litre supercharged V6 engine as the Cayenne delivering a total of 316 hp. In the Audi Q7, this internal combustion engine will be paired with an electric motor delivering a further 94 hp.
Elsewhere in the range, there's likely to be a twin-turbo V8 engine with upwards of 430 hp, a 3.0-liter TFSI V6 producing 310 hp and a selection of different diesel engines. These could include a 3.0-liter TDI V6 delivering 258 hp and a 4.2-liter V8 TDI with 385 hp. Additionally, a 2.0-litre four-cylinder turbo diesel with 240 hp is possible.
Beyond the engines, the new Audi Q7 will feature the Volkswagen Group's MLB structure which will also be utilised in the production-ready Bentley SUV, Lamborghini Urus and future Porsche Cayenne and Touareg models. Thanks to this extensive change, the 2015 Audi Q7 is expected to weigh at least 300 kg (660 pounds) less than the current car.
[Via Auto Express, Image via Carscoops]