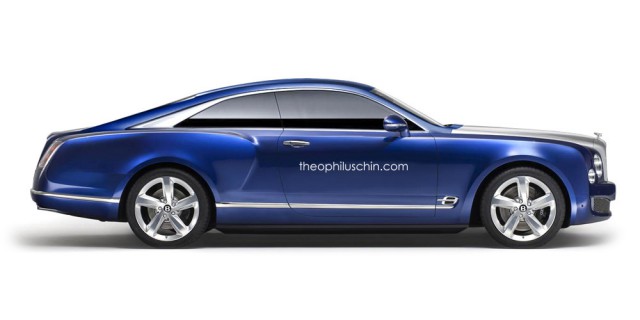 Bentley just took the wraps off the interesting Bentley Grand Convertible at the Los Angeles Auto Show 2014. Created as a concept to preview a potential Mulsanne Convertible, the car obviously features a removable roof as well as two fewer doors than the Mulsanne sedan.
With that last fact in mind, Theophilus Chin decided to render how a Bentley Mulsanne Coupe could look if it took design inspiration from the Grand Convertible. The fact that the British firm is interested in creating a drop-top of the Mulsanne means the range could certainly be extended further to include a coupe.
Beneath the skin, the 2015 Bentley Grand Convertible features the same 6.75-litre twin-turbocharged V8 engine as the existing Mulsanne. This potent powertrain delivers 530 hp and a righteous 811 lb-ft of torque without breaking a sweat. What this power results in is supple and impressive acceleration.
[Via Theophilus Chin]