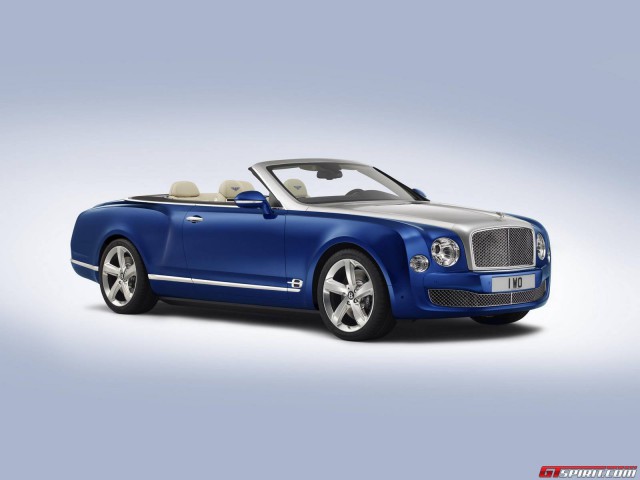 Just a few months ago, new Bentley boss Wolfgang Durheimer confirmed that development of a drop-top Mulsanne was back on. Now the finished product has been revealed with the 2015 Bentley Grand Convertible set to debut at the Los Angeles Auto Show 2014 this week. It is a concept at this stage but previews a range-topping Bentley droptop.
The Bentley Grand Convertible could be considered as Bentley's answer to the Rolls-Royce Phantom Drophead Coupe and includes elements like a rear decklid incorporating wooden panels in a similar fashion to the Phantom. Elsewhere, this particular example is finished in Sequin Blue with a silver liquid finish for the bonnet and A-pillars. Beyond that, everything is the same as the Bentley Mulsanne sedan with the exception of two fewer doors and less room for rear passengers.
Beneath the skin, the 2015 Bentley Grand Convertible features the same 6.75-litre twin-turbocharged V8 engine as the existing Mulsanne. This potent powertrain delivers 530 hp and a righteous 811 lb-ft of torque without breaking a sweat. What this power results in is supple and impressive acceleration.
In the cabin, the Grand Convertible features 14 naturally tanned leather hides with diamond quilting throughout. This initial model also features bright blue accents with Sequin Blue cross-stitching also utilised.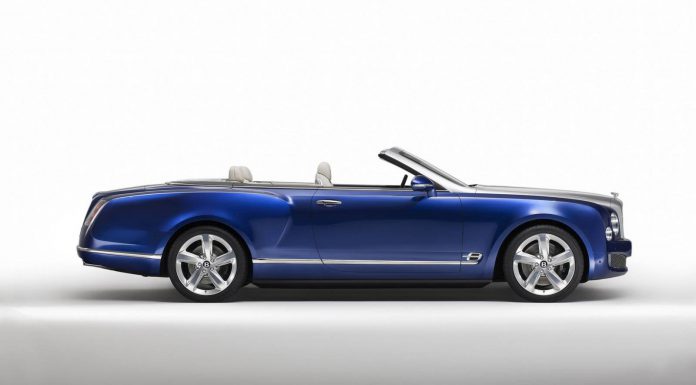 Discussing the car, Bentley chairman and chief executive Wolfgang Durheimer said, "This concept demonstrates Bentley's ability to create a pinnacle convertible Grand Tourer, while embodying elegance beyond compare. With this car we combine the opulent Mulsanne experience with the full sensory indulgence of open-air touring, continuing to unite luxury and performance in new ways.
"We are eagerly awaiting the response of our customers to this car. We will ensure that this car – if it reaches the roads – will be a highly exclusive, extremely limited collector's piece," he said.