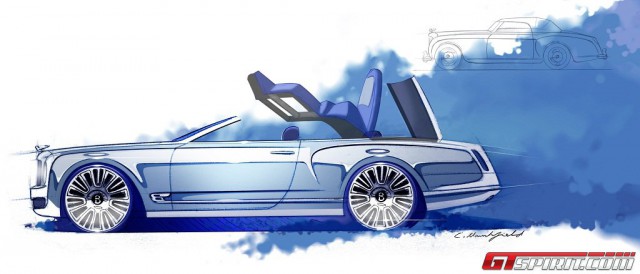 Last year, Bentley confirmed that it had stopped development of the Bentley Mulsanne Convertible. At the time, Wolfgang Schreiber said there was not a good enough business case to put the car into production. Twelve months later however and it seems that the Bentley Mulsanne Convertible could be back on the cards.
Since the project was cancelled by Schreiber, new CEO Wolfgang Durheimer has taken over the reins at Bentley and Bugatti and has set about resurrecting a drop-top version of the Mulsanne.
While speaking with Automotive News recently, Durheimer said, "When I returned, I was a bit irritated by the fact that no work had been done on this project in two years. It is back on track."
There's a possibility that when the car does reach the market it will in fact be dubbed the Bentley Azure and will rival the likes of the Rolls-Royce Wraith Drophead as well as the Mercedes-Benz S-Class Cabriolet.
If the car does in fact reach the road, it would remain mechanically identical to the existing Bentley Mulsanne. That would mean a 6.75-liter twin-turbocharged V8 engine mated to an eight-speed ZF transmission and producing 505 hp at 4200 rpm and 1020 Nm of torque at 1750 rpm being featured.
Expect to hear more about this potential Bentley model in the coming months.
In other Bentley news, a more powerful variant of the Mulsanne could be coming to the Paris Motor Show 2014 in October. Beneath the body, the Bentley Mulsanne Speed will feature the same 6.75-litre twin-turbocharged V8 engine. However, power is expected to be increased from 505 hp up to 550 hp with the sprint to 100 km/h from a standstill likely dropping below the five second barrier. Furthermore, the extra shot of power should help increase the luxury car's top speed from 184 mph towards 200 mph!
Beyond changes to the engine, it is likely that the Bentley Mulsanne Speed will receive modifications to the chassis and the steering. Furthermore, there is a good chance that some weight saving measures will be employed to make the car makes the most of its power gains.
[Via Automotive News]