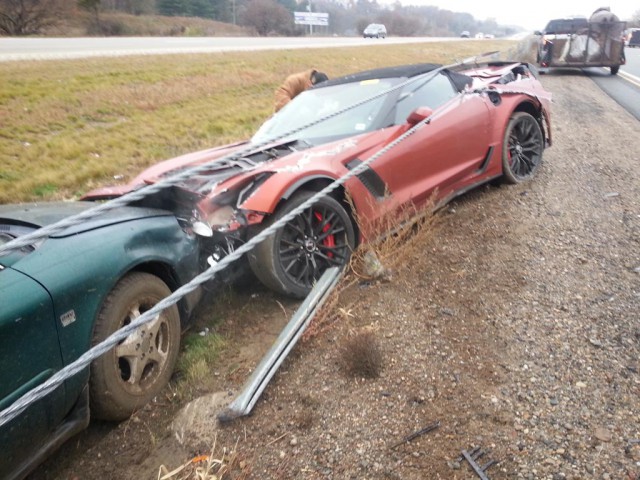 It didn't take long and now images of what is believed to be the first 2015 Chevrolet Camaro Z06 crash have emerged. This particular crash involved the brand new Z06 Convertible.
The crash took place on the I-94 highway in Michigan on the weekend and was triggered by the driver of the Corvette losing control on the slippery and wet roads. The Z06 Convertible then managed to take out another car before sliding across the road and the grass median strip into the protective wire barriers.
As the images show, this particular 2015 Chevrolet Corvette Z06 Convertible wasn't a customer vehicle and instead rolling on manufacturer license plates. Additionally, it has been fitted with the Z07 Performance Package and according to eye witnesses, the grippy Michelin Pilot Sport Cup 2 tyres were reportedly almost bald.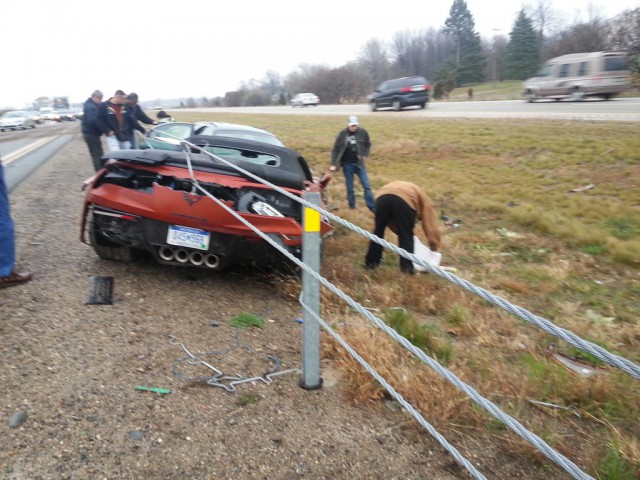 The rear of the Corvette took the brunt of the impact with the steel crash barrier tearing through the bodywork and completely destroying the rear decklid, rear fascia, wing and taillights.
No injuries are being reported.
In case you forgot, the Chevrolet Corvette Z06 Convertible is mechanically identical to the latest-generation Z06 coupe. As a result, it features the same supercharged V8 engine delivering 650 hp and 650 lb-ft of torque.
[Via Corvette Blogger]