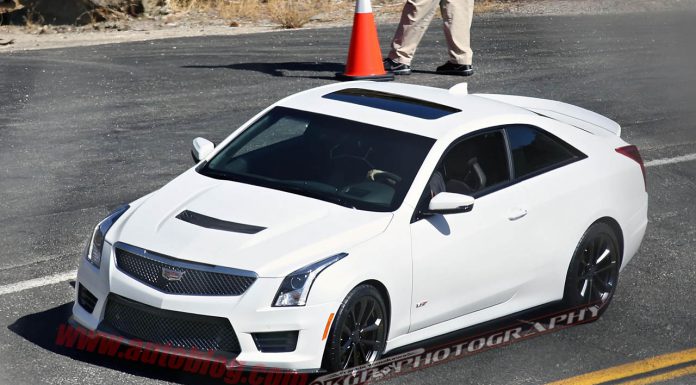 We already knew it was coming but Cadillac has just confirmed that the long-awaited Cadillac ATS-V will in fact debut at the Los Angeles Auto Show 2014 starting on November 18.
While it remains to be seen if the American automaker will reveal both the sedan or coupe variants at the show, we already know a great deal about the design of the Cadillac ATS-V as well as its engine and what it will rival.
Recently, spy shots emerged of an ATS-V Coupe prototype spied completely undisguised during its official photoshoot. The pictures revealed that from a styling perspective, it is significantly more aggressive and bold than typical ATS models. What this means is that it features a revised front grille and bumper as well as a carbon fibre front splitter. Elsewhere, a new bonnet with a subtle power dome has been added alongside air extractors. From the side, the car is adorned with new sports wheels and beefed up brakes which appear to be carbon ceramic units. At the rear, a prominent bootlid lip spoiler is present alongside quad tailpipes.
Beneath the skin, the Cadillac ATS-V will feature a twin-turbocharged 3.6-litre V6 engine delivering around 425 hp. Mated to this engine is expected to be a seven-speed manual transmission available as an option. Alternatively, an eight-speed automatic transmission is expected. Further down the road, a brand new dual-clutch transmission could arrive early next year.
Finally, the ATS-V will power the likes of the BMW M3 and M4 duo, Mercedes-AMG C63 and the Audi RS5.
[Picture via Autoblog]