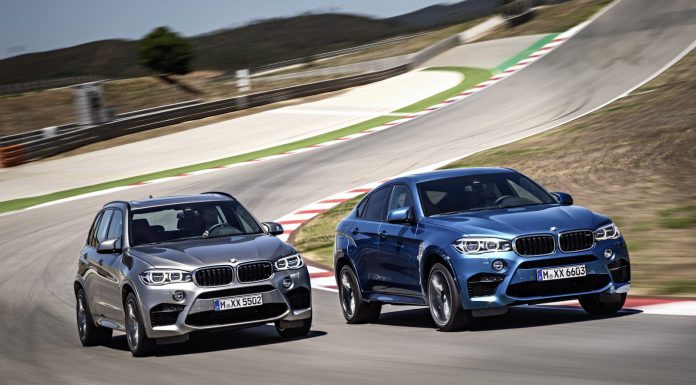 The first two official videos for the facelifted 2015 BMW X5 M and 2015 BMW X6 M have just been revealed. The first video has been filmed on the Portimao Circuit in Portugal while the second is a more high-paced and traditional performance car trailer.
[youtube]https://www.youtube.com/watch?v=NGHZrnl8g2M#t=61[/youtube]
Prior to the car's debuting, it was rumoured that they'd utilise exactly the same twin-turbocharged 4.4-litre V8 engine as the outgoing models in the same tune. However, the 2015 BMW X5 M and X6 M deliver an extra 12 hp and 53 lb-ft of additional torque resulting in final figures of 567 hp and 553 lb-ft at a very low 2200 rpm. When it is all said and done, both the new BMW X5 M and X6 M sprint to 100 km/h (62 mph) in a brisk 4.2 seconds when using the potent launch control system. That is entry-level supercar levels of acceleration.
Beyond the small engine upgrades, a brand new eight-speed M Steptronic automatic transmission has found its way into the new X5 M and X6 M duo. It replaces the six-speed 'box of old and obviously sends power through all four wheels via BMW's xDrive system. This drive system also makes use of a multi-plate clutch which can change the amount of power being sent to the front and rear axles. As a matter of fact, 100 per cent of the torque can be sent to the rear wheels or the front wheels depending on the driving situation.
[youtube]https://www.youtube.com/watch?v=8QJigHtz40E[/youtube]
Elsewhere, BMW M has significantly tweaked the suspension system of the X5 M and X6 M. Some of the most significant changes include the implementation of different upper wishbones, stiffer springs resulting in a 10 mm drop in height as well as the inclusion of self-levelling air suspension for the rear wheels. Three different modes are available for the suspension; Comfort, Sport and Sport+.